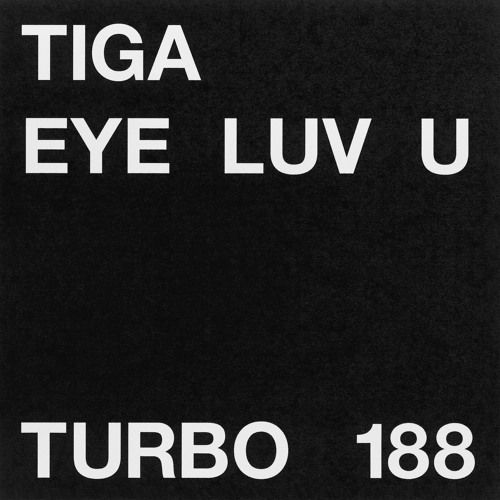 Tiga - Eye Luv U
Tiga returns to the dancefloor and Turbo Recordings with new single, 'Eye Luv U', his first new material since 2016's 'Blondes Have More Fun'. Co-produced by one half of Paranoid London, 'Eye Luv U' will be the first of a series of releases from Tiga on Turbo in 2017, including a fresh collaboration with Audion aka Matthew Dear.
"The title came to me while I was playing a pyramid that had been converted into a multi-purpose event space," says the Canadian DJ/Producer. "The hieroglyphics over what is now the coat check made me imagine a world in which pictures could mean words and words could mean anything. The thing about wordplay is that it's fascinating to conceive of different realities informed by different systems of meaning, and how each reality would invariably bend to vault me to the pinnacle of all possible worlds. It's humbling, really."
Rising Scottish talent Jasper James darkens the tone of the original on his remix, which would not be out of place at a classic off-the-grid warehouse rave. But not so fast, because Butch's equally great "80s Warehouse Acid Remix" also lays claim to that warehouse.
"Warehouse is a state of mind," adds Tiga helpfully. "It's that indescribable feeling that transports you back to the first time you read an oral history about dance culture. I read one sponsored by Mountain Dew about three years ago, and I've never looked back."
Now in a new partnership with !K7, Tiga's Turbo imprint is the tastemaker label behind the early success of Chromeo, Gesaffelstein, and Duke Dumont, amongst many others. 2016 saw releases from rising stars Charlotte de Witte, ANNA, Gilmer Galibard, and Autarkic, while this year the label will shift its focus to electro, via cuts from Tiga, Audion, and Dimitri Veimar, alongside collaborative projects between Shaded & Harvard Bass.
FORTHCOMING TIGA DJ DATES:
20/01/2017 Tiga @ Great Northern, San Francisco, USA
21/01/2017 Tiga @ Sound, Los Angeles, USA
27/01/2017 Tiga @ Stereobar, Montreal, Canada (TurboNonStop)
03/02/2017 Tiga @ Le Cercle, Quebec City, Canada
17/02/2017 Tiga @ Fuse, Brussels, Belgium
18/02/2017 Tiga @ Nuit Fauves, Paris, France (ParisNonStop)
19/02/2017 Tiga @ Pacha, Barcelona, Spain
24/02/2017 Tiga @ Smart Bar, Chicago, USA