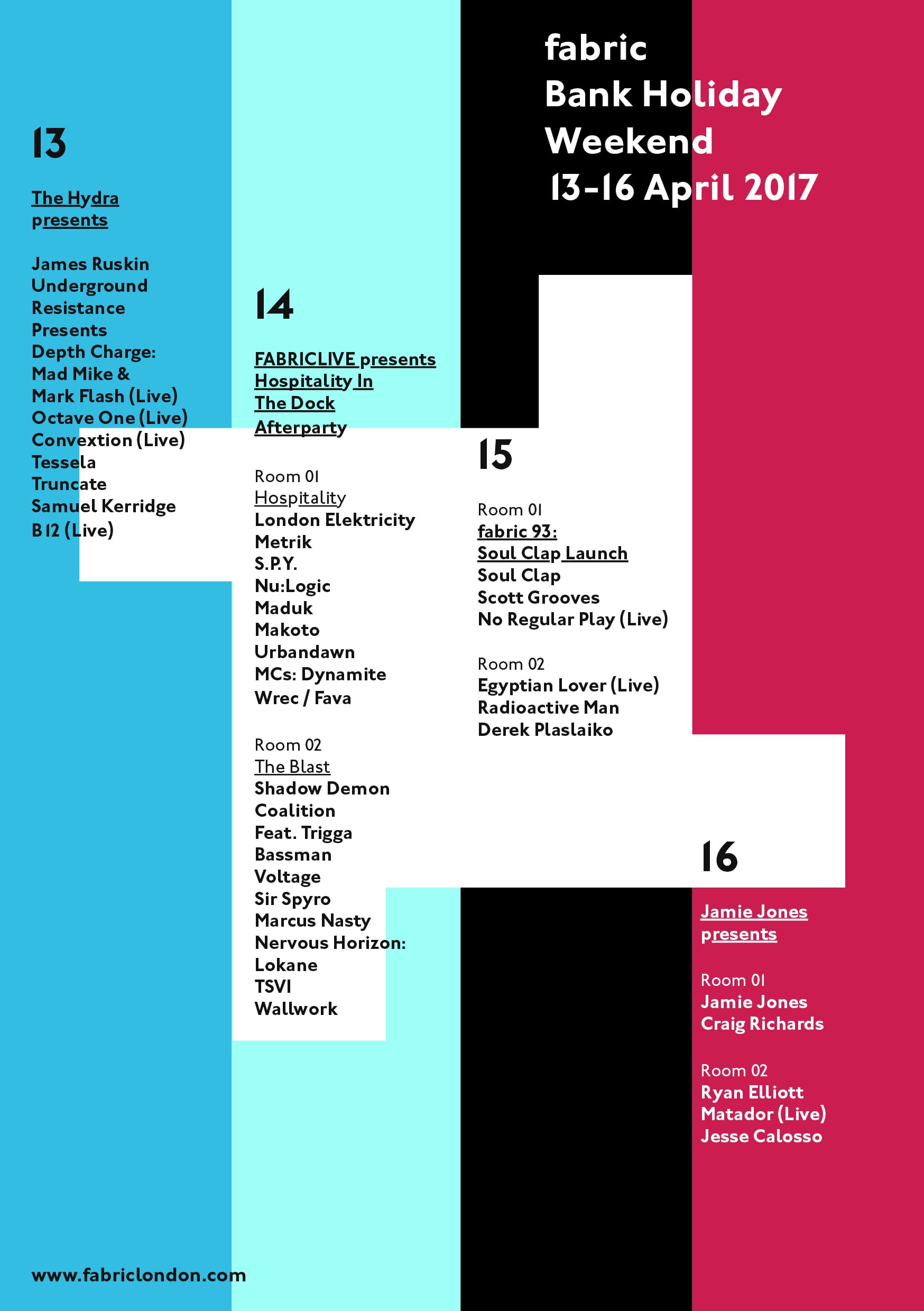 fabric Announce Plans For This April Bank Holiday Weekend 2017
If there's one thing we all know how to do in the UK, it's how to celebrate the long Bank Holiday Weekend. It's one of those periods of the year where work seems a world away, days become transient and parties act as the best indicator of telling one day from the next.
For all of us at Farringdon HQ, it means no less than 4 straight nights of heavyweight parties in our disco. This April is no exception: taking in Detroit techno through to liquid drum & bass and low strung house and disco, we'll be going through the Bank Holiday from start to finish with some of our favourites from all spectrums of electronic music.
Kicking off the weekend on Thursday 13th we prepare for something of a rarity in Farringdon as we hand over full programming of the building to The Hydra, who bring over their regular guests Blueprint Records. Label head James Ruskin is joined by techno royalty as key members of the Underground Resistance collective Mad Mike and Mark Flash come together for an exclusive live performance as Depth Charge. Live performances make up a core part of the rest of the bill for the night, with fellow Detroiters Octave One lining up alongside the intergalactic sounds of Convextion and UK veteran B12.
On Friday 14th FABRICLIVE is back for another full-on drum & bass session as Hospitality make their overdue return into our club space. Carrying on from their Tobacco Dock day party, London Elektricity lands in Room One joined by label talents including Metrik and S.P.Y., while The Blast take over Room Two with urban heroes Shadow Demon Coalition.
The following day on Saturday 15th it's all about the laid-back vibes in Room One as Soul Clap launch their disco-flavoured fabric 93 CD, bringing Crew Love comrades No Regular Play for a live set alongside deep house stalwart Scott Grooves. Over in Room Two we head on an electro tip as Egyptian Lover plays live, while Radioactive Man also returns.
The weekend finally rounds off with a special opening on Sunday 16th as we hand the reigns over to Jamie Jones. The Hot Creations head brings some of his key musical inspirations as he plays alongside our resident Craig Richards in Room One, while over in Room Two he invites a string of key techno heavyweights. Berghain and Panorama Bar's Ryan Elliott brings his toughened techno and garage sound, alongside Minus stalwart Matador playing live, with house and disco wizard Jesse Calosso rounding off the bill.

Tickets: www.fabriclondon.com


THURSDAY 13 APRIL
THE HYDRA PRESENTS BLUEPRINT…
ROOMS TBA:
James Ruskin, Underground Resistance Pres. Depth Charge (Mad Mike & Mark Flash Live), Octave One (Live), Convextion (Live), Tessela, Truncate, Samuel Kerridge, B12 (Live)

FRIDAY 14 APRIL
FABRICLIVE PRESENTS…
ROOM ONE:
HOSPITALITY IN THE DOCK AFTERPARTY…
London Elektricity, Metrik, S.P.Y, Nu:Logic, Maduk, Makoto, Urban Dawn
MCs: Dynamite, Wrec, Fava
ROOM TWO:
THE BLAST…
Shadow Demon Coalition feat: Trigga, Bassman & Voltage, Sir Spyro, Marcus Nasty, Nervous Horizon (Lokane, TSVI & Wallwork), Grandmixxer, The Blast DJs
MC: Koast

SATURDAY 15 APRIL
ROOM ONE:
Soul Clap, Scott Grooves, No Regular Play (Live)
ROOM TWO:
Terry Francis, Egyptian Lover (Live), Radioactive Man, Derek Plaslaiko

SUNDAY 16 APRIL
JAMIE JONES PRESENTS…
ROOM ONE:
Jamie Jones, Craig Richards
ROOM TWO:
Matador (Live), Ryan Elliott, Jesse Calosso