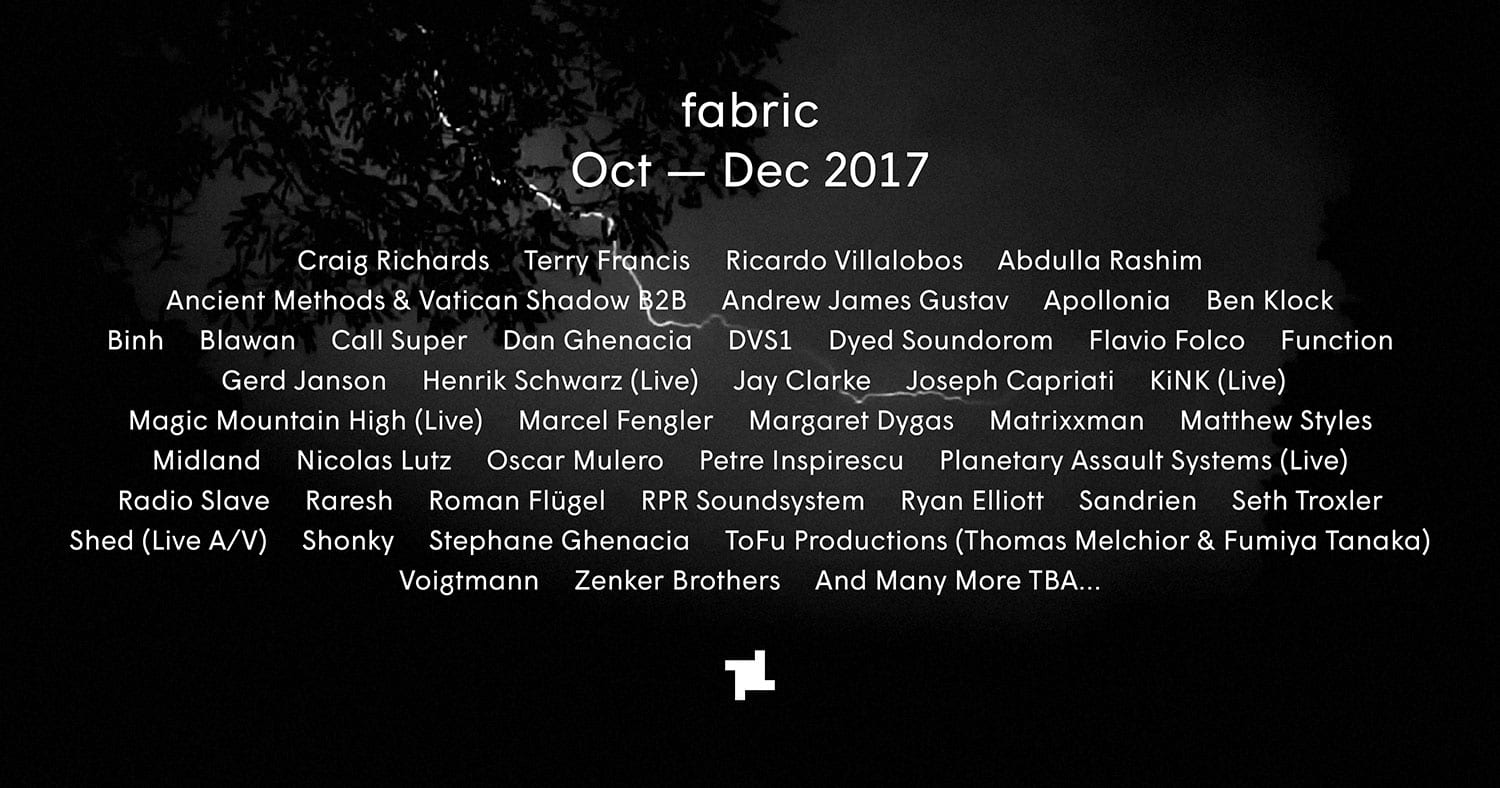 fabric Announces Saturday line-ups for October-December
Today we're delighted to present the line-ups for our Saturdays for this October pretty much through to the end of the year. This announcement comes with a touch of acknowledgement for the sheer privilege of actually being able to make announcements like these. This time last year we weren't in a position to be inviting artists from around the world that we respect and admire to present their sound in the disco.
This very week, we were closed waiting on a hearing to decide our fate. It's a well trodden story by now that it didn't go in our favour and kicked off a massive fight that involved the support of people from around the world that helped us win our licence back. Since then we've been working our hardest to get up and running again and now we feel like we're back at full strength. So, when we say we're delighted to present these line ups we also carry a full understanding of how precious and privileged a thing it is to do what we do.
So here they are, with a full heart we announce our October – December Saturday listings (with a few more line-up drops to follow):
fabric
October – December 2017 Saturday Listings
07 OCTOBER
ROOM ONE:
Joseph Capriati (6 Hour Set), Flavio Folco
ROOM TWO:
Derrick Carter (4 Hour Set), Terry Francis
14 OCTOBER
ROOM ONE:
Craig Richards, Seth Troxler, Tristan Da Cunha
ROOM TWO:
IMF…
Marcel Fengler, Matrixxman, Sandrien
21 -23 OCTOBER
FABRIC 18TH BIRTHDAY WEEKEND…
ROOMS TBA:
Craig Richards, Terry Francis, Ricardo Villalobos, Abdulla Rashim, Blawan, Jay Clarke, Nicolas Lutz, Raresh, Voigtmann + many many more
28 OCTOBER
TBA…
04 NOVEMBER
ROOM ONE:
APOLLONIA…
Shonky, Dyed Soundorom, Dan Ghenacia, Stephane Ghenacia
ROOM TWO:
Shed (Live/AV Show), Zenker Brothers, Jay Clarke
11 NOVEMBER
15 YEARS OF RUNNING BACK…
ROOM ONE:
Gerd Janson, KiNK, Matthew Styles
ROOM TWO:
Henrik Schwarz (Live), Radio Slave
18 NOVEMBER
TBA…
25 NOVEMBER
ROOM ONE:
Craig Richards b2b Call Super b2b Special Guest
ROOM TWO:
Planetary Assault Systems (Live), Function
02 DECEMBER
ROOM ONE
RPR SOUNDSYSTEM…
Rhadoo, Raresh, Petre Inspirescu
ROOM TWO
DVS1, Oscar Mulero
09 DECEMBER
ROOM ONE:
Craig Richards, Very Special Guest TBA, Jay Clarke
ROOM TWO:
20 YEARS OF HOSPITAL PRODUCTIONS…
Ancient Methods & Vatican Shadow B2B, Jk Flesh (Live), Becka Diamond
16 DECEMBER
TBA…
23 DECEMBER
CLOSED
31 DECEMBER
NYE..
Artists TBA
More information and tickets www.fabriclondon.com