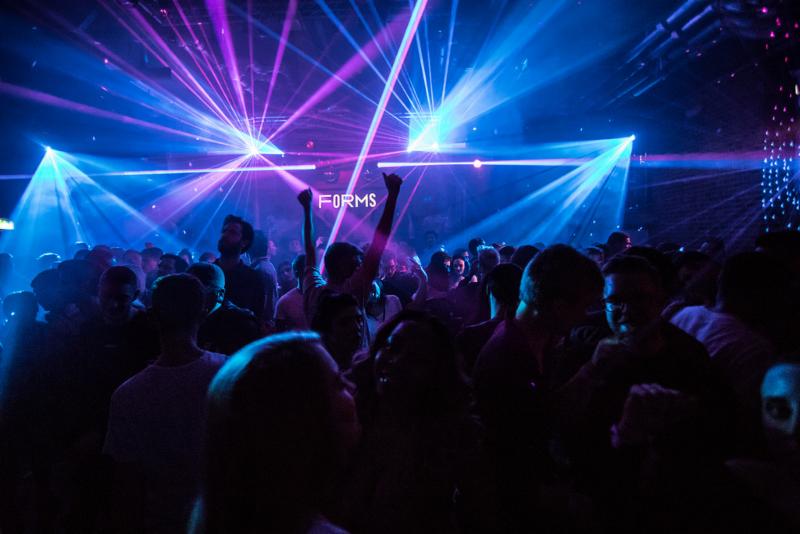 fabric reveal further run of Forms shows
Forms, fabric's new fortnightly techno, house, and disco-flavoured offering, alternating with their established Drum n Bass series FABRICLIVE, showcases a whole host of the finest underground talent, including rising stars and established veterans alike. fabric are now excited to reveal a further run of Forms shows, with new talent joining the already announced Kölsch, Monki, Michael Mayer and Claptone across the series.
Celebrating their 6th Birthday at Forms on Friday 6th April, Solid.Grooves welcomes the signature old school inventive tech house sounds of PAWSA, Solid Grooves label owner Michael Bibi, the quickly risingShaf Huse and the extremely talented Franz Costa. They'll be joined on the evening by a very special headliner still TBA, and further Solid.Grooves residents.
Friday 20th April sees Waze & Odyssey, a.k.a Serge Santiago and Firas Waez. The duo released their first track 'Ah Baby (Here We Go Again)' in early 2012 and have been carving their way through the dance music scene ever since. Joining them will be UИCAGΞ label owner Marco Faraone and Spainish superstar Edu Imbernon. Room 3 will be headed up by the reliable Bontan and The Menendez Brothers.
Cocoon take the reigns on Friday 4th May, kicking off the May Day Bank Holiday in true fashion. Much like Forms, Cocoon Recordings' philosophy has its roots in the need to create a platform for young and talented DJs and producers to develop their personal path of creativity. Since 2000, the label has released more than 350 artists ranging from house and techno to minimal and tech-house sounds with a total of 300 releases, plus a run of very successful club nights internationally. Robert Johnson resident Martyne, a live set from experimental house and techno don Tim Green, and the dancefloor favourite Dana Ruh will be amongst the acts to join the very special headliner which is still TBA.

On Friday 18th May, Forms celebrate 10 Years Of No.19. The brand/concept was created based on ideas expressed in article No.19 of the declaration of human rights – "Freedom of Expression".The prolific producer's original style landed Art Department at the forefront of a major underground music movement, transcending genre barriers and breaking down walls as few other underground artists have. Art Department will head up the event, with further artists to be announced soon.
There's another tantalising takeover on Friday 1st June as SubSoul take control of fabric's main room and they've enlisted an eye-catching bill for the occasion with a very special lineup still TBA. Over in Room Two, Jacky & Friends, Alexis Raphael, Stray Beast and Funster will take the reigns to provide a soundtrack that effortlessly spans genres and unique sounds.
Friday 15th June sees the high energy duo Amine Edge & Dance take over fabric's world renowned main room, joined on the evening by Matt.Joe and GW Harrison. Over in Room two, expect plenty of the "Good Vibes House" that This Ain't Bristol regularly champion, with exhilarating sets from Weiss, Billy Kenny andMaximono not to be missed
Tickets are now on sale for the new set of Forms shows via www.fabriclondon.com/club/listings

+++
FULL FORMS LISTINGS:
Friday 16th February
FORMS
CAMELPHAT
DETLEF
CHRISTOPH
EAST END DUBS (4 HOUR SET)
ROSS MCCORMACK
PAT WILSON
Friday 9th March
FORMS
KOLSCH B2B MICHAEL MAYER (ALL NIGHT LONG)
THEO KOTTIS
MONKI & FRIENDS:
MONKI
DIXON AVENUE BASEMENT JAMS
BIG MIZ
Friday 23rd March
A MUSICAL JOURNEY WITH …CLAPTONE
CLAPTONE
SHOW CHILD
ELI BROWN
Friday 6th April
SOLID.GROOVES 6TH BIRTHDAY
SPECIAL GUESTS TBA
SOLID GROOVES RESIDENTS:
PAWSA
MICHAEL BIBI
SHAF HUSE
FRANZ COSTA
RAMIN REZAIE
REELOW
Friday 20th April
STREET TRACKS…
WAZE & ODYSSEY
MARCO FARAONE
EDU IMBERNON
ROOM TWO:
BONTAN
THE MENENDEZ BROTHERS
Friday 4th May
COCOON
SPECIAL GUEST TBA
MARTYNÉ
TIM GREEN (LIVE)
DANA RUH
ANDRÉ GALLUZZI
EINZELKIND
Friday
18th May
10 YEARS OF NO.19
ART DEPARTMENT
WITH A VERY SPECIAL LINE UP ANNOUNCED SOON
Friday 1st June
SUBSOUL
VERY SPECIAL LINE UP TBA
JACKY & FRIENDS
ALEXIS RAPHAEL
FUNSTER
STRAY BEAST
Friday 15th June
ROOM ONE…
AMINE EDGE & DANCE
MAT.JOE
GW HARRISON
ROOM TWO: THIS AIN'T BRISTOL…
WEISS
BILLY KENNY
MAXIMONO
+++
LINKS & FURTHER INFO
FABRIC:
www.fabriclondon.com