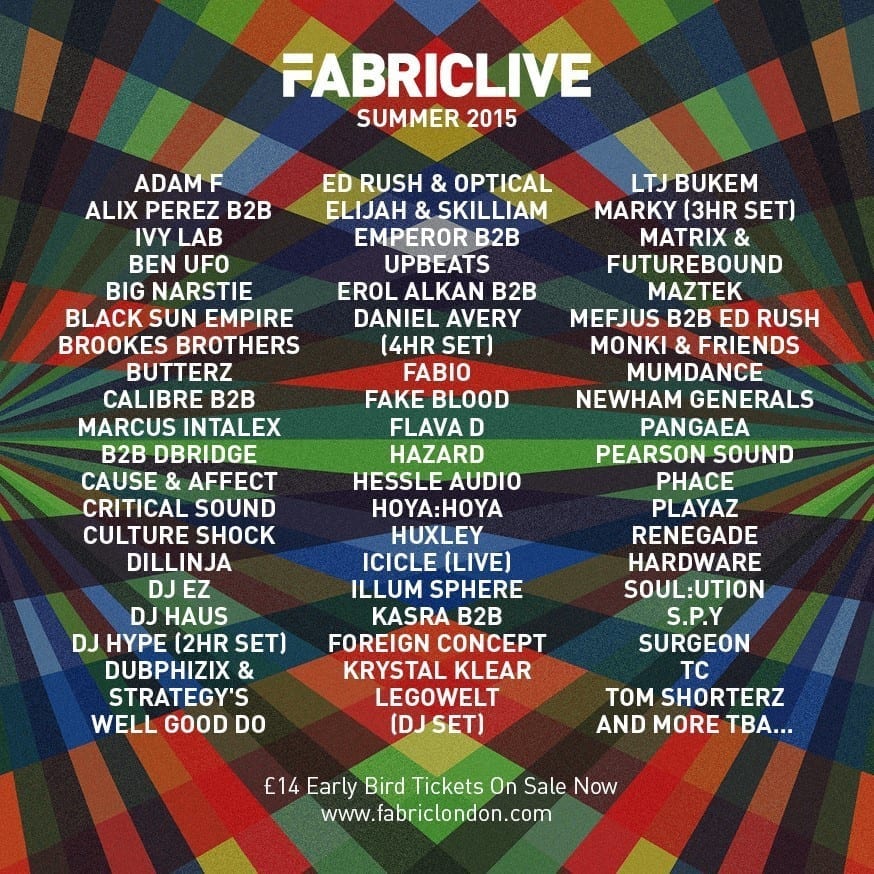 FABRICLIVE Announces Summer Season 2015
It's amazing, the inspiration that can be gleamed from a drastic weather change, so it feels particular pertinent that we're launching our summer season today – on what's set to be the hottest day of the year so far. As the whole of London raids the back of the wardrobe for their chino shorts and trekking sandals FABRICLIVE is proud to be able to present the full listings for the forthcoming Summer period.
Earlybird tickets will go on sale at www.fabriclondon.com from 12pm/midday today.
FULL LISTINGS:
doors: 11pm-7am
price: £14-£19 advance/£20 door/£14 student/£10 fabricfirst/£10 after 3am
05 JUNE
ROOM ONE:
Buraka Som Sistema (Live), More Artists TBA
ROOM TWO:
VIPER RECORDS…
Matrix & Futurebound (2 Hour Set), Brookes Brothers, The Prototypes, Cyantific, Mob Tactics, Inside Info
MCs: Rhymestar, Felon, Texas
12 JUNE
ROOM ONE:
MARKY & FRIENDS…
Marky (3 Hour Set), S.P.Y, Calibre, A Sides, Tendai, Collette Warren
MCs: Stamina, Lowqui
ROOM TWO:
Special Guest TBA, Icicle (Live), Stray, Joe Ford, More Artists TBA
MCs: Linguistics
19 JUNE
ROOM ONE:
Huxley, Leftwing & Kody, Curses, More Artists TBA
ROOM TWO:
02:31…
Cause & Affect, Tom Shorterz, DJ Q, Royal T, Champion & Serious, Pete Graham, LFM & Mali
26 JUNE
ROOM ONE:
PLAYAZ…
DJ Hype (2 Hour Set), Hazard, Adam F, Pascal, Annix, Sub Zero
MCs: Biggie, Tonn Piper, Funsta, 2 Shy
ROOM TWO:
LTJ Bukem, Fabio, LSB, Furney, Loz Contreras
MCs: GQ, Ribbz
03 JULY
ROOM ONE:
HESSLE AUDIO…
Pearson Sound, Ben UFO, Pangaea, Special Guest: Surgeon, Bruce
ROOM TWO:
HOYA:HOYA…
Legowelt (DJ Set), Krystal Klear, Illum Sphere, Jon K, Jonny Dub
Visuals by Eman
10 JULY
ROOM ONE:
CRITICAL SOUND…
Mef Jus B2B Ed Rush, Alix Perez B2B Ivy Lab, Emperor B2B Upbeats, Kasra B2B Foreign Concept, Sam Binga B2B Chimpo, Hyroglifics
MCs: GQ, Mantmast, Redders
ROOM TWO:
RENEGADE HARDWARE…
Loxy B2B Ink, Maztek, Audio, Optiv & BTK, Cold Fusion
MCs: Stapleton, K-Eye, Remedy
17 JULY
ROOM ONE:
DJ EZ, DJ Haus, More Artists TBA
ROOM TWO:
Special Guests TBA, Culture Shock, Mat Zo (D&B Set), Hamilton, Frankee
MCs: Texas,
24 JULY
ROOM ONE:
BUTTERZ…
Elijah & Skilliam, Mumdance, Swindle, Flava D, More Artists TBA
ROOM TWO:
Black Sun Empire, Phace, Misanthrop, Neonlight, Prolix, More Artists TBA
31 JULY
ROOM ONE:
PLAYAZ…
DJ Hype (2 Hour Set), Hazard, Marky, TC, Pascal, Original Sin B2B Taxman, Potential Badboy
MCs: IC3, Biggie, Stamina, Funsta, Junior Dangerous
ROOM TWO:
LTJ Bukem, Lenzman, Bailey, The Jazzassins, Blade
MCs: GQ, Ribbz, Moose
07 AUGUST
ROOM ONE:
TBA
ROOM TWO:
TBA
14 AUGUST
ROOM ONE:
DANIEL AVERY PRESENTS DIVIDED LOVE…
Daniel Avery, More Artists TBA
ROOM TWO:
SOUL:UTION…
DBridge, Calibre, Marcus Intalex
MCs: DRS, SP:MC
21 AUGUST
ROOM ONE:
Ed Rush & Optical, Dillinja, Optiv & BTK, Inside Info
MCs: GQ, Ryme Tyme
ROOM TWO:
DUBPHIZIX & STRATEGY's WELL GOOD DO…
Dubphizix & Strategy, Alix Perez, DJ Die, Chimpo
28 AUGUST
PLAYAZ CARNIVAL SPECIAL…
ROOM ONE:
DJ Hype, Hazard, Pascal, Randall, Prototypes, Sub Zero, Annix
MCs: IC3, Biggie
ROOM TWO:
Newham Generals, Brookes Brothers, Big Narstie, Scratch Perverts, Tyke, Potential Badboy
MCs: