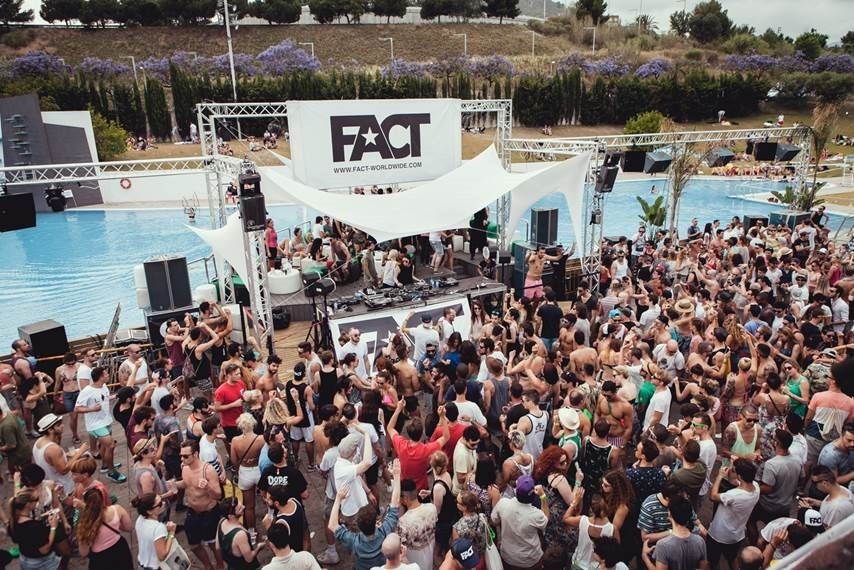 FACT Music Pool Series 2015
70 Artists. 5 Days. 5 Labels. 2 Stages.1 Giant Pool.
17th-21st June. Barcelona
As were approaching June, Europe and part of the electronic global community eagerly awaits the countdown to celebrate summer's kick-off in Barcelona.
FACT Music Pool Series fourth edition continues its commitment to bring together multiple electronic shades framed in a unique open air location, designed to enjoy the first rays of sun coming out on the international scene.
An orchestrated event production in which five brands have taken part where every detail will be aimed at improving the experience, from rare to see acts during the Off-Week to line ups compounded by several key players in their respective scenes.
Compared to previous years, and to mark FACT's fifth anniversary, a fifth date has been added to another musical marathon around the pool, in which over 70 acclaimed DJs, artists and creators will perform with an incredible sound system equipped to ensure the best sound and outdoor experience over the two stages.
Therefore, for the fourth consecutive year, FACT will host a major union of music labels and innitiatives from various European locations to join forces in order to promote a top notch line-up at a daydreaming venue during the most awaited week of the year.
17th/ Ellum Showcase (Day & Night)
The brand captained by Maceo Plex will be the opening star of this years FACT Music Pool Series 2015, delivering a very powerful artistical proposal in Off-Week's most popular open air pool party. All Ellum artists will be exhibiting their own sonic imprint that has been gaining worldwide success for the past years.
Bringing in some muscled House and Techno, synthetically shaded by wet melodies which will be laid down by Maceo Plex himself and also other artists from the likes of Danny Daze, Shall Ocin, WhoMadeWho (dj set), Gardens of God, Odd Parents B2b Fiberoot. Also we will be honored with the labels close friends and special guests GusGus' exclusive live performance, Mexican icon Rebolledo and German producer Gabriel Ananda.
A more than suitable starting point for the FACT Music Pool Series 2015 based on a sonic seal that is currently playing in a league of its own.

18th/ Mobilee Showcase (Day & Night)
Berlin label Mobilee will be landing on Thursday's FACT Music Pool Series with all the Mobilee team in full, celebrating their tenth birthday in Barcelona, a city that has seen the rise of the brand since it first touched down in the city and which has grown to an enormous local following.
Mobilee's distinctive sound, always warm, precise and dynamic, will be headed by Anja Schneider, surrounded by the label's usual suspects from the likes of Re.You, Lee Van Dowski, Ralf Kollmann, Igor Vicente, Ray Okpara, Miss Jools or Rodriguez Jr and And.Id acclaimed live sets. Also joining the gang as guests will be the housemaster Dennis Ferrer, William Kouam Djoko and Martin Huergo.
Freshness and closeness translated into late night dances by the hand of one of the most deeply rooted international initiatives. It is always a pleasure to have them around, as their die-hard fans can testify.

19th/ Watergate Records (Day):
On Friday's FACT Music Pool Series 2015, the Berlin-Barcelona connection will remain in force with the presence of one of the most active brands within the whole continental electronic scene; Watergate Records
After having secured an exponential recognition of specialized media and public through its releases and having already achieved the status quo of contemporary icons for the current clubbing world by Watergate Club management; The main spearheads of the label as Pan-Pot, exclusive live-sets by Tiefschwarz alongside Khan and Mathias Kaden, DJ-sets by Marco Resmann, Roll Hagelstein, Matthias Meyer, La Fleur, Lee Jones, Jimi Jules, Clint Stewart and Stassy will extend the rhythm that pumps the Berlin clubbing epicenter every weekend throughout the pools, which is definitely a solid neuralgic reference to the length and breadth of the continent.
20th/ Next Wave + Local Gathering (Day)
Next Wave, the brand originally established in Ibiza and easily recognizable due their musical vision focused on promising creative horizon outbreaks, has included Barcelona as one of its key points as part of the penultimate FACT Pool Music Series 2015 event. The new wave of rising stars from Romania will entirely lead the pools on this fourth day, showing their genuine character through its distinctive sound.
On the main stage, their will be two b2b acts led by Cezar with Barak, Priku and Francesco del Garda, plus a very special guest as highlight assured for each and every one of the pool partygoers.
Meanwhile, in stage 2 hosted by our friends from Local Gathering and Checkpoint were the synergies are combined to present four handed sets by SIT (Cristi Cons and Vlad Caia), Kozo with Dan Andrei, Gescu, Piticu and an alliance behind decks starred by Zotist, Rick Maia, and Javi Sampol turning in the sounds that will mark the meeting date.
The expansion of this scene over the Romanian borders and coupled with all this exciting new talent will immerse the crowd into a whole new electronic music experience.
21st/ FACT Turns 5 (Day & Night):
And last but not least! To end they cycle of the 2015 edition of the FACT Pool Music Series. The experience in the pools will take form more of a birthday party in order to celebrate FACT's fifth anniversary, namely the first half of FACT spreading across the electronic music world, ending it up in style as this milestone deserves.
After four intense days enjoying several electronic prisms, FACT finally takes over the pools with a cutting edge artistic alignment starring game changer Magda, Damian Lazarus' unique touch, highly acclaimed Mathew Jonson's live performance, Benoit & Sergio's versatile live set, and artists close to the brand such as Fur Coat, Valentino Kanzyani or Azimute. Not to forget the presence of Andre Buljat, Herr, Rick Maia, HITCH and Javi Sampol as the brands residents and global ambassadors.
All this to mark and celebrate FACT's past five years during the best electronic week in the city where FACT was born and raised.This will be an unforgettable experience for us, and presented the poster for the occasion reflected it expresses the intention of extending it to each attendee.
Hosting the event will be our friends of Mixmag. All the details regarding the event, sound system design and the atmospherical production, will serve as an ideal complement for the soundtrack of FACT Music Pool Series' fourth edition closing ceremony.