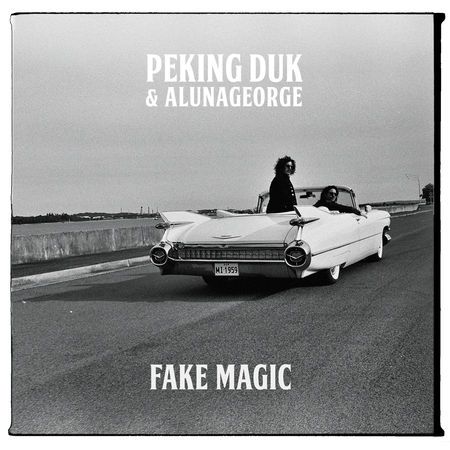 Peking Duk ft. Aluna George - Fake Magic
Today, Australian duo Peking Duk, together with vocalist Aluna Francis of UK duo AlunaGeorge, release their brand new single, Fake Magic via RCA Records and Sony Music Entertainment Australia. The track premiered on Billboard along with the accompanying video. 'Fake Magic' is available from all digital service providers now.
Aluna describes the concept of 'Fake Magic:' "We spoke about the idea of a woman coming into a man's life and showing him the real magic in this world, an alternative world that is not weighed down by fake highs and material disappointment. I loved this idea, I've been that girl occasionally so the lyrics came from a real place."
To complement the release of 'Fake Magic', Peking Duk and AlunaGeorge teamed up to shoot the accompanying video in LA. The video was executively produced by Dilly Gent and directed by Ellis Bahl. Bahl spoke about the concept behind the video – 'I like mirrors. They're magic. There's a person that looks exactly like you standing on the other side! Maybe they're fake magic, I don't know. Maybe there's a whole body of hard science looking at things like photons, and reflection angles, and the cones in your eyes. But maybe not. This video is about mirrors. Mirror images, singing in the mirror, mirrored dancing, mirrored outfits. Oh and speaking of mirrors, the reason Peking Duk are eating soup at the bar is because the idea was inspired by the famous Marx Brothers mirror scene in the movie Duck Soup. That's why I have them eating soup at the bar. Peking Duk Soup!'
'Fake Magic' follows the 3x Platinum selling and #1 Aria Australian Artist Single 'Stranger' ft. Elliphant which has amassed over 33 million streams worldwide. Peking Duk have also previously released 'Take Me Over' and 'High', both acquiring 3x Platinum accreditation, as well as 'Say My Name' with Gold accreditation. All four singles have amassed over 74 million streams combined. After finishing their highly successful national Clowntown Tour earlier this year, Peking Duk will take the stage at the SOLD OUT Splendour In The Grass 2017 alongside the likes of LCD Sound System, The XX and Cut Copy.
About Peking Duk
Catapulting onto the Australian music scene in 2014 the ARIA-award winning, Canberra-bred duo of Adam Hyde and Reuben Styles have captivated fans across Australia and the world with their distinct flavour of indie electronica and electrifying live sets.
Since hitting the big time in 2015, where they had the honour of having two singles in the top five of Triple J's Hottest 100, Peking Duk have released three triple platinum singles with 'High', 'Take Me Over' and last year's smash 'Stranger' which landed at #1 on the ARIA Australian Artist Single Chart.
Peking Duk have completed numerous headline national tours including this year's massive Clowntown Tour which visited both city and regional areas across a massive 18 dates. The duo have performed at the biggest festivals around Australia and will be hitting the main stage at this year's Splendour In The Grass in July. Multiple North American tours have seen the duo perform at Coachella, Lollapolooza and Squamish in Canada amongst a host of club dates.