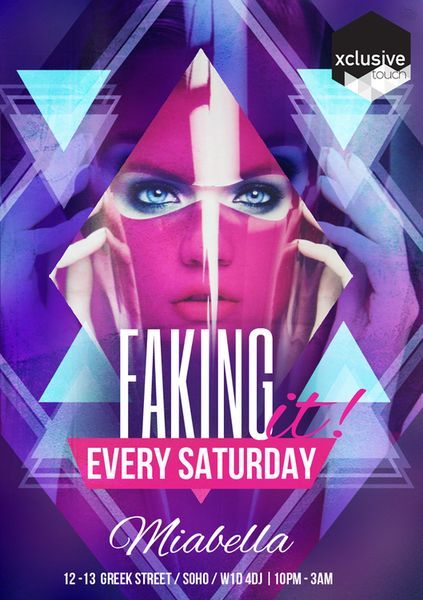 Faking It!
Event Manager: Robbie for Guest list, info & Table bookings
Email: [email protected]
Mob: 07904142073
Telephone: 020 7734 9116
BBpin: 2979A6C0
Queue Jump Tickets: http://original.jpgwww.xclusivetouch.co.uk/parties/saturday-nights-at-miabella
Miabella is a brand new nightclub located on Greek Street just off the famous Soho Square. Our Saturday night parties have been rocking since we launched with top DJ's and a great crowd, regularly hitting capacity by midnight! The venue is split into booths, tables, tunnels and a VIP room with a unique maze-like layout meaning there is always something crazy to discover. For those celebrating a birthday there are VIP tables, booths and a private area available to hire
** BIRTHDAY DEALS **
'Premium Package, £350 Minimum spend'
– All of the above but a Premium table (more space & waitress service) instead of the regular table.
– Example drinks:
1x Grey Goose Vodka // 2x Laurent Perrier Champagnes
'VIP Package – VIP Themed Table, £500 Minimum Spend'
– All of the above but a VIP themed table (The Cave, The Bedroom, The Tunnel or The Stage) instead of the regular table.
– Example drinks:
1 x Grey Goose // 1 x Jack Daniels // 2 x Laurent Perrier Champagnes
Weekly Music : Funky House, Current and Ol' Skool R&B, Soul, Hip-Hop, and Club Classics.
DJ's Suave, Dean E G, Rugrat on rotation
Entrance/Time: £10 before 11 £15 otherwise // 2215-0300
Drink Prices: Wine from £25, Champagne from & Spirit Bottles from £100
Dress Code: Sexy and stylish. Smart Jeans are fine. Absolutely No Sportswear, Trainers, Baggy Jeans or Soft Soled Jeans. Guys must wear shoes.
Hosted and Managed by XclusiveTouch
Day: Saturday Nights at Miabella
Address: 12-13 Greek Street Soho W1D 4DJ
Nearest tube: Tottenham Court Road
http://original.jpgwww.xclusivetouch.co.uk/parties/saturday-nights-at-miabella