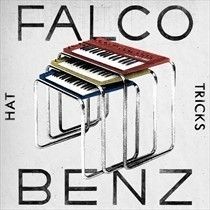 Falco Benz – Hat Tricks
You could describe Falco Benz as a lover of analog synthesizers, soulful chords and melodies, disco beats from drum computers, modernism of the 20's and some good cognac. Or you might want to start by speaking of his career, seemingly starting out of nowhere with the release of his first EP 'Clap Machines' on Magnetron Music, home to acts like LeLe, Staygold and Comtron. About how this release was followed by a live debut at Valtifest and a full support tour for infamous Dutch rap group 'De Jeugd van Tegenwoordig'. A successful tour during which Falco introduced the 'robo clap'.
Or maybe you prefer to begin with his background as a keyboardist for several artists, such as blue eyed soul star Benny Sings, or his former disco duo Knobsticker.
What may be clear at this point: Falco Benz is on a roll and does not intend to let his synthesizers alone. On the contrary, his second EP 'Hat Tricks' has been released and the first single Hat Tricks is already taking Europe by storm, containing once again a fresh collection of synth house that refers to the better work of Metro Area or Todd Terje, and carries influences of 80's disco, Chigago house and Stevie Wonder's smooth harmonies. Now doesn't that sound like a record to get through a cold winter, looking forward to a sunny summer?
Surrounded on stage by synthesizers and synchronized lights in primary colors, Falco Benz is taking his audience to multiple dance floor climaxes, your BFF's and parents included. Go and try explain that at your next cocktail party.