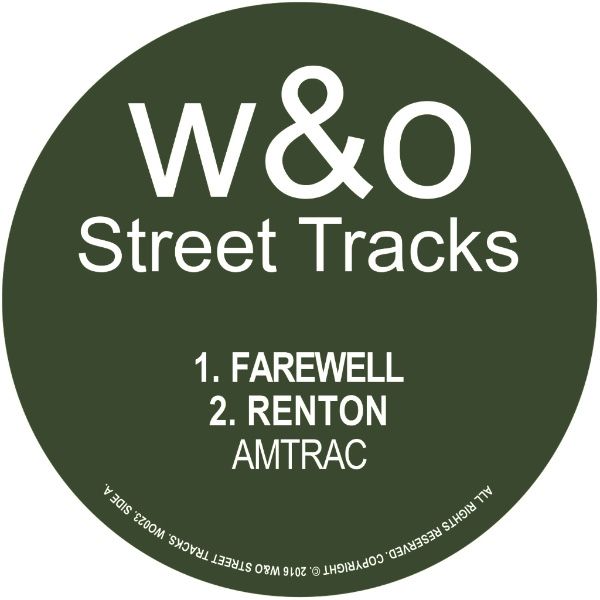 Amtrac - Farewell / Renton
Out now via Waze & Odyssey's Street Tracks imprint, Amtrac (real name Caleb Cornett) returns with his Farewell/Renton EP.

The EP opens with 'Farewell' a dancefloor-ready cut with leading synths and a pulsing bass line. With its mesmerising house beats, simplistic vocal chops and robust bass; second track 'Renton' is deep house perfection.

Speaking on the EP, Amtrac says:

"I wanted to make a record that showcased what I love about being out on the dance floor, not too abrasive, not too dismissive, just right in the pocket; just what you need to keep you moving"

Since bursting onto the scene in 2010 with debut LP 'Came Along', Amtrac has consistently pushed his creative limits as a musician; releasing cuts with genre-spanning influences from post-punk to underground dark, funky house. A multi-faceted artist, the Amtrac name has become synonymous with electrifying live performances, funk-filled DJ sets and coveted remixes.
Never content to settle, Amtrac's musical mood and influences change with each passing season. The constant evolution of the 'Amtrac' sound has attracted attention from a wealth of tastemaker publications including Billboard, i-D, Complex, CLASH, Deep House Amsterdam and SPIN.

Farewell/Renton is OUT NOW via Street Tracks.

Beatport: http://po.st/WO023BP
iTunes: http://po.st/WO023IT

Tour Dates
9/23 Soundcheck Washington DC
10/8 III Points Festival w. LCD Soundsystem, M83, Dixon, Flying Lotus & more Miami, FL
10/28 Armory San Francisco, FL
1/6 Holy Ship