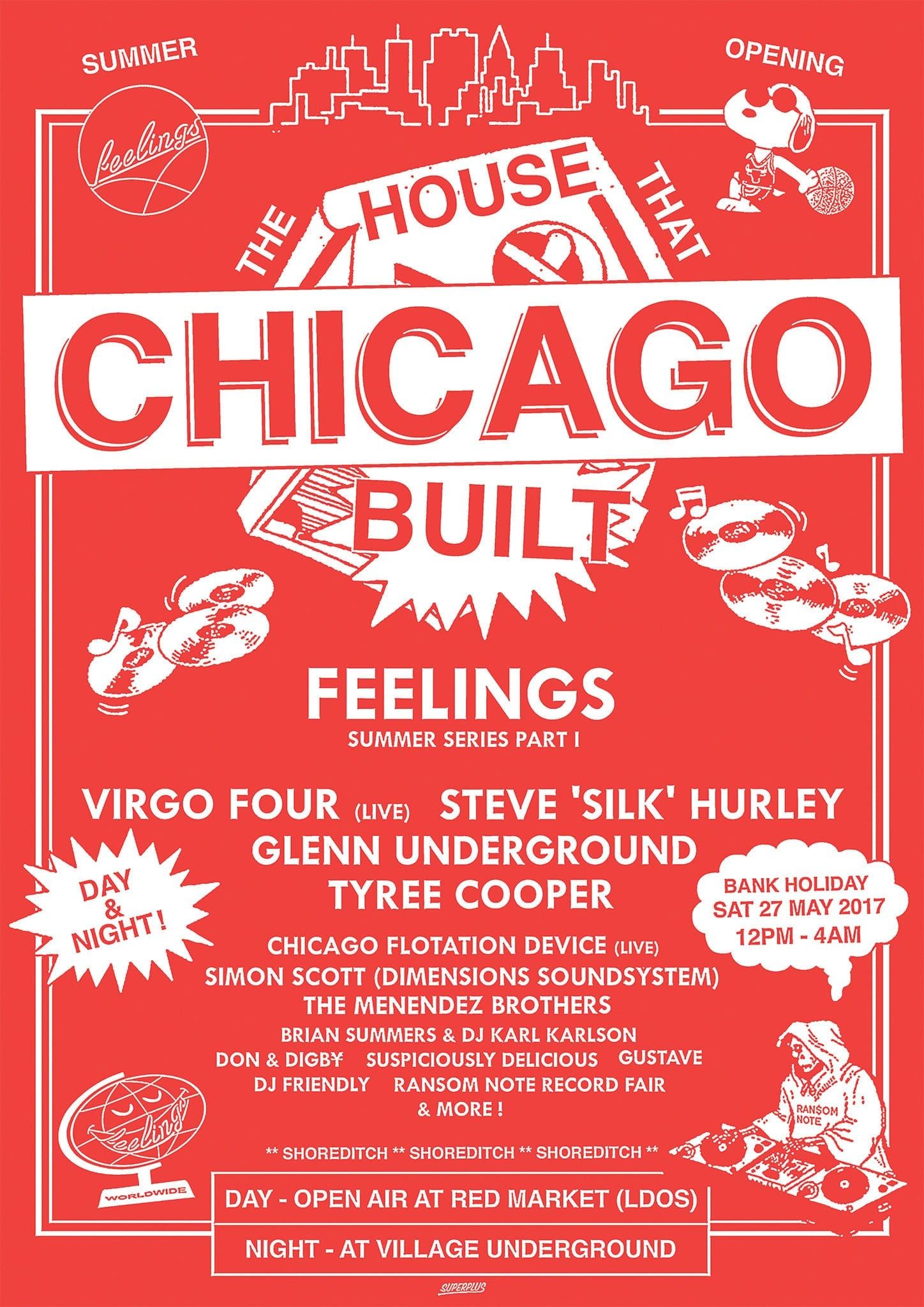 Feelings announce 1st of 3 summer shows
This summer Feelings celebrate three years of parties with a series of three events, celebrating London's 30+ year love affair with house and techno. We pay homage to three of the most important cities in dance music history, Chicago, New York and Detroit.
We will be looking back to where it all began, right up to present day, exploring the enduring influence of these cities both geographically and across time. Playing host to some of the pioneers of house, techno, disco and more alongside a selection of global and homegrown rising stars bringing fresh ideas to these pioneering sounds.
To launch our summer we will be celebrating all things House with some of the spearheads of the Chicago sound, covering, jackin' house to deep house, to hip house and more.
The fourteen-hour dancefloor journey will see sets from Steve 'Silk' Hurley, the man who started London's love affair with house music when his 1987 release 'Move Your Body' became the first ever house track to reach no. 1 in the UK charts.
Deep digger, Glen Underground also joins ranks. Having pushed house music forward throughout the nineties, Glen is a prime example of how diverse the dancefloor can be at a house music party.
Spotlighting an often overlooked area of the genre, Tyree Cooper brings pumping hip house sounds to the party, reminding us how intertwined genres like hip hop and house were in the early days.
Seminal production duo Virgo Four put the jewel in the house crown with a live headline set. Their soulful and hypnotic sound set the blueprint for deep house, intrinsically shaping the face of house music today.
Representing the new generation, Chicago Floatation Device is the hefty live pairing of Lobster Theremin head-honcho Asquith alongside right-hand-man Manse. Dimensions Soundsystem will bring the euphoric vibes and impeccable selection of the revered Croatian festival to the party with Mixmag's own disco diva Digb¥ alongside Don and Suspiciously Delicious each adding his flair.
Feelings residents The Menendez Brothers, DJ Karl Karlson & Brian Summers, Gustave and DJ Friendly complete the lineup that will span two Shoreditch veneus, with the daytime kicking off at Red Market and nighttime at Village Underground.
Tickets start at just £5 + BF. Click here for full info and tickets.
*****New York and Detroit editions announced soon*****
Bank Holiday Saturday 27th May
Day & Night Summer Opening – Feelings pres. The House that Chicago Built
Day – Open Air at Red Market (LDOS) | Night – Warehouse Party at Village Underground
Full Lineup:
Virgo Four – LIVE
Steve 'Silk' Hurley
Glenn Underground
Tyree Cooper
Chicago Flotation Device
Dimensions Soundsystem (Simon Scott)
The Menendez Brothers
DJ Karl Karlson & Brian Summers
Don & Digb¥
Suspiciously Delicious
Gustave
DJ Friendly
12:00 – 04:00 | SATURDAY 27TH MAY 2017 | RED MARKET & VILLAGE UNDERGROUND, SHOREDITCH