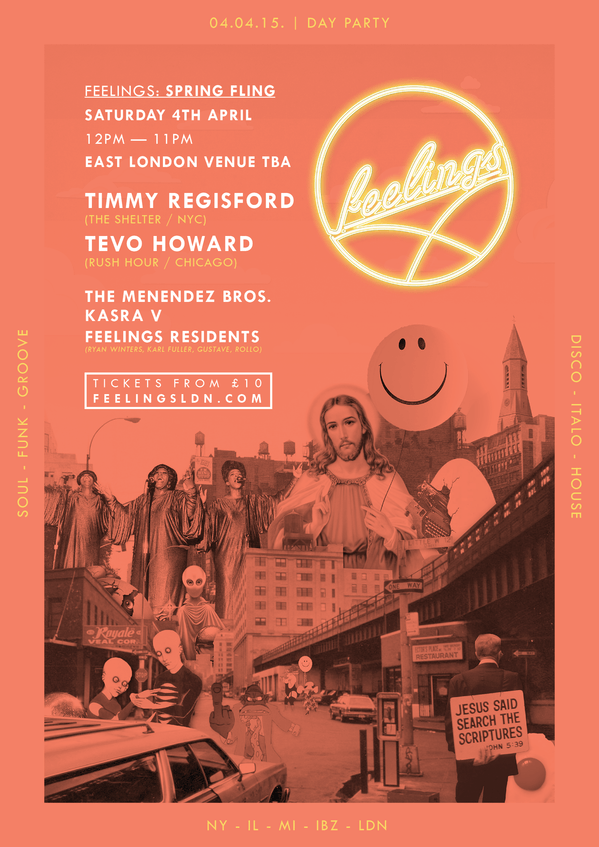 Feelings Spring Fling with Timmy Regisford and Tevo Howard
Party connoisseurs Feelings start 2015 with their biggest event yet, bringing US heavyweights Timmy Regisford, founder of NYC's infamous Club Shelter, and Chicago house advocate Tevo Howard to the ornate surroundings of Clapton's Round Chapel for an all-day Easter special on Saturday 4th April.

The party series celebrating seminal scene figures continues with one of dance music's most influential forces. As founder of NYC's internationally acclaimed Club Shelter and head of A&R at Motown, Timmy Regisford helped to pioneer the soulful house sound that has shaped the face of today's global house movement. With a prolific string of releases and remix projects for the likes of Diana Ross, Stevie Wonder and Bobby Womack, Regisford continues to nurture the scene, bringing his uplifting gospel to the giddy crowds at Feelings Spring Fling.

Chicago house maverick Tevo Howard will add his soulful sermon to proceedings. First establishing himself as a DJ in 1987, he made a dramatic return to music in 2006, founding Beautiful Granville Studios. Known for his philosophical and spiritual approach to music, the past few years have seen a sell-out string of predominantly vinyl-only releases and high profile shows around the world.

Identical DJ duo The Menendez Brothers and Kasra V will be unleashing their usual audio charm offensive on the gathering congregation, with much loved Feelings residents Ryan Winters, Karl Fuller, Gustave and Rollo will be offering up the finest cuts of house, soul, funk and disco to open proceedings.

Feelings: Spring Fling is the third in the series of events celebrating seminal scene figures in a location fitting to their legend. It follows on from a disco boudoir special with Nicky Siano at Metropolis strip club last November, and Balearic all-day terrace party with DJ Alfredo in August 2014.