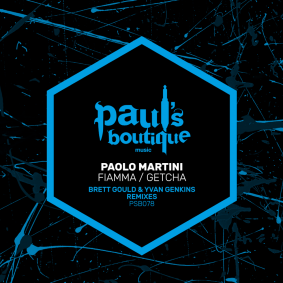 Paolo Martini - Fiamma / Getcha
Paul's Boutique founder Paolo Martini taps up Brett Gould and Yvan Genkins to remix two of his tracks from last year.
Both productions were two of Martini's biggest tracks from last year, sailing high in the charts and appearing in a promotional video for ElRow. It's only fitting then that the Italian producer has called in the remix services of two talented producers that continue to turn heads; London-based producer Brett Gould, who has been releasing music on various labels like Sola, Glasgow Underground and Solid Grooves Records, and Swiss artist Yvan Genkins, known for output on Relief, Suara and Material.
First up, Gould's remix of 'Fiamma' opens the release with clean drums and rumbling bass that join a rising vocal generating an infectious dancefloor groove. Meanwhile, Genkins' rhythmic remix of 'Getcha' starts with shuffling percussion and a meandering bassline that builds in intensity as white noise ebbs in and out of the mix.
Paolo Martini's 'Fiamma / Getcha – The Remixes' drops via Paul's Boutique on 20th April 2018.
Tracklist
1. Fiamma (Brett Gould Remix)
2. Getcha (Yvan Genkins Remix)
https://twitter.com/pauls_bout
https://www.facebook.com/paulsboutiquemusic
https://twitter.com/paolomartinidj
https://www.facebook.com/djpaolomartini
https://www.facebook.com/brettgouldmusic
https://www.facebook.com/YvanGenkinsOffical/