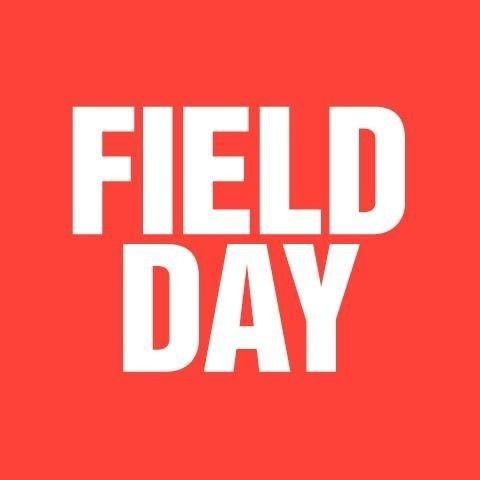 Field Day 2015 Second Line Up Annoucnement
Field Day are delighted to reveal the new line up additions that will be joining the likes of Caribou, Django Django, Chet Faker and Nina Kraviz on the Field Day Saturday 6th June bill.

Field Day president Tom Baker on the new additions: "Wow…. Just so many amazing new acts to take in, I don't know where to start! I'm already so excited for Ride's comeback, and Patti Smith playing Horses will be something very special. It's really fantastic to welcome back the Hendrix of the Kora aka Toumani & Sidiki Diabaté; the mesmerising talents of FKA Twigs will blow peoples minds, Run The Jewels live set is just off the scale and that's just some of it… Then the excellent Mac DeMarco alongside Viet Cong, Allah-Las and the brilliant Bad Breeding really round FD Sunday off. AND don't worry… Ride, Patti Smith, Savages and Mac DeMarco don't clash, so like me you can see all of them!!"

Field Day are thrilled to welcome double Brit Awards nominee and Mercury nominee FKA Twigs, whose Field Day performance will be a London festival exclusive. The exceptional dancer turned singer, songwriter and producer has released one of the most critically acclaimed albums of 2014 – her outstanding debut 'LP1'. Already considered a modern music and style icon, FKA Twigs is swiftly establishing herself as one of the most interesting and enigmatic faces in British music.

Also on board are Run The Jewels, the hip hop super duo formed by underground kings Killer Mike and El-P, in charge of the brilliant 'Run The Jewels 1' – Pitchfork's top album of the year; as well as Hudson Mohawke, one of the most exciting producers to come out of Scotland in the last ten years, seducing rap-heads and ravers alike with his neon-lit E&B and warehouse smashing low-end beats and producing for char topping urban-pop names like Kanye West, Chris Brown and Azealia Banks.

Meanwhile, Norwegian cosmic disco Producer and Field Day favourite Todd Terje, creator of some of the most memorable dance floor hits in recent years, will be performing live with his full band The Olsen's for the first time in the UK. Fingers crossed for a Bryan Ferry guest appearance…!

Field Day are honoured to have Radiohead's drummer Philip Selway with us this year, as well as the brilliant Tune-Yards, whose explosive live performances are as thrilling and unshakeable as her music. Also confirmed is Fryars, the musical brainchild of London-based Benjamin Garreet, whose peerless sound has won him fans from Kanye West to Depeche Mode.

World music has always played a notable part on Field Day's line up. Joining the brilliant Ethiopian Keyboardist Hailu Mergia are Toumani & Sidiki Diabaté. In a rare father-and-son collaboration, Toumani, a genius of African music and widely recognised as the greatest living kora player will be joined by his talented son Sidiki, Mali's best beat maker and kora's emerging star. This will be a very special performance and Field Day absolutely cannot wait to have them at the festival this year.

In addition, Brian Shimkovitz aka Awesome Tapes from Africa will be responsible for an unforgettable DJ set on twin tape decks, exploring obscure and wonderful sounds from across the continent.

Expect epic sets from Young Turks signed, Barcelona producer John Talabot, responsible for his outstanding 2012 debut 'ƒIN'; exceptional producer and DJ Floating Points, who's won over crowds around the world with his strictly vinyl club session, climbing the ranks of the globe's most impressive DJ's; as well as sets from Rinse FM residents Elijah & Skilliam, and fast rising Brighton deep-house producer Leon Vynehall.

+ sets from Huw Stephens, Marc Riley, Phil Taggart, Tom Ravenscroft, Volte-Face, Bad Vibrations and Georgie Rogers!!
Field Day Saturday 6th June

New Live acts confirmed:
FKA Twigs/ Fryars/ Hudson Mohawke/ Jack Garratt/ Philip Selway/ Run The Jewels/ Shura/ Sylvan Esso/ Todd Terje and The Olsens (live band) / Toumani & Sidiki Diabaté/ Tune-Yards

New DJ sets confirmed:
Awesome Tapes from Africa/ Bad Vibrations/ Elijah & Skilliam/ Floating Points/ Georgie Rogers/ Huw Stephens/ John Talabot/ Leon Vynehall/ Marc Riley/ Phil Taggart/ Tom Ravenscroft/ Volte-Face

Previously Announced:
Caribou/ Ben Klock b2b Marcel Dettman/ Chet Faker/ Clark – live/ Daniel Avery b2b Andrew Weatherall/ Django Django/ Ghost Culture/ Hailu Mergia with Tony Buck & Mike Majkowski/ Jagaara/ Kindness/ Madlib (DJ)/ Nina Kraviz/ Owen Pallett/ SOPHIE/ Tei Shi/ Ten Walls – live


Field Day Sunday 7th June

New acts confirmed:
Mac DeMarco/ Savages/ Hookworms/ Baxter Dury/ Viet Cong/ Allah-Las/ My Brightest Diamond/ Bad Breeding

Previously Announced:
RIDE/ Patti Smith and her band perform Horses/ Mac DeMarco/ DIIV/ Ducktails/ Jane Weaver/ Outfit

After confirming their favourite Canadian wild-child Mac DeMarco last week Field Day are thrilled to announce more additions to the Field Day Sunday line up, which so far includes newly reformed seminal Shoe-gazers RIDE as headliners, as well as the iconic Patti Smith & her band (performing her 1975 groundbreaking album Horses) and many more.

It has been two long years since the enigmatic Savages released their brilliant debut album 'Silence Yourself' (and also since we last saw them at Field Day) and now Field Day are very excited to welcome them back. We can't wait to see what the year will bring for the London four-piece and hope to hear new material at Field Day 2015!

Also confirmed for the Sunday are Leeds psychedelic noise rock quintet Hookworms, Canadian art rock/ noisy lo-fi pop band Viet Cong, as well as Los Angeles- based garage rock revivalists Allah-Las, who combine the harmonies and pop hooks of the British Invasion, the trippy atmosphere of West Coast psychedelic bands and the raw swagger of countless American garage rockers.

Field Day are also very pleased to welcome Baxter Dury, the electro-pop crooner who brought us the wonderful albums 'Happy Soup' and more recently 'It's a Pleasure'; as well as Singer-songwriter multi-instrumentalist Shara Worden aka My Brightest Diamond, who will bring her stunning mix of chamber music, opera, cabaret and rock to Victoria Park. Finally, the darkly exciting Bad Breeding, described as one of Britain's 'angriest new band's' has also been added to the Field Day Sunday line up.

Field Day Radio is back!

Field Day Radio returns as Tom Baker hosts a series of shows over the next couple of months playing as much music from this year's Field Day line up as possible, alongside some exclusive mixes and interviews. Listen here to the first episode which features brand new music from Django Django, Ghost Culture and Jagaara as well as classic Ride and Patti Smith.
Field Day Radio Jan 2015 by Field Day Radio on Mixcloud