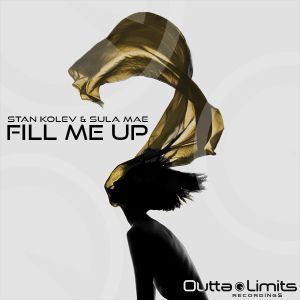 Stan Kolev & Sula Mae - Fill Me Up
2017 will be an amazing year for music, if this stunning musical creation from renowned electronic artist Stan Kolev, in collaboration with vocalist Sula Mae, on Outta Limits Recordings, the label he co-runs and manages with his partner producer and friend Matan Caspi, is anything to go by.

Stan Kolev is undoubtedly one of the most skilful electronic music producers to rise to prominence on the global stage over the past 20 years. His trademark sound, featuring haunting melodies and the hypnotizing use of vocals, has earned this Bulgarian-born, Miami-based DJ/Producer, a place as one of the most respected and in-demand producers. His music always shines with a unique formula, blending sophistication with his own distinctive originality.

'Fill Me Up' is a master-class in how to create subtle, yet intricately stunning, melody rich, uplifting house music. Layer upon layer of perfectly chosen musical parts, twist and turn, ebb and flow, in an ever-evolving track that demands many listens to fully appreciate the sheer quality and technical ability on display here. This is the mark of a producer of the highest order at the top of his game, creating supremely skilful arrangement that perfectly compliments the totally enthralling, seductive voice of Sula Mae. This is, quite simply, heavenly house music of the highest order.
As one of electronic music's most creative talents, Stan has also supplied an exceptional and incredibly emotive instrumental version of 'Fill Me Up' that possesses the same joyous musicality and the spacious structure shows his diverse sonic palette in its full glory and is an equally poignant version, to complete the package perfectly.

Sula Mae is a British singer / songwriter from South London, who draws influences from the Bristol scene (Portishead, Massive Attack and Tricky) and the jazz greats (Ella Fitzgerald, Nina Simone, Aretha Franklin), and who has previously collaborated with Stan Kolev on a track titled 'High' that achieved huge success a year ago on Outta Limits. The studio synergy between these two is so strong again this time round that 'Fill Me Up' can be considered their most accomplished creation to date.

Outta Limits was established by Stan Kolev & Matan Caspi to allow them to express themselves without any limitations of musical genres and is the place where you can always hear real quality underground music. Their ever-growing label is proving a successful venture and has already featured a long list of talented producers, including: Dinka, Daniel Portman, Chris Reece, Sergio Fernandez, DJ Lion, Karim Haas, Pete Moss, Ben Coda, Ad Brown, Magitman, Angelo Ferreri, D-Trax, Jon Silva, with many more to come…

The multi-tasking Stan Kolev also launched his own monthly 2hr 'Awakening' podcast in 2011, which airs worldwide: http://www.protonradio.com/show.php?showid=537
Artist Info:
https://www.facebook.com/stankolev.official
https://soundcloud.com/stankolev
https://en-gb.facebook.com/SulaMaeMusic/
https://soundcloud.com/sula-mae
Label Info:
http://www.outtalimitsrecordings.com
http://www.facebook.com/outtalimits.official
https://www.beatport.com/label/outta-limits/1239