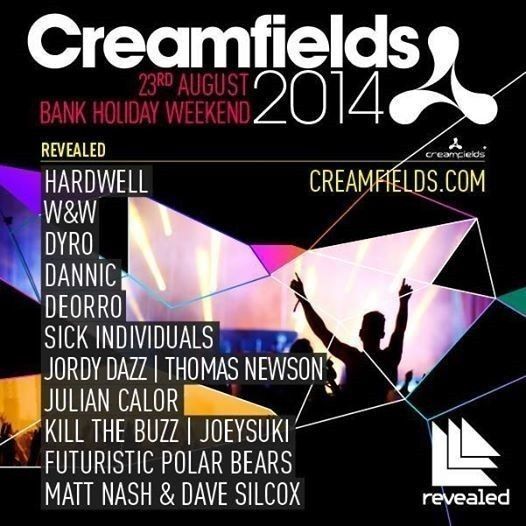 For the Futuristic Polar Bears, all roads lead to Creamfields
As the end of the UK summer appears on the horizon, what better time to take a retrospective look back at the year so far for what is arguably one of 2014's hottest production trios – Futuristic Polar Bears.
The wildest journey in its most literal sense, the year began with a Beatport #1 on Hardwell's Revealed Recordings, took in huge hits on John Dahlback's 'Mutants' as well as 'Game Over' on Sultan and Ned's 'Harem'. Next up was the Beatport top ten monster, Vargo, with BBC Radio 1's Danny Howard (remember the crazy video? That's got over 800,000 views now) and not to mention two tours of Asia that took in world-class clubs like Octagon, Bali's Sky Garden and the X2 in Jakarta.
Firmly rooted as the first UK act to become a part of the Revealed family, this summer saw their first appearance in Ibiza at the Ushuaia Revealed party and now, they're preparing to hit the Revealed stage at the mighty Creamfields Festival in the UK.
It's set to be a historic show on home turf to end the summer and the Polar Bears are rightfully excited about this one, but who can blame them? With a set that is immediately after the main man himself, Hardwell, expect to hear a festival set crammed with exclusives, edits and a few Arctic surprises thrown in for good measure.
With the follow-up to Back To Earth pencilled in on Revealed for later this year and another track with Danny Howard due out on Spinnin before that, it's safe to say that the Futuristic Polar Bears still have plenty up their sleeves.
To get you in the mood for their Creamfields appearance, the guys have packed in bangers from the likes of Kryder, Michael Brun, Steve Angello and New_ID, and more than a few exclusive festival edits and have put together this monstrous mix to whet the festival appetite.
From here on in, all roads lead to Creamfields.