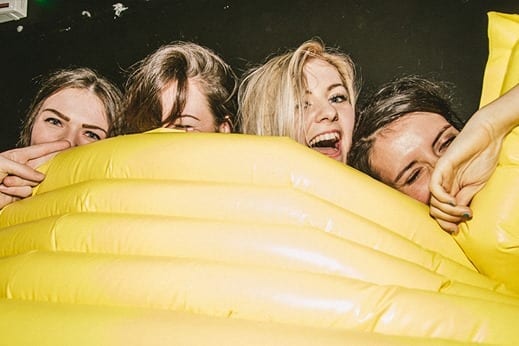 Foreverland announces new dates and venues for UK tour
The world's most magical club night has confirmed six new dates on its UK national tour. Sheffield, Brighton, Liverpool, Hull, Cardiff and Glasgow will now play home to Foreverland's immersive adult playground, spectacular live performers, and the crème of bass, grime and garage talent. Foreverland is also thrilled to add the grade two listed, Church Leeds, and Academy 2 in Manchester to the tour.
Foreverland is the realm of the surreal where your inner child can come out to play… immaturity is advised.
Foreverland, the magical club night where event-goers let their inner child come out to play, has announced six new dates to its national tour. Adding to the previously announced tour stops of Bristol, Birmingham, Bournemouth and Manchester are: Sheffield (Plug – 18 November), Brighton (The Arch – 24 November), Liverpool (Underground – 25 November) and a special New Year's event at Funktion in Hull on 31 December. The wonders of Foreverland continue in 2018 at Church Leeds on 2 February, and then onto other newly added dates in Cardiff (Tramshed – 3 February) and Glasgow (o2 Academy – 16 February). With bespoke stage builds in each city, themed characters performing theatrics throughout the night, giant props, inflatables, circus acts and acrobats plus a killer soundtrack of house, bass and garage, Foreverland is the ultimate adventure playground where growing old doesn't mean growing up. Immaturity is advised. Tickets are available for just £10 – £15 in advance from www.theforeverland.com
Foreverland is the realm of the surreal where your inner child can go wild. Since launching in Bournemouth just two and a half years ago, Foreverland has quickly developed a reputation as one of clubland's most enthralling and enjoyable events. Mixing up and coming DJs with eye-popping circus acts, it creates a world designed to embrace immaturity, a place of magical escapism where partygoers can let go. Nothing else out there can prepare you for a trip to Foreverland.
Foreverland creator Connor Scanlon comments,
"We can't wait to take Foreverland on tour. Our production is going to be bigger and better than ever. When you step into our world you step back into the magic and wonderment of childhood, and of course we throw in a healthy shot of fun, debauchery and a quality soundtrack to make a trip to Foreverland something you'll never forget."
Quality music underpins the entertaining visual feast, and some seriously talented artists have performed on the Foreverland stage on their way to greatness including, Stormzy, My Nu Leng, Monki, Preditah, Blonde and more. Although lineups are yet to be announced for the new tour, the sound of bass, grime and garage will be the backdrop to a journey through Foreverland, so don't be surprised to see a high calibre artist step into the spotlight.

Foreverland delivers top quality production values, at a level you would expect from a festival, using CO2 and confetti cannons amongst the constant flow of live entertainment, to create an exciting and up-for-it atmosphere. In fact, Foreverland has been invited to be part of various festivals, from Budafest, to El Dorado to the forthcoming Bestival on 7th September.
Tickets are now on sale for Foreverland, priced from £10 – £15 plus booking fee and are available from www.theforeverland.com. Those whose birthdays fall within seven days (either side) of any tour date are eligible for a free birthday ticket! To claim, message Foreverland on Facebook at www.facebook.com/theforeverland stating the city of choice, email address, mobile number and full date of birth. And remember to bring I.D on the night!

Further dates for Foreverland are to be announced in Newcastle, Nottingham, London, Edinburgh, Exeter, Oxford, Jersey, Plymouth, Southampton, Belfast, Canterbury and Coventry. Get priority access when tickets go on sale by signing up for pre-release tickets atwww.theforeverland.com, and then receive an email notification with further information.
Come join the fun at the world's most magical club night.

LINKS
www.theforeverland.com
www.facebook.com/theforeverland
www.twitter.com/theforeverland
www.instagram.com/theforeverland
www.snapchat.com/add/theforeverland

TICKETS

To purchase or sign up for pre-release tickets, visit www.theforeverland.com

EVENT DETAILS – new dates and venues marked in red.

Saturday 7th October – Lakota + Coroners Court, Bristol
Saturday 4th November – Academy 2, Manchester
Friday 10th November – Rainbow Venues, Birmingham
Saturday 18th November – Plug, Sheffield
Friday 24th November – The Arch, Brighton
Saturday 25th November – Underground, Liverpool
Saturday 9th December – The Old Fire Station, Bournemouth
Sunday 31st December – Funktion, Hull (NYE)
Friday 2nd February – Church, Leeds
Saturday 3rd February – Tramshed, Cardiff
Friday 16th February – O2 Academy, Glasgow

2018 DATES TBC

Newcastle
Nottingham
London
Edinburgh
Exeter
Oxford
Jersey
Plymouth
Southampton
Belfast
Canterbury
Coventry