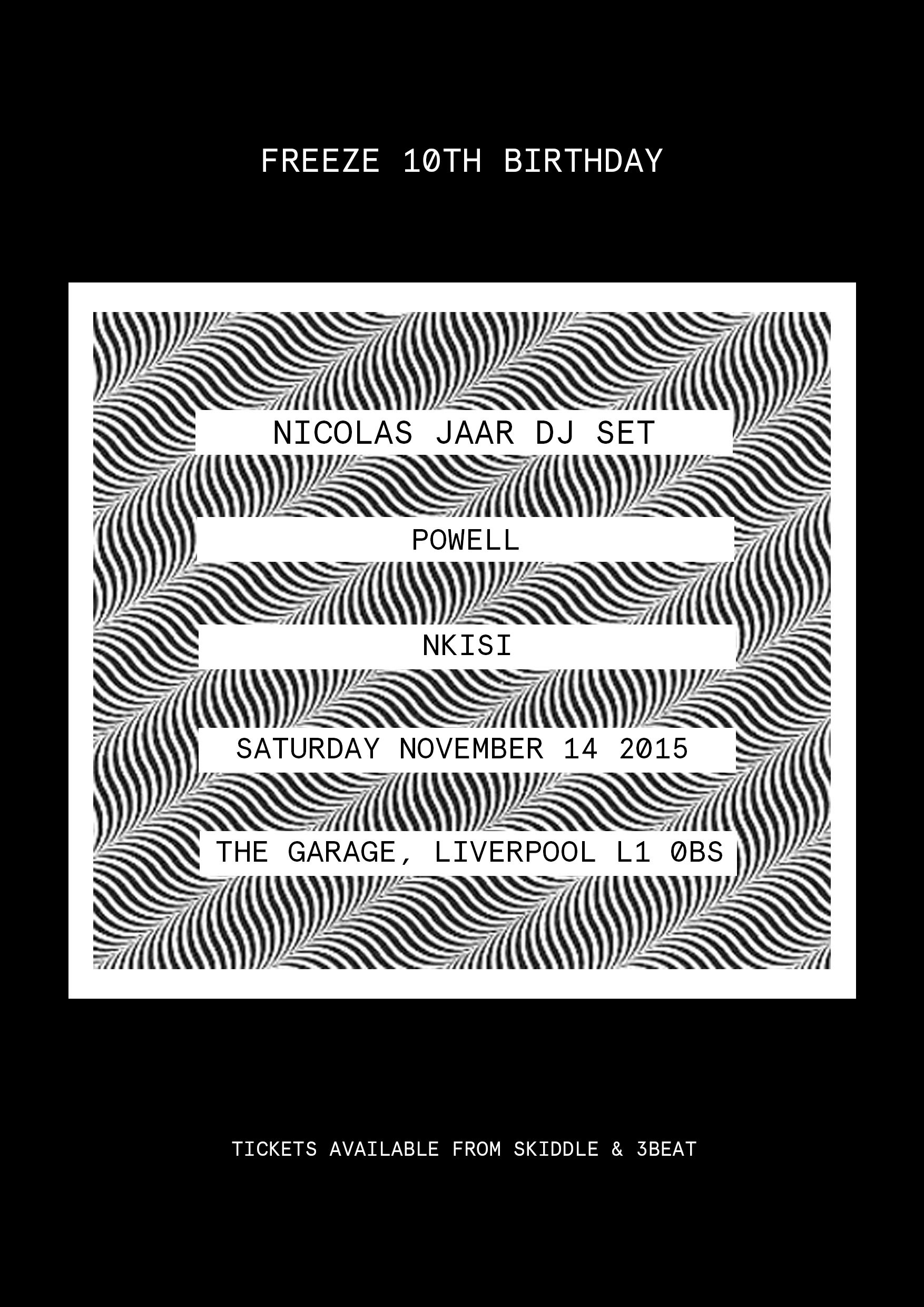 Freeze 10th birthday party
In what has been a quite amazing year for Freeze, they have so far celebrated their 10th anniversary in the North West with a series of sublime events in stunning venues.
And as 2015 draws to a close, they can now reveal their final run of shows taking place in their home of Liverpool, including two free parties.
Rob Casson from Freeze explains: "We are approaching the end of our huge year and wanted to finish on a big high. Nicolas Jaar is simply a brilliant artist to bring to the city, and this is for our actual proper 10th birthday party, too! Then we have got two shows with some really iconic UK DJs – Gilles and Greg – who we know will smash it for us. 2015 has been incredible, and we can't wait for 2016 to get started!"
The Freeze 10th birthday party itself is headlined by Nicolas Jaar on Saturday 14th November, in the intimate confines of the newly refurbished The Garage venue. The Young Turks regular has been voted the number 1 touring artist three consecutive years with his band Darkside on RA, his 2012 Essential Mix was the mix of the year, and sound-tracked Dheepan, the Palme d'Or at Cannes 2015 winner. Nicholas is a deeply revered composer and recording artist, from his critically acclaimed Space Is Only Noise debut album to Darkside's Psychic with Dave Harrington, this is an incredibly rare chance to see him perform in Liverpool, with a DJ set featuring live elements. Support comes from Powell who has already had a huge year, fusing post-punk with techno into experimental sonic odysseys.
December sees two further amazing parties take place at The Garage. Two truly venerable icons join Freeze, with the first on Saturday 5th December. Starting his career in the local clubs of the region back in the 70s, Greg Wilson is now recognised as one of the most important figures on the UK dance scene and a mainstay of the festival circuit. As well as his new multi-media label Super Weird Substance gaining great acclaim, his Radio 1 Essential Mix was one of ten classics chosen to represent the 17-year history of the mix series. Greg brings an all manner of disco, funk, house and rare-groove woven into his unmistakably dance-floor delectable sets, celebrating 40 years in the dance music industry with a 5 hour adventure.
Then Gilles Peterson returns after joining up with Bonobo back in the summer at the Bombed Out Church. As one of the UK's most dedicated DJs, broadcasters, producers, compilers, record label bosses and avid record collectors, he joins the dots between soul, hip-hop, house, Afro, Latin and electronica. With his annual Worldwide Festival and awards show, Gilles' travels continue to enrich and expand his vast record collection to create magical musical journeys, with an extended set taking place on Friday December 18th.
Freeze has grown in tandem with Liverpool's continued cultural resurgence, charting their unique course across the vibrant electronic music spectrum. With its DNA all about seeking the region's most intimate, quirky and stunning venues – including everywhere from the Anglican Cathedral and St George's Hall to tunnels and warehouses – 2015 has seen Freeze host parties at The Bombed Out Church, The Asylum, The Lemon Lounge and Manchester Cathedral and many more amazing venues through their 10th anniversary.
Freeze Final 10th Anniversary Shows Coming up
Freeze – The 10th Birthday Party
Saturday 14th November
@ The Garage, 34 Greenland Street, Liverpool, L1 0BS
Freeze 10th Birthday
Nicolas Jaar (DJ set with live elements)
Powell
Plus guests
10pm – late
Tickets £18- £20
Tickets on sale at www.skiddle.com
www.clubfreeze.co.uk
Freeze – 40 Years Of Greg Wilson
Saturday 5th December
@ The Garage, 34 Greenland Street, Liverpool, L1 0BS
Greg Wilson – 5 hour set
10pm – late
£10 advance
Tickets on sale at www.skiddle.com
www.clubfreeze.co.uk
Freeze – Giles Peterson Worldwide Music
Friday 18th December
@ The Garage, 34 Greenland Street, Liverpool, L1 0BS
Gilles Peterson – extended set
Support TBA
10pm – late
£10 advance
Tickets on sale at www.skiddle.com
www.clubfreeze.co.uk