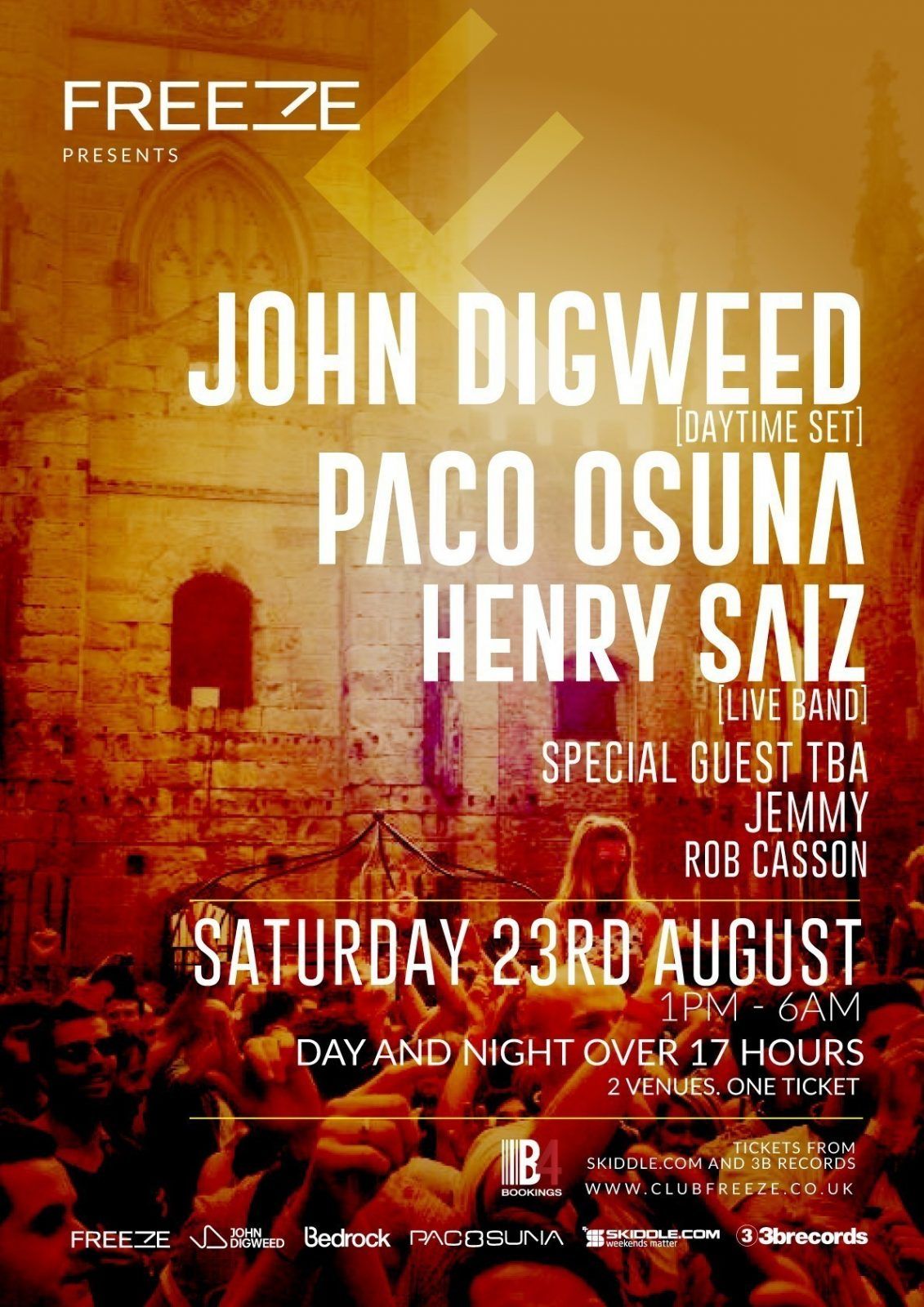 Freeze presents…
Liverpool's iconic nomads, Freeze, have made a huge success of their founding ethos in utilising all kinds of urban venues, spaces and environments for their brilliant parties. It's a different way of thinking which has seen the night take over St. George's Hall, The Anglican Cathedral, The Williamson Tunnels, The Bombed Out Church – pretty much every club space the city has to offer, really – during their tenure. With the focus now about quality over quantity, the approach has been further refined over the years, with its sporadic parties the talk of the town. With tickets selling out in record time for their July Bombed Out Church party, Freeze are very proud to announce they are returning to this same legendary space as one of the venues for Saturday August 23rd's double header of shows – the second venue will be revealed soon.
With summer in full flow, Freeze also recently went to the unusual step of asking their loyal audience who they thought should be booked for August, and whether they should bring John Digweed back to Liverpool to play at their next event. Quite unanimously, the rapturous response insisted that he returns to Liverpool DJ, so one of the world's most iconic spinners returns with a sense of huge anticipation, the Bedrock founder heading up this special 17-hour day and night event which cannot be missed.
Making his debut for the club will be techno fiend Paco Osuna, Renowned for his pulsating workouts delivered across the globe, he comes equipped with a spectrum of music which starts at groove-laden house and builds up to the fiercest techno cuts. His presence will ensure this balmy summer showcase perfectly encapsulates Freeze, capturing the music which is now the night's firm foundations. Paco is widely seen as Spain's most eminent techno DJ, and is also Richie Hawtin's main resident at his Ibiza Enter parties.
And Freeze being Freeze, of course there's more. Henry Saiz, the Spanish DJ and producer was part of Freeze's memorable debut show at St George's Hall in 2012, makes a welcome return. He will support John and Paco with his breath-taking live show, complete will full band, blending a rich sonic tapestry of sounds.
Support comes from Freeze mainstay Jemmy, regarded as one of the finest residents in the world by no lesser an authority than Danny Howells, and there is a return for original Freeze DJ Rob Casson who completes the billing.