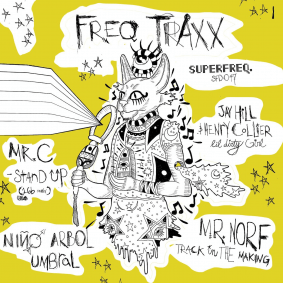 Various Artists - Freq Traxx Vol.1
Freq Traxx is a brand new EP compilation series designed to expose new or previously unreleased gems from Superfreq's regular stable of artists, friends of the label or deserving up and coming producers. The excellent Volume 1 features label founder Mr C remixed by Omid B, Harry Collier & Jay Hill, Nino Arbol and Mr. Norf.
Originally appearing on 2017's Incidents album, opening cut 'Stand Up' is here remixed by Alola main man Omid 16b, who turns it into a tough, tribal and 909 driven acid workout sure to shake the foundations of any club. Following on from that superb opener is 'Lil Dirty Girl', a collaboration between UK indie vocalist Harry Collier and up- and-coming Philadelphia producer, Jay Hill. Harry's emotive voice featured on tracks on Faithless' 2006 album, while Jay makes her Superfreq debut after appearances on labels like I Records, King Street Sounds and FM Elle. Together they turn in a deep, bubbly acid groover, with classic early '00s tech house percussion. It's a track that evokes late night dance floor moments at legendary London parties like Wiggle, Heart & Soul, and Whoop Whoop, and will be followed up by more Jay Hill material due on Superfreq later this year.
Next up and making his label debut is up-and-coming Mexican producer Nin?o A?rbol. Based in Guadalajara, he is a resident DJ at the legendary Bar Americas, part of the NWLA and Cobra Voyage net-label roster, as well as the founder of the sensorial crew. The MUTEK regular serves up the bleepy deep tech jam, 'Umbral', which is utterly restless, laced with acid madness and will tie your brain and body in knots.
Rounding out this action packed EP is 'Track In The Making' from mysterious English producer, Mr. Norf. With trippy, otherworldly synths and crisp, popping 808 percussion, it's a steely and futuristic tune that soundtracks a cosmic city after nightfall.
This is an exciting new EP series that packs a lot into the first volume and promises to be essential for house fans going forwards.
Tracklist:
1. Mr.C – Stand Up (16b Remix)
2. Jay Hill & Harry Collier – Lil Dirty Girl
3. Nino Arbol – Umbral
4. Mr. Norf – Track In The Making