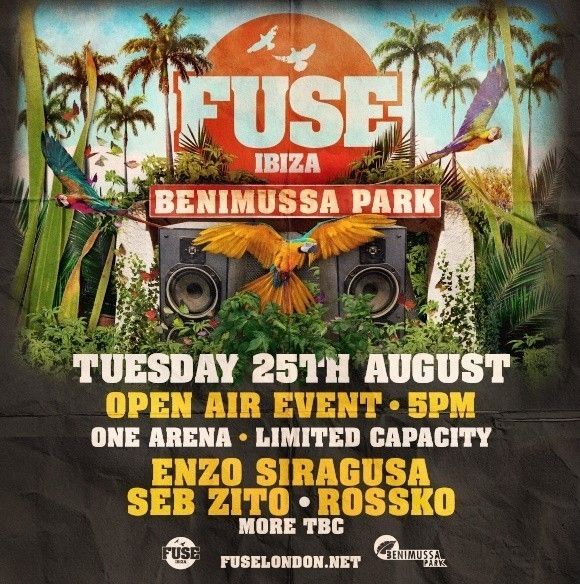 FUSE Ibiza heads to Benimussa Park
After a two month break comes the long awaited return of FUSE to Ibiza!
Having already taken over Space Ibiza for two unforgettable parties this summer, Enzo Siragusa and the FUSE gang are set for another Ibiza takeover this month. But this is no ordinary party, as this time the gang is set to take over one of Ibiza's most magical venues, Benimussa Park, for a one of a kind daytime bash, taking place on Tuesday, August 25th from 5pm to midnight.
The beautiful open air Benimussa Park sits just outside of San Antonio in an abandoned zoo – a labyrinth of colourful vegetation, hidden coves and sunset views, complete with a swimming pool for daytime lounging and night time frolicking, with FUSE taking over one of the amazing arenas for the day.
Anyone who knows FUSE knows it's all about the residents – their relentlessly uncompromising approach to techno and house and superb skills as selectors and producers has earned the crew a worldwide reputation as one of the tightest knit families in dance music, and this party is no exception.
Along with FUSE boss Enzo Siragusa, who's played the likes of Cocoon, ENTER., DC-10 and of course FUSE at Space Ibiza parties this summer, FUSE regulars Seb Zito and Rossko will be providing the day's soundtrack, with more special guests still to be announced.
This will be a proper FUSE residents daytime rave, with pool side vibes, carefree attitudes, and like minded people all coming together for what's sure to be one of the summer's most talked about events.
Capacity for this this extra special one-off party is limited, so be sure and get your tickets early – and remember TUESDAY is FUSEDAY!
CHECK OUT OUR COOL VIDEO TEASER: http://youtu.be/weXzI2VR6i4
Tickets available in advance at:
www.fuselondon.net
Facebook:https://www.facebook.com/FuseLondon?fref=ts
Website: http://fuselondon.net/
Twitter: http://twitter.com/FUSE_London
Soundcloud: http://soundcloud.com/fuselondon
Youtube: http://bit.ly/1DnCO5E