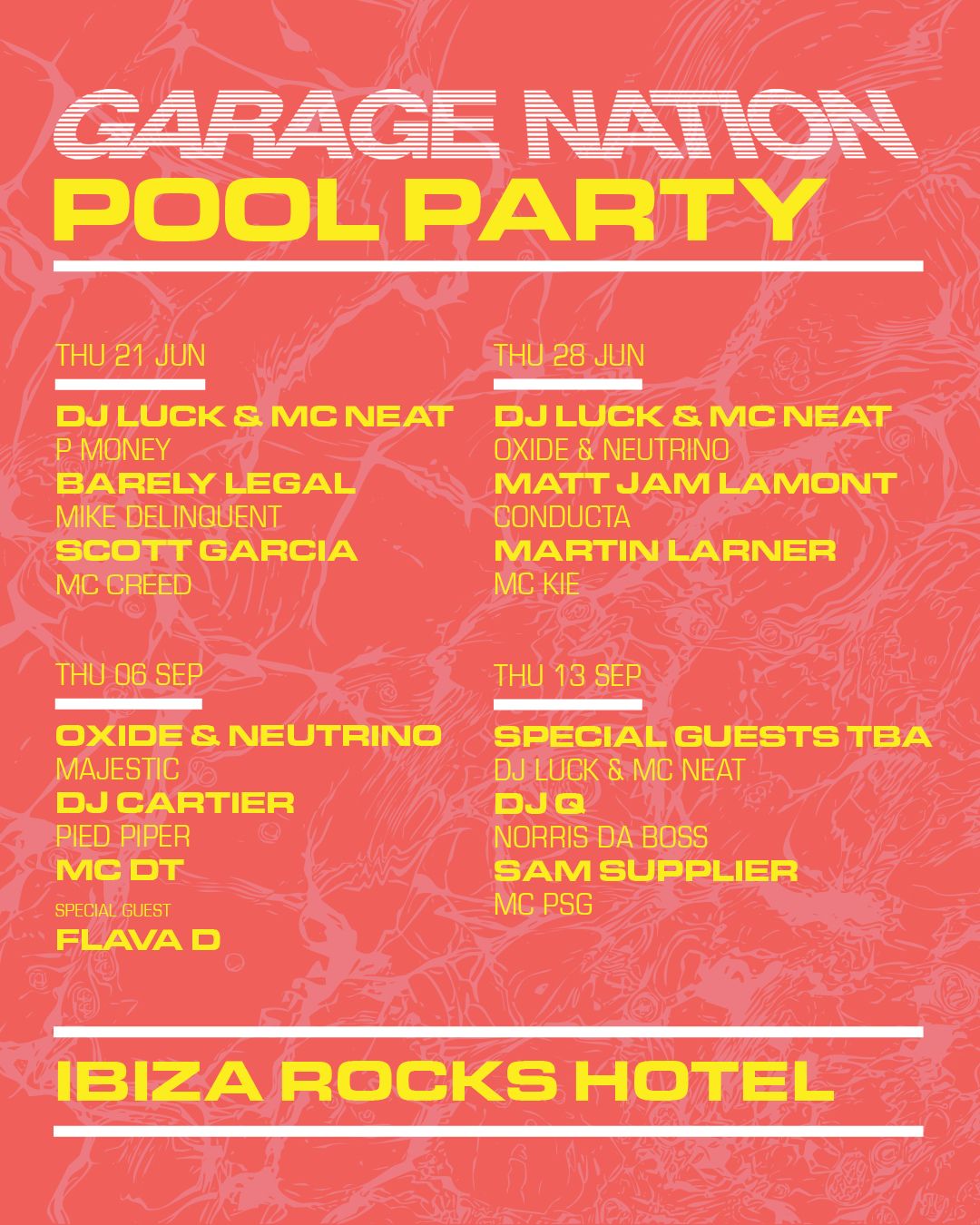 Garage Nation Line Up Revealed
The world's biggest promoters of UK Garage are bringing together a mix of the most loved garage heroes, influential selectors in the scene and fierce new UKG DJ'S & MC's to the Ibiza Rocks Hotel for four incredible Garage Nation Pool Parties in June (21st & 28th) and September (6th & 13th).
From original pioneers like Luck & Neat, Oxide & Neutrino, Matt Jam Lamont and Scott Garcia to current champions of UKG including Flava D, P Money, Majestic and DJ Cartier, these pool parties will bring the classic Garage signature sound as well as showcasing new bass house styles at the home of the pool party in Ibiza.
Four unmissable Garage Nation Pool Parties guaranteed to bring the good time Garage vibes to a whole new level this summer.
Line Up
21ST JUNE: DJ LUCK & MC NEAT | P MONEY | BARELY LEGAL | MIKE DELINQUENT | SCOTT GARCIA | MC CREED
28TH JUNE: DJ LUCK & MC NEAT | OXIDE & NEUTRINO | MATT JAM LAMONT | CONDUCTA | MARTIN LARNER | MC KIE
06TH SEPT: OXIDE & NEUTRINO | MAJESTIC | DJ CARTIER | PIED PIPER | MC DT | SPECIAL GUEST: FLAVA D
13TH SEPT: SPECIAL GUESTS TBA | DJ LUCK & MC NEAT | DJ Q | NORRIS DA BOSS | SAM SUPPLIER
Doors: 2pm – 9pm
Tickets on sale now from €20 at https://www.ibizarocks.com/hotel/events/garagenation
Book direct with Ibiza Rocks for the best prices guaranteed – up to 20% cheaper than other booking agents.www.ibizarocks.com