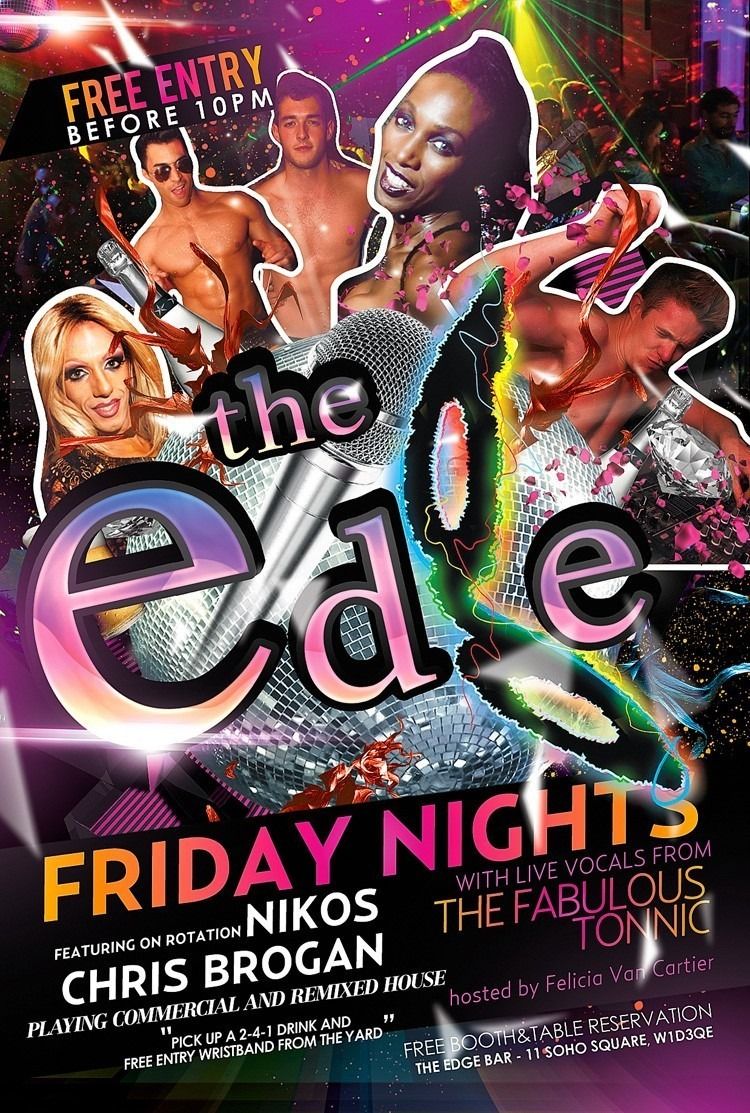 Gay Pride Friday 28th June
The Edge, Soho's multi award winning gay bar, is open every day from 4pm til 1am, 3am on Fridays and Saturdays and 11.30pm on Sundays and is available for private bookings, reservations and hires, whether you just want a table, an area, booth, an exclusive floor or even the whole venue – free! (t&cs apply)
The venue is perfect for any kind of party, be it for a birthday, leaving do, wedding reception – or just an excuse to catch up with good friends over a bottle of wine!
We offer a full bottle service too – so you can enjoy drinks at the comfort of your table without having to keep going up to the bar!
In addition to great offers and service we also have a membership scheme in place which offers you great discounts and exclusive deals as well as free guestlist, priority reservations and more! (we even throw several members only networking & social events over the year with complimentary food & drink!)
The weekend is party time and Friday & Saturday are our 2 flagship nights offering live DJs, dancers & entertainment across 4 floors!
Here is a little more of what to expect…
Friday nights at The Edge are one of Soho's busiest and most popular destinations, pulling in a fun, lively mixed party crowd! Packed to the rafters this fantastic night out delivers week after week and has fast become the place to be at the end of the working week!
Flagship Saturday nights are one of Soho's busiest and most popular destinations, pulling in an up for it sexy capacity crowd. It can be 1 in 1 out with a queue stretching around the block so arrive early to avoid disappointment!
Fantastic drinks offers run all night and entry is free for everyone before 10pm – with the bar & club open until 3am!
If you would like to know more, or if you have made up your mind and would like to make a booking simply contact The Edge on 020 7439 1313 ext 1 for more details or via the booking form on the website www.edgesoho.co.uk