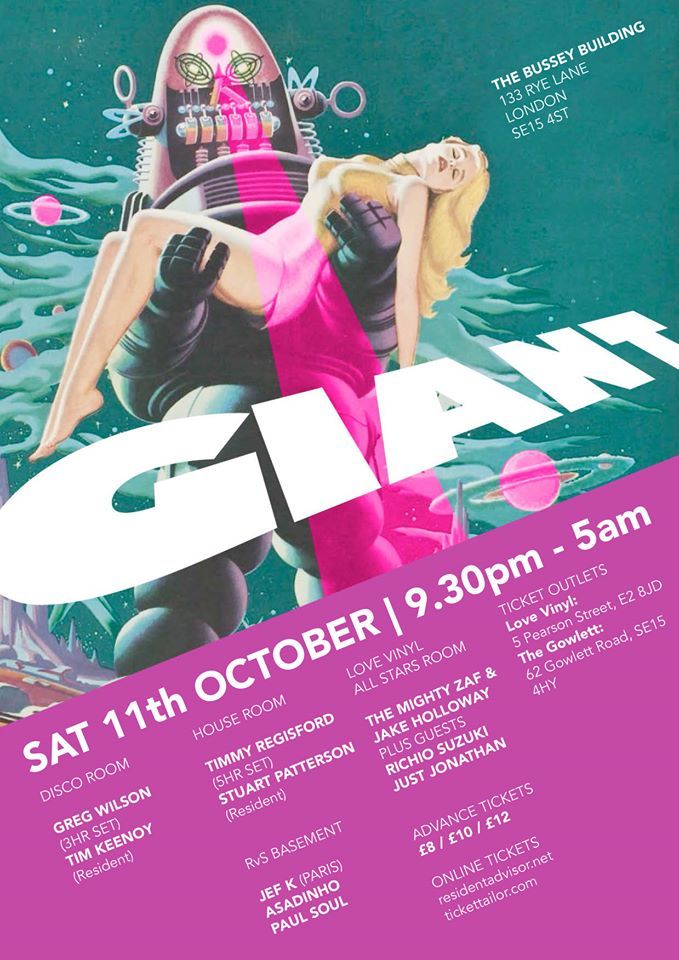 Giant 1st Birthday with Greg Wilson, Timmy Regisford and more
GIANT return with their 1st b'day party @ Peckham's, wonderful the Bussey building/CLF Art Cafe AND ths time there we have 4 rooms!!!
After kicking off the 1st GIANT a year ago we thought it only fitting to invite Greg Wilson back to headline the main Disco room with full support from resident Tim Keenoy.
We are also delighted to have NYC Shelter fave Timmy Regisford playing an extended 5hr set upstairs in the House room with full support from resident Stuart Patterson.
The Love Vinyl All-Stars will be hosting a 3rd room with a strictly across the board vinyl only selection. The Mighty Zaf + Jake Holloway host the room with guests Richio Suzuki & Just Jonathan.
We have just added a 4th room to cope with demand and are pleased to announce our friends at RvS Music (Asadinho and Paul Soul) have one of France's best house djs in tow with Jef K joining the party.
A huge line-up fitting for Giant's 1st birthday celebrations.
Room 1 – Disco
GREG WILSON (3hr set)
Tim Keenoy (Resident)
Room 2 – House Room
TIMMY REGISFORD (5hr set)
Stuart Patterson (Resident)
Room 3 – Love Vinyl All-Stars Room
The Mighty Zaf + Jake Holloway
Richio Suzuki
Just Jonathan
Room 4 – RvS
Jef K
Asadinho
Paul Soul