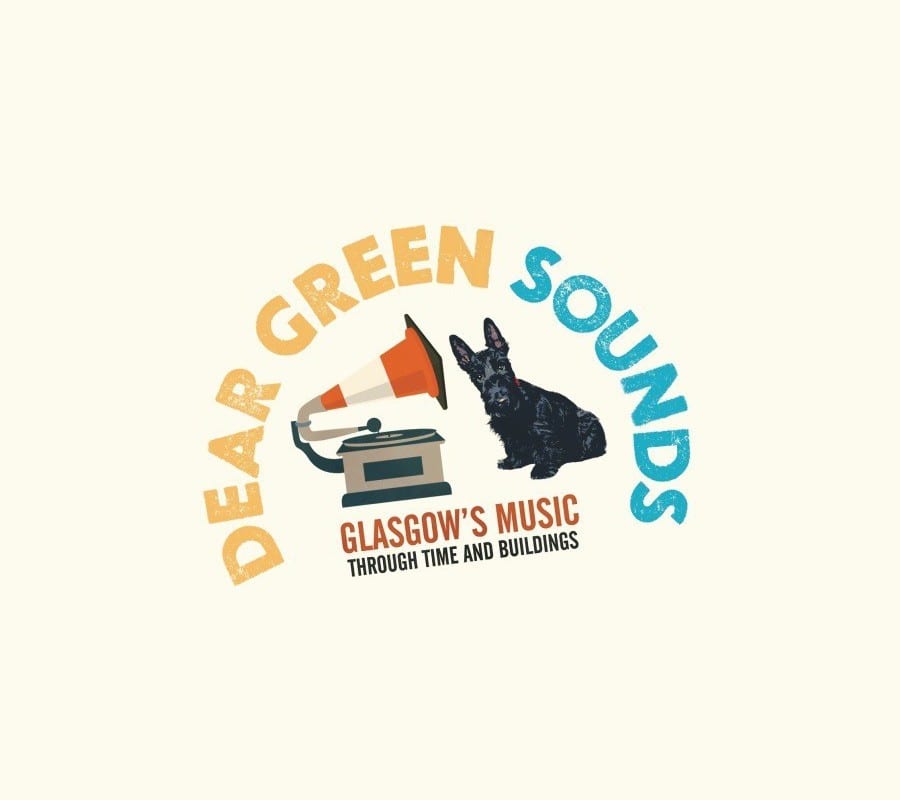 GLASGOW UNESCO CITY OF MUSIC'S NEWLY COMMISSIONED BOOK 'DEAR GREEN SOUNDS' UNCOVERS THE CITY'S RICH MUSICAL HISTORY
Today Glasgow UNESCO City of Music launches their newly commissioned book Dear Green Sounds – Glasgow's Music though Time and Buildings. The first of its kind, this large hardback, coffee-table book, illustrated with over 350 photographs and colour illustrations tells the story of Glasgow's love affair with live music through some of the city's most iconic music venues.
Svend Brown, Director of Glasgow UNESCO City of Music, developed the original idea of the book to bring to life Glasgow's rich musical heritage in one place and to explain the city's prestigious status as a UNESCO City of Music. Glasgow is widely known for its vibrant music scene and Dear Green Sounds digs deep into Glasgow's musical past, uncovering some hidden gems along the way.
Svend Brown, Director of Glasgow UNESCO City of Music, said:
"Glasgow is a UNESCO City of Music and its history is not a simple straightforward story, it is a fascinating weave of many different kinds of music, the people who made them, their stories and – critically – the buildings where the music was played and enjoyed through the centuries. Kate Molleson's idea of telling the story through buildings was the key that unlocked the idea of 'Dear Green Sounds' for me. In exploring the stories of Glasgow's venues we celebrate both the music and the musicians that populated them, the audiences, the folk who built them and the times both good and bad that Glasgow has seen throughout its wonderful, colourful and diverse history."
Dear Green Sounds was commissioned by Glasgow UNESCO City of Music and edited by Kate Molleson and published by Waverley Books. Each chapter tells the story of a Glasgow musical institution. The book starts with Glasgow Cathedral in the 14th Century and travels through time to the present day, visiting legendary venues such as The Apollo, The Old Scotia Bar and The Grand Ole Opry along the way.

Kate Molleson, Editor of Dear Green Sounds, said:

"Dear Green Sounds has been a thrilling, affectionate, wonderfully unruly and totally all-consuming project. The brief from UNESCO's Svend Brown was to find a way of integrating everything from medieval chant to rock, pop, folk, electronic, classical and the countless other styles of music that have been made in Glasgow over the centuries — a daunting prospect, to say the least! Svend and I talked long and hard about how best to structure a narrative through 700 years of musical history. There was no suggestion of a dry chronology or history textbook, and neither did chapters titled 'folk' or 'classical' or 'pop' seem to make any sense: music, audiences and Glasgow are have messier edges than those kind of genre labels generally allow. Fundamentally this is a book celebrating music and place and the push and pull between the two, and it became clear that the spotlight should be on venues — the storied stones and stages that have hosted musical activity since the foundations of the city. The resulting chapters from a wonderful set of authors, each passionately nerdy about his or her area of Glasgow musical history, have been a joy to delve into. Alongside the brilliantly characterful photographs brought together by Waverley Books, I hope that Dear Green Sounds will offer readers a colourful, soulful insight into the musical life of this great city."

Ron Grosset, Managing Director of Waverley Books, said:
"Just when you think you know a city, a book like Dear Green Sounds makes you think again, and realise that the importance of music in peoples' lives in Glasgow is not a recent passion – but one with medieval roots. There is so much more to be discovered and enjoyed."
Dear Green Sound's contributors include some of Scotland's top music writers and journalists – Keith Bruce, Martin Cloonan, Neil Cooper, Vic Galloway, Malcolm Jack, Alison Kerr, Hugh Macdonald, Ewan McVicar, Elaine Moohan, Gordon Munro, John Purser, Tom Service, Graeme Virtue, and Conrad Wilson, each writer explores the history of a venue close to his or her heart.

Dear Green Sounds will be published and available in stores and on www.amazon.co.uk on Saturday 5th April. For more information visit Glasgow UNESCO City of Music's website – www.glasgowcityofmusic.com – or follow on Twitter @AllGlasgowMusic.