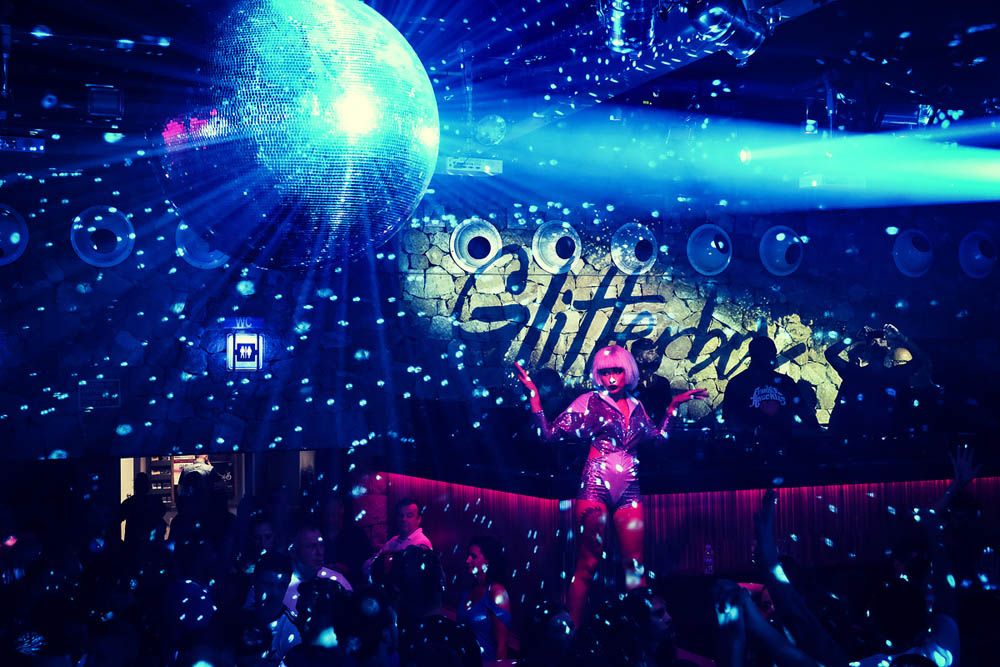 Glitterbox at Space Ibiza announces Closing Party 2015
Glitterbox has announced details of its last three events for the 2015 season at Space Ibiza, including an unmissable closing party on Friday 25th September, with Dimitri From Paris, Todd Terry, Breakbot, Greg Wilson, Horse Meat Disco, DJ Pippi, and Copyright.
A stunning finale by any measure, but consistency and quality are Glitterbox's hallmarks, and ahead of the last Ibiza event the island's hottest party presents two formidable line-ups, with 11th September featuring The 2 Bears, Lovebirds, Opolopo, Simon Dunmore and Andy Baxter; and 18th September, when the Glitterbox family will welcome Soul Clap for their Glitterbox debut, alongside Breakbot, Joey Negro, Juan MacLean, and DJ Ants.
Since its debut last summer, Glitterbox has caught the attention of island locals, in the know clubbers, and Ibizan and international media. This season's move to Space Ibiza offered a bigger home for those looking for a night built around the best classic and contemporary house and disco. In this regard (and beyond), Glitterbox has fulfilled its promise of offering something different, providing a place where DJs – many of whom requested to play – can spin records they can't drop anywhere else, and to a crowd that doesn't expect promo priorities or the latest hype tunes.
The highlights and memories have been many – Fatboy Slim and Basement Jaxx's sets in August, Hercules & Love Affair's live shows, Louie Vega jamming with Barbara Tucker (http://on.fb.me/1io72ME), Juan MacLean's 'A Simple Design' becoming the Glitterbox anthem, and the visual highlights provided by the Sink The Pink crews are just some of them. But the constant has been the vibe in the club; with the transformative power of house music written on each and every face, Glitterbox has earned a reputation as the happiest dancefloor in Ibiza.
As shown by the partnership with Space Ibiza (the island's most iconic club with an unparalleled musical history), creative collaboration – and fun – is at Glitterbox's heart. Overseen by Glitterbox Creative Director, Mark Herman, this year has brought new creative elements including the artist, TradeMark, who designed the season's artwork, and club collective "Savage" consisting of three different dance crews (Sink The Pink, Hot Heels & Nutbags) who have all brought their own unique energy to the night.
Following the huge success of July's debut UK party, at Ministry of Sound, further Glitterbox events will be announced soon.
Glitterbox at Space Ibiza – Main Terrace
(Every Friday from 12th June through to 25th September)
23:00 – 06:30
SEASON LINE-UP
Hercules & Love Affair (Live)
Fatboy Slim | Basement Jaxx | Louie Vega | Julio Bashmore | Dimitri From Paris
Joey Negro | The Magician | Tensnake | Breakbot | Todd Terry
Soul Clap | Horse Meat Disco | Aeroplane | Juan MacLean | The Revenge
David Morales | Kings Of Tomorrow | Claudio Coccoluto | Norman Jay MBE
DJ Spen | John Morales | FCL | Tim Deluxe | Lovebirds | DJ Pippi | Smokin' Jo
Heller & Farley | Mousse T. | Simon Dunmore | The Shapeshifters
Luke Solomon | Ron Basejam | Opolopo | Boris Dlugosch
Purple Disco Machine | Copyright
DJ Antz | Mr Doris | Mo' Funk | Andy Bailey | Andy Baxter | Mambo Brothers
Barbara Tucker (Live PA) | Ultra Nate (Live PA)
ABOUT GLITTERBOX
In 2014, Glitterbox arrived amid a sense of excitement sparked by on-island word of mouth and an understanding that Defected were setting out to create a different kind of party; one that combined a 'music first' policy with a sense of glamour – eschewing the flashy gimmicks and the homogenous thud that had become ubiquitous elsewhere.
Glitterbox's weekly soundtrack of expertly curated DJ sets of classic and contemporary house, disco and electronic music, drew a loyal following of locals, industry, club freaks, workers and fashion folk. As the buzz reached far beyond the Balearics, visiting international clubbers came in droves. By August, and then throughout September, Glitterbox was selling out on a weekly basis, culminating in a typically hedonistic, riotous closing party that brought back the original spirit of Ibiza.
Staying true to its intentions, Glitterbox's musical highlights were many. Hercules & Love Affair played two incredible live shows, India's PA was mesmerising, while DJ sets from Kenny Dope, Horse Meat Disco, Todd Terry, Dimitri From Paris and Joey Negro all added to the Glitterbox Ibiza legend.
Out now, Defected presents Glitterbox Ibiza 2015 is a new mix album that represents the nights musical spirit. Compiled and mixed by Defected's founder Simon Dunmore, the 3 mix set features some the biggest names in disco and house music including Chaka Khan, Ten City, Salsoul Orchestra, Rare Pleasure and Lana Del Rey.
Advance tickets for Glitterbox at Space Ibiza are available now from: http://bit.ly/glitterbox