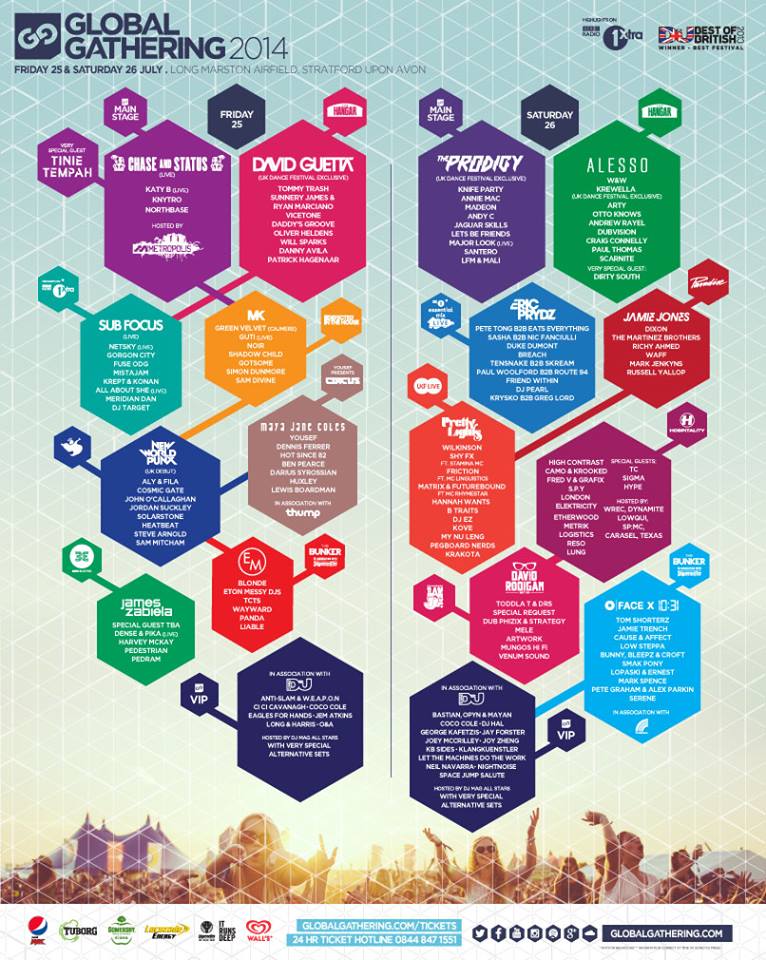 GlobalGathering 2014
Friday 30th May: Following the major line-up announcements earlier this year including UK dance festival exclusive, headline performances from The Prodigy and David Guetta, brand new live shows from Chase & Status and Tinie Tempah and an explosive set from Alesso, the UK's Best Dance Festival, GlobalGathering, is shaping up to have its best year yet! Today the line-up for each of the two explosive days can now be revealed.
With over 18 stages and arenas showcasing a spectrum of the world's finest electronic music talent, amongst the explosive and immersive production concepts across the site, GlobalGathering boasts the most exciting and diverse festival experience for dance music fans in the UK this summer.
Beyond the main arena, the weekend experience in 2014 is better than ever and selling fast; from hot-tubs to hammocks, bell tents to pod pads, secret parties in the woodland featuring exclusive sets from some of the stars of the festival as well as a Midsummer Night's Dream themed VIP area.
A limited allocation of Saturday tickets will also go on sale on Saturday 31st May, at 09:00AM from www.globalgathering.com/tickets.
Friday 24th July
Main Stage Arena Hosted By Metropolis
Set to storm the Main Stage Arena on Friday night, GlobalGathering festival favourites and premier drum & bass pairing Chase & Status, return to Long Marston with a new and explosive live show guaranteed to set the weekend off with a bang. Also live across the day is recently announced, Tinie Tempah, showcasing latest album 'Demonstration', chart-topper and first lady of Rinse, Katy B and Orlando bred rapper and MTA Records own Knytro. Metropolis stalwarts and breakthrough act Northbase will also bring their eclectic mixture of drum n bass, jungle and house to proceedings.
The Hangar
New to the festival site this summer is new super arena, The Hangar. Drawing direct inspiration from Long Marston Airfield, The Hangar will transform into a pulsating mega arena with the very best in lighting, LED, special FX and production. Making the headline debut in the super-structure is the dance festival exclusive performance from international megastar, David Guetta, bringing a new show and production concept that's guaranteed to be an eye-popping extravaganza.
Ahead of the performance this summer David Guetta commented: "I'll be dropping beats on Friday 25th in the brand new super arena 'The Hangar', are you gonna come party with me?" In support, Australian electro-house DJ Tommy Trash returns alongside Sunnery James & Ryan Marciano, all of whom are sure to deliver spellbinding and mesmerising sets. Oliver Heldens, the young producer making serious waves on the dance scene, will also be bringing his deep melodies, accompanied by fellow Dutch stars Vicetone and the fast rising talents of Italian duo Daddy's Groove, with Will Sparks, Danny Avila and Patrick Hagenaar all enlisted to support.
BBC Radio 1Xtra
Following an incredible year in 2013, BBC Radio 1Xtra returns with headliner Sub Focus, armed with his inimitable live show and unique hybrid of chart-storming drum and bass and dubstep. Belgian superstar and festival favourite Netsky performs live, whilst the UK's biggest breakthrough act of 2014 Gorgon City are also confirmed. GlobalGathering regular and 1Xtra radio presenter Mistajam will also be playing plus UK hip-hop duo Krept & Konan. Other highlights include Fuse ODG, Meridian Dan and All About She, with the stage being hosted by DJ Target.
Godskitchen
Godskitchen, one of the biggest, ground-breaking dance brands in the world, will once again be bringing the trance elite back to GlobalGathering. Showcasing the biggest names in the euphoric scene including a UK debut from trance super group New World Punx, made up of Markus Schulz and Ferry Corsten, Cosmic Gate, John O'Callaghan, Aly & Fila, Heatbeat, Steve Arnold, Sam Mitcham and Jordan Suckley.
Defected In The House
Representing the underground dance scene will be seminal UK label Defected, armed with a selection of house and techno's finest. Returning to GlobalGathering will be in demand, chart-topping remixer MK, who last year hit the top spot in the UK Singles charts with his edit of Storm Queen's 'Look Right Through', as well as techno ambassador Green Velvet. Other Defected highlights include Guti who will be performing live as well as Shadow Child, Gotsome, Sam Divine, Noir and label boss Simon Dunmore.
Yousef Presents Circus
Bringing a flavour of Ibiza will be the Circus stage presented by Yousef in association with Thump. Confirmed to perform will be leader of the new school of house and techno Maya Jane Coles, vibrant young producer Ben Pearce and Sankeys resident Darius Syrossian. Leeds based DJ and producer Hot Since 82, Huxley and Lewis Boardman will also be performing.
Global Freight Depot
The Global Freight Depot stage will also see a coveted 'Born Electric' takeover with visionary producer James Zabiela, hotly tipped duo Dense & Pika playing live, plus sets from Pedram, Harvey McKay and Pedestrian and a very special guest still to be announced.
The Bunker
The Bunker, one of the most exciting and unique spaces on any UK festival site, returns for its second year with a bold new direction in association with Jagermeister. Parties over the weekend are hosted by new electronic music champions Eton Messy. Bristol born duo and one half of the Eton Messy team, Blonde has amassed a strong following as they continue to make waves within the deep house scene. Another young star creating hype is TCTS, who will be joined by Wayward, Panda and Liable.
VIP Area
The VIP area in association with DJ Mag will be taking on a magical Midsummer Nights theme for festivalgoers to revel in. Hosted by the DJ Mag All Stars plus VERY special secret guests, the VIP area will also see a host of house and techno's finest grace the decks, including Anti- Slam & W.E.A.P.O.N, Ci Ci Cavanagh, Eagles for Hands, Jem Atkins, Long & Harris and O&A.
Saturday 25th July
Main Stage Arena
Headlining the main stage arena and returning to GlobalGathering for the first time since 2009 are dance music pioneers and living legends The Prodigy. The dynamic trio will show their legions of fans why they have been at the forefront of the underground scene for over two decades. EDM duo Knife Party also make an explosive return to Long Marston Airfield to make their debut on the main stage, with BBC Radio 1 host Annie Mac also bringing with her a selection of fresh cuts and the kind of party vibes that she has become synonymous for the world over. The young star destined for great heights, Madeon, will be bringing his forward thinking skills too, whilst drum and bass heavyweight Andy C will prove he is still on top of his game after over 20 years of dedication to the scene. Musical ninja Jaguar Skills also joins the ranks with an eclectic party selection sure to tear up any dancefloor, Lets Be Friends duo and providers of the GlobalGathering anthem will capture the audiences imagination with a high energy performance whilst Major Look, Santero and LFM & Mali complete Saturday's line up.
The Hangar
Recent number one chart sensation Alesso will also be headlining Saturday in The Hangar, delivering an explosive big room set alongside Dutch stars W&W. Also performing a UK dance festival exclusive are USA's new superstars of noise Krewella, set to make The Hangar a truly Global EDM experience. Russian sensation Arty joins Ingrosso's protégée, the passionately creative Otto Knows. Andrew Rayel will bring his unique sound whilst Dutch duo DubVision, Craig Connelly, Paul Thomas and Scarnite will ensure they keep heads bopping. There will also be a very special guest performance from Dirty South.
BBC Radio 1' Essential Mix LIVE
BBC Radio 1 will be presenting their world-famous Essential Mix LIVE arena and for the first time will be playing host to b2b sets from the dance music elite. Headlining will be one of the world's most in demand underground DJs Eric Prydz. In what is guaranteed to be a festival highlight, dance music pioneer and Radio 1 DJ Pete Tong will be going back to back with acclaimed Bristolian DJ Eats Everything. Progressive music pioneer Sasha will be playing alongside Saved Records head honcho Nic Fanciulli, whilst dubstep originator turned house hero, Skream, will also be playing alongside the leader of contemporary electro-boogie Tensnake. Recent chart topper Route 94 will play back to back with Paul Woolford and chart breakthrough DJ/Producers, Breach and Duke Dumont will also be playing as will Friend Within, DJ Pearl and Krysko playing back to back with Greg Lord.
UKF Live
UKF Live are confirmed to host a stage and showcase their sound of bass heavy beats. Pretty Lights will be performing his unique fusion of sampled-based beats plus Shogun Audio head honcho Friction and Digital Soundboy label owner and jungle heavyweight Shy FX plus Ram Records' Wilkinson will also be spinning drum and bass to the crowds. Much-loved Garage ambassador DJ EZ, will also be on the decks, as will BBC radio 1 presenter B Traits. Duo Matrix & Futurebound will also be playing and fresh new talent will be showcased through recent MTA signing KOVE plus Hannah Wants, My Nu Leng, Krakota and Pegboard Nerds.
Paradise
Returning for the second time, Global are thrilled to be bringing back the Paradise Arena, hosted by Hot Creations head honcho Jamie Jones. Having become an Ibiza must-see artist with his hugely popular residency at DC-10, Jamie will offer a taste of the white isle showcasing the deeper sounds of house, tech house and techno. The arena will feature Resident Advisor's No.1 DJ, Dixon, plus The Martinez Brothers, Richy Ahmed, Waff, Mark Jenkyns and Russ Yallop.
Hospitality
Returning to GlobalGathering for the fourth time to host its own stage will be pivotal drum and bass label Hospitality, now in its eighteenth year. They return with a plethora of talent including sets from High Contrast, London Elektricity, Camo & Krooked, Fred V & Grafix and S.P.Y. The stage will also feature special guests including jungle pioneer Hype, plus TC, Sigma and Special Request. MC duty will come courtesy of heavy weights including Wrec, Dynamite, SP:MC, Lowqui, Carasel and Texas.
Global Freight Depot – David Rodigan's Ram Jam
The Global Freight Depot will feature a takeover from Ram Jam's very own David Rodigan. Showcasing sounds inspired by reggae and dancehall will be the likes of BBC radio one DJ Toddla T, garage and dnb veteran DJ Zinc and dub enthusiasts Mungos Hi Fi. Other highlights include Mele, Dub Phizix & Strategy and member of the revered dubstep super-group Magnetic Man, Artwork.
The Bunker – FACE x 10:31
One of the UK's most exciting and established venues, The Rainbow, will present its home grown clubbing brands FACE x 10:31 in the Bunker. Showcasing a plethora of promising UK producers such as the Rinse regulars renowned for their killer musical selections Tom Shorterz and Cause & Affect. House enthusiast Jamie Trench joins bass music star Low Steppa to take things up a level, as well as Bunny. Bleepz & Croft, Smak Pony, Lopaski & Ernest, Mark Spence, Pete Graham & Alex Parkin and Serene providing a diverse mix of sounds.
VIP Area
The VIP area in association with DJ Mag will be taking on a magical Midsummer Nights themed for festival goers to revel in. Hosted by the DJ Mag All Stars plus VERY special secret guests, the VIP area will also see a host of house and techno's finest including Bastian, Opyn & Mayan, Coco Cole, DJ Hal, George Kafetzis, Jay Forster, Joey McCrilley, Joy Zheng and KB Sides. Other highlights include KlangKuenstler, Let The Machines Do The Work, Neil Navarra, Nightnoise, Space Jump Salute.
FRIDAY 25TH JULY
MAIN STAGE ARENA HOSTED BY METROPOLIS
CHASE & STATUS (LIVE)
TINIE TEMPAH
KATY B (LIVE)
KNYTRO
NORTHBASE
THE HANGAR
DAVID GUETTA (UK dance festival exclusive)
TOMMY TRASH
SUNNERY JAMES & RYAN MARCIANO
VICETONE
DADDY'S GROOVE
OLIVER HELDENS
WILL SPARKS
DANNY AVILA
PATRICK HAGENAAR
BBC RADIO 1XTRA
SUB FOCUS (LIVE)
NETSKY (LIVE)
GORGON CITY
FUSE ODG
MISTAJAM
KREPT AND KONAN
ALL ABOUT SHE (LIVE)
MERIDIAN DAN
Hosted by: DJ TARGET
DEFECTED IN THE HOUSE
MK
GREEN VELVET (CAJMERE)
GUTI (LIVE)
NOIR
SHADOW CHILD
GOTSOME
SIMON DUNMORE
SAM DIVINE
GODSKITCHEN
NEW WORLD PUNX (UK DEBUT)
ALY & FILA
COSMIC GATE
JOHN O'CALLAGHAN
JORDAN SUCKLEY
SOLARSTONE
HEATBEAT
STEVE ARNOLD
SAM MITCHAM
YOUSEF PRESENTS CIRCUS IN ASSOCIATION WITH THUMP
MAYA JANE COLES
YOUSEF
DENNIS FERRER
HOT SINCE 82
BEN PEARCE
DARIUS SYROSSIAN
HUXLEY
LEWIS BOARDMAN
THE GLOBAL FREIGHT DEPOT – BORN ELECTRIC
JAMES ZABIELA
VERY SPECIAL GUEST TBA
DENSE & PIKA (LIVE)
HARVEY MCKAY
PEDESTRIAN
PEDRAM
THE BUNKER IN ASSOCIATION WITH JAGERMEISTER – ETON MESSY
BLONDE
ETON MESSY DJS
TCTS
WAYWARD
PANDA
LIABLE
VIP IN ASSOCIATION WITH DJ MAG
ANTI-SLAM & W.E.A.P.O.N
CICI CAVANAGH
EAGLES FOR HANDS
JEM ATKINS
LONG & HARRIS
O&A
HOSTED BY THE DJ MAG ALL STARS
WITH VERY SPECIAL GUESTS TO BE ANNOUNCED
SATURDAY 26TH JULY
MAIN STAGE ARENA
THE PRODIGY (UK DANCE FESTIVAL EXCLUSIVE)
KNIFE PARTY
ANNIE MAC
MADEON
ANDY C
JAGUAR SKILLS
LETS BE FRIENDS
MAJOR LOOK (LIVE)
SANTERO
LFM & MALI
THE HANGAR
ALESSO
W&W
KREWELLA (UK DANCE FESTIVAL EXCLUSIVE)
ARTY
OTTO KNOWS
ANDREW RAYEL
DUBVISION
CRAIG CONNELLY
PAUL THOMAS
SCARNITE
VERY SPECIAL GUEST: DIRTY SOUTH
BBC RADIO 1'S ESSENTIAL MIX LIVE*
ERIC PRYDZ
PETE TONG B2B EATS EVERYTHING
SASHA B2B NIC FANCIULLI
DUKE DUMONT
BREACH
TENSNAKE B2B SKREAM
PAUL WOOLFORD B2B ROUTE 94
FRIEND WITHIN
DJ PEARL
KRYSKO B2B GREG LORD
UKF LIVE
PRETTY LIGHTS
WILKINSON
SHY FX FT. STAMINA MC
FRICTION FT. LINGUISTICS
MATRIX & FUTURBOUND FT. MC RHYMESTAR
HANNAH WANTS
B TRAITS
DJ EZ
KOVE
MY NU LENG
PEGBOARD NERDS
KRAKOTA
PARADISE
JAMIE JONES
DIXON
THE MARTINEZ BROTHERS
RICHY AHMED
WAFF
MARK JENKYNS
RUSS YALLOP
HOSPITALITY
HIGH CONTRAST
CAMO & KROOKED
FRED V & GRAFIX
S.P.Y
LONDON ELEKTRICITY
ETHERWOOD
METRIK
LOGISTICS
RESO
LUNG
SPECIALGUESTS:
TC
SIGMA
HYPE
SPECIAL REQUEST
HOSTED BY: WREC, DYNAMITE, LOQUI, SP:MC, CARASEL & TEXAS
GLOBAL FREIGHT DEPOT – DAVID RODIGAN'S RAM JAM
DAVIDRODIGAN
TODDLA T & DRS
SPECIAL REQUEST
DUB PHIZIX & STRATEGY
MELE
ARTWORK
MUNGO's HI FI
VENUM SOUND
THE BUNKER IN ASSOCIATION WITH JAGERMEISTER – FACE X 10:31
TOM SHORTERZ
JAMIE TRENCH
CAUSE & AFFECT
LOW STEPPA
BUNNY. BLEEPZ & CROFT
SMAK PONY
LOPASKI & ERNEST
MARK SPENCE
PETE GRAHAM & ALEX PARKIN
SERENE
VIP IN ASSOCIATION WITH DJ MAG
BASTIAN, OPYN &MAYAN
COCO COLE
DJ HAL
GEORGE KAFETZIS
JAY FORSTER
JOEY MCCRILLEY
JOY ZHENG
KB SIDES
KLANGKUENSTLER
LET THE MACHINES DO THE WORK
NEIL NAVARRA
NIGHT NOISE
SPACE JUMP SALUTE
HOSTED BY THE DJ MAG ALL STARS
WITH VERY SPECIAL GUESTS TO BE ANNOUNCED