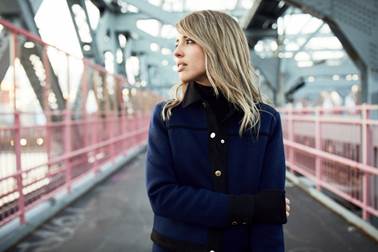 Lucy Mason - Going Home Broke
Following her critically acclaimed 2017 EP, dream-pop soloist Lucy Mason has returned with her brand new video for 'Going Home Broke'. Teaming up with US directing duo Vasili Gavre and Mollie Ableman, Mason has lent her gloriously produced Baroque pop to outstanding new visuals that convey the heartbreak and honestly in her writing like never before.
Gavre and Ableman have combined their experience to create something that truly compliments the lyrical content of 'Going Home Broke' in quite a unique way. A background with Vice Media and a wealth of industry involvement respectively have aided in their ability to apply visual metaphors to the video whilst also creating something stark and bold. "What we loved about the song was the interpretation of being broken, as well as the sensory musical composition" they explain, "We choose to use metaphors in this video so the viewer feels rewarded when they create a connection and solve the visual meanings. This also allows for multiple take aways so each viewer creates their own personal connection to the song and video."
A storming 2017 saw Lucy Mason not only achieve what many others can only dream but also overcome her own personal obstacles. The beginning of the year saw the release of hit single 'Hunger' followed by her debut EP, she performed at Buckingham Palace as well as for HRH Prince Harry and she travelled the world, including her trip to New York where 'Going Home Broke' was filmed.
Her earnest lyrics, unique style and enchanting voice have already seen her receive critical acclaim from the likes of The Independent, The Metro, Wonderland, The 405 and more, and this year sees Lucy Mason join forces with the team at Anti-Fragile for the first time to release her 'Going Home Broke' EP and continue her fierce output, matched only by her creative drive.
Lucy plays two UK Sofar Sounds shows; London on February 27th and Berlin on March 12th.