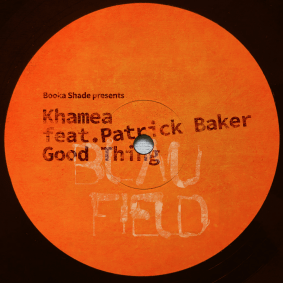 KHAMEA ft. Patrick Baker - Good Thing
April signals the arrival of new act KHAMEA together with American singer/songwriter Patrick Baker to deliver 'Good Thing' on Blaufield Music.
Founded in 2013 but more recently becoming a central piece in Booka Shade's return to their deeper, more dancefloor focused sound, Blaufield Music has quickly become a hub for both label founder releases and fresh productions from their close friends and colleagues alike. Having recently released material from a string of rising talents including Undercatt, Pôngo and UNDERHER, the label now sees a switch up in sound as Booka Shade welcome the debut of KHAMEA alongside Patrick Baker to deliver the infectious, disco-driven single 'Good Thing'.
'Good Thing' oozes feelings of melancholy and bliss right from the first funk-fueled guitar lick as rich strings and dusty drum loops go to work around Baker's ever-impressing vocals to form a bright and lively cut that looks set to become a firm favourite for many across the summer months ahead.
KHAMEA feat. Patrick Baker 'Good Thing' is out on Blaufield Music on 5th April 2019.