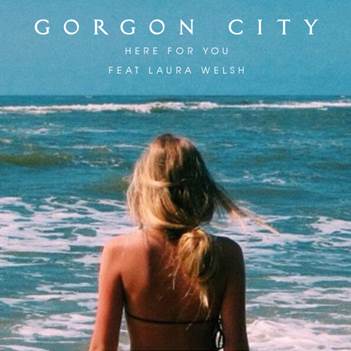 Gorgon City – Here For You Feat. Laura Welsh
Gorgon City's recent successes include a top 5 hit in the UK charts with their 300k selling single 'Ready For Your Love' released earlier this year. Now, the unstoppable production duo of London boys Matt & Kye are excited to unveil their new release 'Here For You' featuring Laura Welsh.

If you thought 'Ready For Your Love' featuring MNEK hit the spot – a track that has now hit 4.5 million video views – wait until you wrap your ears around this one. Once again, they use their distinctive production skills to perfectly encapsulate everything that is so exciting and vital about British dance music in 2014, this time featuring the bold and beautiful vocal talents of newcomer, Laura Welsh.

The last few months have seen Gorgon City much in demand in both the studio and on the road. They turned their production skills to the new Klaxons single 'There Is No Other Time' and have just completed an extensive tour of Australia supporting Black Butter comrades, Rudimental as well as their own run of stateside shows at SXSW, Miami WMC and a sold-out headline show in Brooklyn. Focus now turns to their own first headline tour of the UK in April & May, which will no doubt only further cement their ever-growing reputation as one of the best production partnerships ascending in the UK right now. A series of special club nights curated by Matt & Kye marks the beginning of their summer of live shows ahead. The Welcome To Gorgon City Tour sees them head up 5 shows across the country playing with mix of well known, established house acts and new blood from the forefront of the electronic music scene.

Kicking off in Glasgow at the Arches on April 25, the tour heads south to their hometown London for a show at Brixton Electric on the 26th before taking in Bristol (The Thekla), Leeds (The Warehouse) and finishing up in Brighton's Audio across May. Gorgon City are also looking ahead to a summer of festivals with slots at Glastonbury, Coachella, The Great Escape, Bestival, SW4, Reading and Leeds, plus many others already confirmed.

The Welcome To Gorgon City Tour also ties in very nicely indeed with the launch of their brilliant new website: www.gorgoncity.com – head here to read all about The Lost City of Gorgon on the Elysian Times…

'Here For You' further establishes the pair as one of the most exciting and talented new acts in the ever-flourishing landscape of British club savvy pop and paves the way for the duo's forthcoming debut album due later in the year.