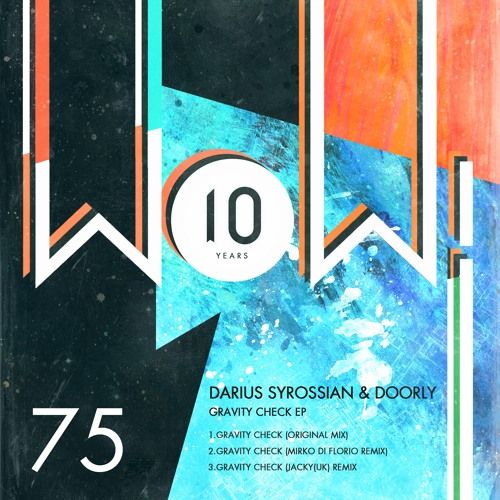 Darius Syrossian & Doorly - Gravity Check
This week UK-based DJ/producers Darius Syrossian and Doorly have teamed up to deliver their debut release on Mar-T's respected label, Wow! Recordings, entitled 'Gravity Check'.
Both artists have previously released on some of dance music's finest imprints, with Darius featuring on Yousef's Circus, Steve Lawler's VIVa and Jamie Jones' Hot Creations, whilst Doorly – who has also worked with Hot Creations – has appeared on the likes of Mark Knight's Toolroom and Green Velvet's Cajual Records amongst others.
Although this is their first joint release, the pair have previously performed together live, including a special b2b set in 2015 at London's iconic Ministry Of Sound.
The self-titled track, 'Gravity Check', kicks off proceedings with it's straight-up four-to-the-floor House groove encompassing a powerful funk-driven bassline, filtered chord stabs, distinctive cowbell chimes and a brilliant squelching TB-303 acid line that's introduced mid-way through to great effect.
The first of the two remixes is next up and comes from Italian Mirko Di Florio, who delivers more of a funk/Jazz influenced Jackin' House affair by utilising some of the main ingredients from the original but adding Trumpet stabs, a low-slung bassline and a section of spoken word samples.
The second re-rub concludes the release and comes from Jacky (UK), who serves up an acid-infused high-tempo Tech-House spin on things which features an array of skew-whiff effects and a mix of male and female vocal samples.
'Gravity Check' is available exclusively via Beatport on 27th June and everywhere else two weeks later.
FIND DARIUS SYROSSIAN ONLINE:
https://www.facebook.com/darius.syrossian
https://soundcloud.com/dariussyrossian
https://twitter.com/DariusSyrossian
FIND DOORLY ONLINE:
https://www.facebook.com/doorlydj
https://twitter.com/doorlydj
https://soundcloud.com/doorly
FIND WOW! RECORDINGS ONLINE:
https://pro.beatport.com/label/wow!-recordings/2163
https://soundcloud.com/wow-recordings
https://www.facebook.com/WowRecordingsOFFICIAL
TRACKLIST
1. Darius Syrossian & Doorly – Gravity Check (Original Mix)
2. Darius Syrossian & Doorly – Gravity Check (Mirko Di Florio)
3. Darius Syrossian & Doorly – Gravity Check (Jacky (UK))