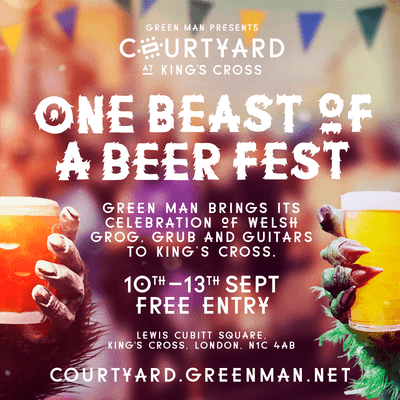 Green Man Presents 'Courtyard'
Green Man Festival is extending its fun-loving reach into London's King's Cross for a monster craft ale and cider festival in the capital, taking place from Thursday 10th to Sunday 13th September.

With over 100 of the best Welsh beers and ciders from independent breweries on offer, this beast of a beer festival aims to bring a piece of the Green Man spirit to the streets of King's Cross, London.

In true Green Man spirit, they have invited an exciting feast of musical friends to perform each day. So far these include; The Wave Pictures (house band), Stealing Sheep, Huw Stephens, Happyness, Boxed In, Meilyr Jones Seamus Fogarty, Benedict Benjamin, Rozi Plain, Toby Hay, and Cristobal & The Sea, with many more to come. The Sunday will see the infamous and lovely Moshi Moshi Records hosting a Moshi curated stage!

Courtyard is completely free to attend; you don't need a ticket, just turn up on the day. But be warned, it's going to be a roadblock, so to guarantee entry we recommend you purchase one of the beer packages in advance via the website- http://courtyard.greenman.net. When purchased in advance, the grog will be significantly cheaper.

Some of the festival's native creatures will be along for the ride – our fluffy friends will help punters find their way to the bar. We will also have a series of craft brewing workshops, walkabout theatre and interactive workshops, to make sure there's something for each and every monster!

Expect the same friendly free-spirited atmosphere that the festival has become known for, complete with a scrumptious selection of Welsh street food served by independent vendors to keep you fuelled up throughout the weekend.

For more information, please visit – http://courtyard.greenman.net

Facebook @courtyard.greenman
Instagram @courtyard.greenman
Twitter @courtyardkingsx

Notes:
Courtyard will take place 10th – 13th September at Lewis Cubitt Square, King's Cross, N1C 4AB.
Courtyard is free, you do not need a ticket to attend.
Attendees will not be allowed to bring alcohol into the beer festival.