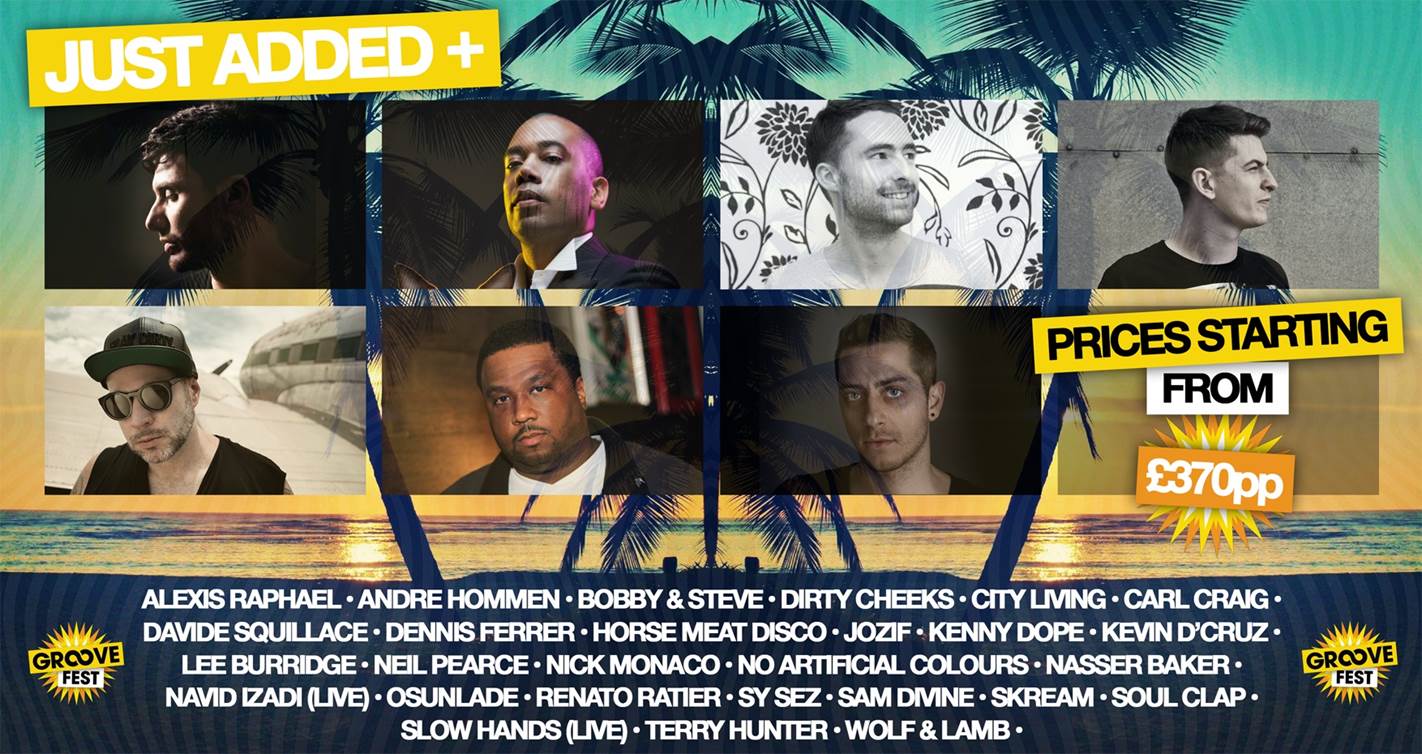 Groovefest Announce Final Line up – A Party In Paradise
Groovefest Announce Final Line up – A Party In Paradise
Following on from the announcement back in March that saw the likes of Soul Clap, Slow Hands, Wolf & Lamb, Lee Burridge and No Artificial Colours added to big names like Kenny Dope, Dennis Ferrer, and Osunlade comes yet another wave of acts…
As such, now playing the ultimate party in paradise that is Groovefest are dubstep inventor turned disco deviant Skream, techno legend and Planet E boss Carl Craig, DC10 hero David Squillace, London's own deep house master Jozif, Creche head honco Alexis Raphael plus D Edge and Warung showcases with resident and owner Renato Ratier plus last but not least US house Don Terry Hunter.
Taking place between 9th and 15th September 2014, Groovefest takes over.
Lifestyle Holidays Vacation Club in the Dominican Republic and puts you and the best electronic music right at its heart.
This is more than a festival, but a 5* dance music holiday. The all inclusive festival offering is a truly idyllic getaway with pool and beach parties, open air events and an array of great food options from local to international restaurants, endless amounts of beer and cocktails and of course non stop sun! It's a place where you can drift from your accommodation to the pool, to a party stage to a restaurant all at leisure, and wherever you go you will be treated like a king.
Just a short flight from the US for all American party people, Groovefest is also a more than viable alternative to the hustle and bustle of Ibiza, with the all inclusive package coming in at around the same price as a big week in Ibiza.
However Groovefest is in an even more idyllic setting with clear blue seas and warm sand beaches, luxury accommodation, pool parties, clubs and open air events under the sun & stars.
Go to Groovefest and Party in Paradise.
Groovefest
9-16th September
Puerto Plata Holiday Resort
Dominican Republic
Line up so far…
Skream, Carl Craig, David Squillace, Alexis Raphael, Terry Hunter, Kenny Dope, Dennis Ferrer, Soul Clap, Wolf & Lamb, Nick Monaco, Navid Izadi (live), Horse Meat Disco, Bobby & Steve, Andre Hommen, Lee Burridge, Osunlade, No Artificial Colours, Sam Divine, Kevin D'Cruz, Slow Hands (live), Rhemi Music, Sy Sez and more…