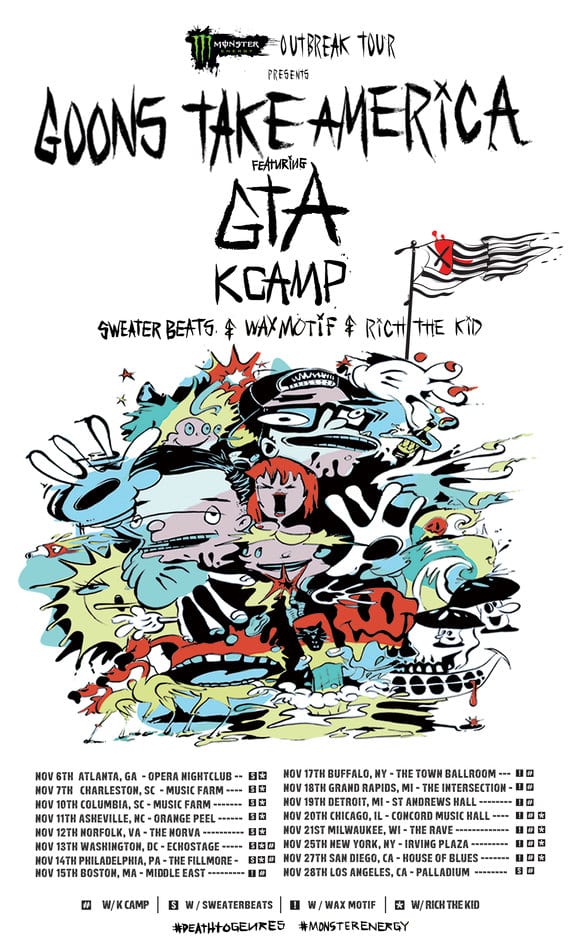 Gta Prepares To Embark On Massive Goons Take America Tour
Matt van Toth and Julio Mejia, otherwise known to the world as GTA, have been lighting up the scene with their countless remixes, chart topping collaborations, and ground-breaking sets at some of the world's most illustrious festivals. Now, they're embarking on a massive North American bus tour aptly titled Goons Take America. Presented by Monster Energy Outbreak Tour, GTA have enlisted the likes of K Camp, Sweater Beats, Wax Motif, & now, newly announced Rich The Kid to join them on this 16-date tour across the country.

BUY: GOONS TAKE AMERICA TOUR

Joining the already stacked lineup for the tour, hotly tipped Georgia-bred rapper Rich the Kid joins the bus tour to truly make this a lineup fans won't want to miss. GTA have always stuck to their mantra of "death to genres", so enlisting Rich The Kid who has worked with the likes of Fetty Wap, Migos, iLoveMakonnen, and many more is only testament of their genre defying values.

Featured on Volume 1 of DTG and recently premiered on Run The Trap, "Smoker's Unite" feat. Paul Wall and Clyde Carson now receives a music video treatment to boot. Filmed last year during HARD Day of the Dead, the video follows Matt, Julio, Paul and Clyde around the venue, capturing the guys performing and getting fitted for grills alongside cameos from the likes of Diplo. An instant hit with fans around the world since its release on , the track is laced perfectly with GTA's bombastic beats and both Paul and Clyde's cunning lyrics creating an exhilarating piece of dance music.



If that weren't enough, GTA are now offering fans a free download of their remix for K Camp's "Lil Bit" to give yet another glimpse of what they can expect on the Goons Take America Tour. Premiered on Dancing Astronaut, GTA's rendition of "Lil Bit" comes packed with battering synth melodies, pulsating bass kicks, all rimming perfectly alongside K Camp's verses as they add this record to their already expansive catalogue of smash remixes.

With a busy 2015 left ahead of them and the imminent release of DTG Volume 2 on Warner Brothers Records, GTA is on a surefire course to closing out one of their biggest years yet. Be sure to stay up to date with their socials for new music, tour dates, and more.