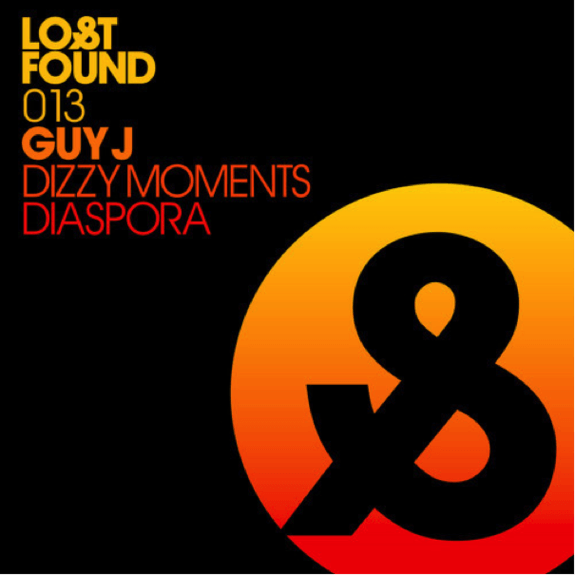 GUY J – DIZZY MOMENTS / DIASPORA
Following a hugely successful start to 2014 – one that has seen him tour across a staggering 5 continents already – Israeli-born DJ, producer, label boss and bona fide pizza-lover GUY J unveils his latest 2-track EP opus, available now on LOST & FOUND.
DIZZY MOMENTS / DIASPORA is the stunning new release on LOST & FOUND – Guy's very own label which he founded back in 2012. The 13th remarkable release on this rapidly burgeoning imprint, DIZZY MOMENTS / DIASPORA is a beautifully crafted double-sided record that perfectly showcases Guy's versatility and prowess as a producer of exquisite underground music.
From the progressive, ethereal swirls of Dizzy Moments to the deep, moody and much tougher soundscapes of Diaspora, this exceptionally conceived and beautifully crafted release is available to buy from Beatport now.
What's more, for the first time in the label's history, 250 copies of this release have also now been made available in limited edition vinyl format.

This release rounds off what has been a spectacular start to the year for Guy J. Having touched fans with mesmerizing sets in no less than 5 continents, this first quarter has seen Guy take Lost & Found from strength to strength across the globe, with resoundingly successful label parties in numerous cities worldwide. From Toronto, Canada and Paris in February, to Miami Music Week in March and London's Ministry of Sound this past weekend, Guy continues to showcase his stunning musical ethos to an ever-growing number of appreciative fans from all corners of the globe.
Showing absolutely no signs of slowing down whatsoever, be sure to expect much more of the same from Guy in the weeks and months to come. With roughly one release per month scheduled for the label, a whole slew of international tour dates (full details below) and the announcement of a huge project set for this summer, 2014 is shaping up to be Guy's most prolific and successful year yet.
For all new music and up-to-date information on Guy J and Lost & Found, stay connected to his Facebook, Twitter, Soundcloud and Official Website pages.


Guy J International Tour Dates
April
25th – Verboten, NYC
26th – Kingdom, Austin
May
3rd – One Again, Marseille
16th – Harlot, San Francisco
23rd – Opium, Kharkov
24th – The Lab, Kiev
28th – Stairs Club, Zurich
31st – Studio 80, Amsterdam
June
6th – Bowlers, Brisbane
7th – Boutique, Sydney
7th – Shed 14, Melbourne
13th – Nagaba, Kuala Lumpur
14th – Aqua Spirit, Hong Kong
21st – Housebug, Navan
29th – Escapade Music Festival, Nepean
www.facebook.com/guyjofficial
www.twitter.com/djguyj
www.soundcloud.com/guy-j
www.residentadvisor.net/dj/guyj
www.facebook.com/guyjlostandfoundrecords