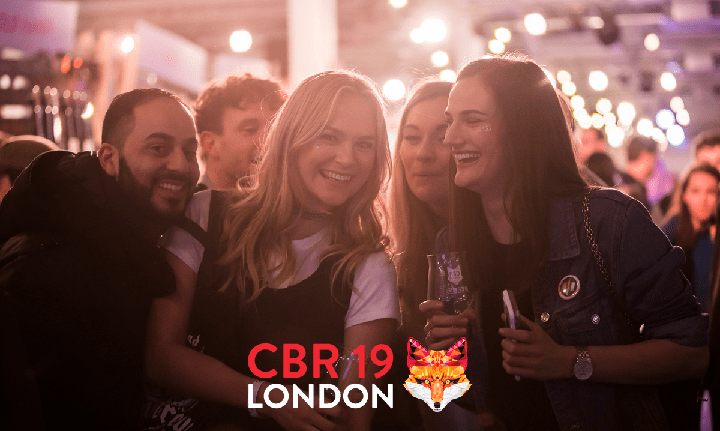 Headliners revealed for Craft Beer Rising including Groove Armada's Tom Findlay…
Headliners announced for CBR19 – UK's largest Craft Beer Festival – including Groove Armada's Tom Findlay, The Cuban Brothers, Don Letts and Zero 7.
From 21st to 23rd February 2019, the UK's largest and most comprehensive craft beer festival is back in East London. Next to 155 breweries and delicious street food offerings, a world class soundtrack will also come from five of influential London radio station SOho Radio's key hosts in Groove Armada's Tom Findlay, The Cuban Brothers, Pete Paphides, Jay Carder and Andy Smith (45 Live) plus Don Letts, Jaguar, Norsicaa, The London Disco Society and Eva Crystaltips.
This carefully curated line-up covers a range of immersive sounds from house to disco, downtempo to dub, world music, fusion and plenty more at Truman Brewery on London's iconic Brick Lane. It comes from giants of the scene including Tom Findlay, who will be presenting the Loose Joints show he hosts on Soho Radio. It finds one half of multi-million record selling Groove Armada play more world music, disco and influences tracks as well as his usual trademark house sound.
Expect him to pump the party next to the always playful Cuban Brothers who bring plenty of Caribbean funk to proceedings. Don Letts, meanwhile, is a pivotal figure from the post punk and dub scene who will roll out the heavy rhythms, Jaguar is a new music and pop culture aficionado who hosts an influential show on Radio 1, and Pete Paphides is a life-long record obsessive, music journalist and documentary maker for the likes of 6 Music and BBC Radio 4. For rich world music sounds look no further than Norsicaa, the Soundway Records label manager and globe trotting DJ who hosts on Soho Radio and NTS. Add in acid house, jazz funk and afro dealing record label and DJ collective 45 live (who bring with them Andy Smith, Boca 45 and Pete Isaac) and The London Disco Society who cover all corners of the genre from old to new, plus Smirnoff's Equalising Music talent and funk infused, soulful house and disco selector Eva Crystaltips and you have a colourful spread of sounds that will make the whole festival that bit more special.
This year's CBR boasts more beer, food and DJs than ever before. In all there will be 178 stands and 155 of the finest breweries in the game at this world famous and annual gathering. It is a place to whet your whistle with the world's best breweries newest brews. For that reason, CBR is the UK's biggest and best loved craft ale festival with more than 12,000 visitors expected in 2019.
Some of the exhibitors include favourites like Brewdog, homegrown UK stars like London Fields Brewery, Mondo, Tiny Rebel and Fourpure, with international flavours from Brooklyn Brewery and Goose Island, next generation talents like Lost and Grounded and Bianca Road and the exciting all-female brewery Mothership, who will be launching and exhibiting their first brews at this year's event. The ever-growing low alcohol sector is also fully represented with game changers Big Drop and Infinite Sessions.
This year are two trade sessions and four consumer sessions, 10 cider and 8 snack producers plus the much anticipated Fox's Den, a brand new space where food, brewery and spirit partners come together and offer a great way to send and afternoon and evening tasting the finest treats in the sector. A new Beer Hall layout will also ensure getting around and getting served has never been easier, and new seating areas offer you a place to sit down and let everything soak in, including the beer!
Next to the beer offerings, there are a series of special speakers all set to share their expertise in a programme headed up by cider expert Gabe Cook. Topics will include ethics and equality in brewing, food and beer pairing and emerging trends and markets. All of this ensures that this is set to be the biggest and best Craft Beer Rising Festival to date.
Tickets are on sale and will sell out in advance, so head without delay tocraftbeerrising.co.uk

MUSIC PROGRAMME
Thursday Evening
TOM FINDLAY presents LOOSE JOINTS
JAY CARDER (4tothefloorlondon / Soho Radio)
EVA CRYSTALTIPS
Friday Evening
ZERO 7 – DJ SET
DON LETTS
JAGUAR (Reprezent / BBC Introducing)
Saturday Daytime
45 LIVE Presents: Andy Smith, Boca 45 & Pete Isaacs
PETE PAPHIDES
Saturday Evening
CUBAN BROTHERS LIVE & DJ
THE LONDON DISCO SOCIETY
NORSICAA (Soundway Records)