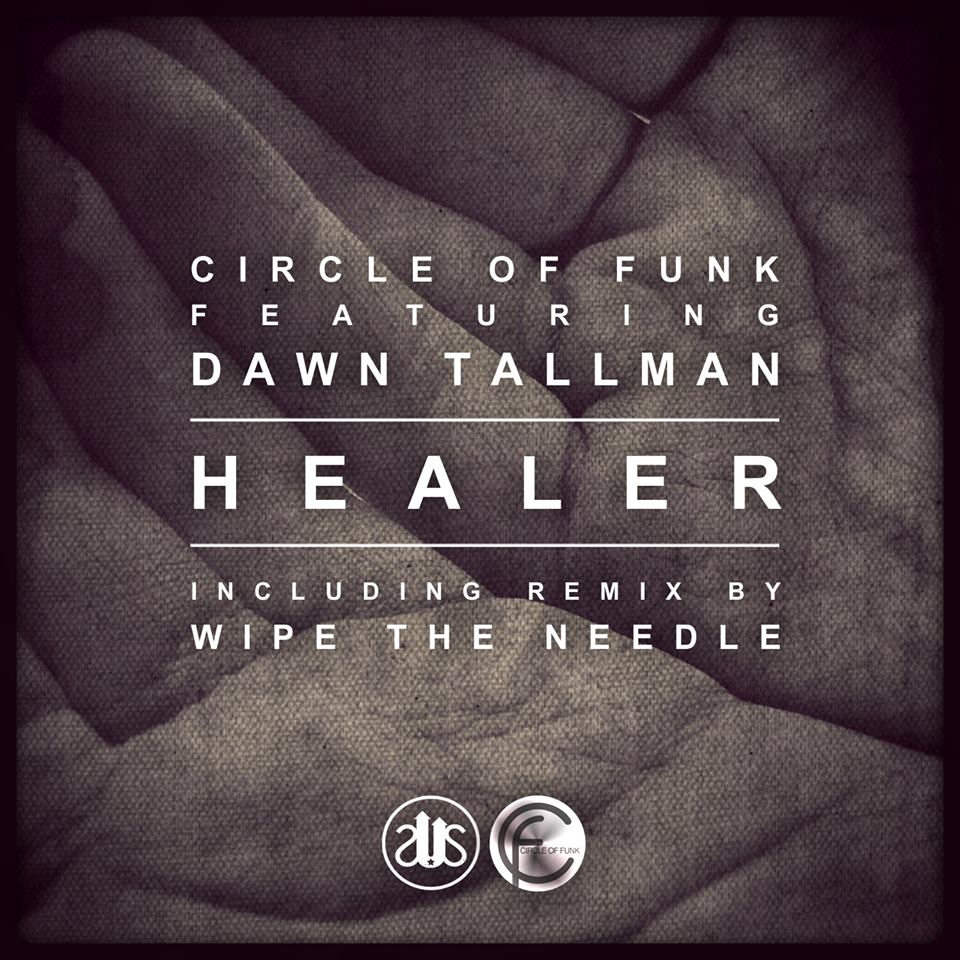 Healer – Circle of Funk ft Dawn Tallman
Healer is the eighteenth release from the Slapped up Soul label.
Bristol and London based production team Circle of Funk – Lee Robinson, Paul Stephenson, Andy Caulfield and Daniel Ankrah – are emerging as one of the most exciting production teams in the UK. The boys have recently worked with quality artists including Lifford, Natasha Watts, Robert Owens, Mr V, and Soulful Session and are steadily crafting an impressive collection of noteworthy musical productions. Never afraid to change things up, they are quietly and proficiently producing rare gems of distinctive music that provide an interesting and innovative backdrop to the established acts on the scene.
This time they have teamed up with the Queen of Gospel Energy – Dawn Tallman. Dawn is from Danbury, Connecticut and developed her talent in church from a very young age. She has a big powerful sound in the A- league of soulful songstresses, comparable to Chaka Khan and Oleta Adams, while retaining her own unique trademark sound. Watching her perform is a joy as she effortlessly delivers her vocals with passion, vibrancy and energy. Dawn has travelled far and wide bringing delight to audiences the world over, and is now a well-respected act in the sphere of Gospel music.
The lyrics of "Healer" tell the tale of somebody offering compassion and understanding, to soothe the troubled mind of a loved one. The focus is on sharing worries and troubles, and speaking from the heart, as a healing therapy for both body and mind.
Circle of Funk's perfectly crafted original mix with its rolling beat and cleverly placed keys, takes the listener on a ride into bewitching deepness, providing an atmospheric minimalistic platform for Dawn's strong lyrical delivery. She controls her vocal gift with consummate ease and expertise, providing the listener with musical therapy for the soul.
The alternative Circle of Funk Mix has rich jazzy keys with a touch of 70's woodwind to bring a warm sound with a hint of retro that adds another dimension to Dawn's heartfelt vocals.
Wipe the Needle are an established heavyweight production duo who go from strength to strength with every release. Their remix brings a solid Soulful House beat to the party with jazzy keyboards, a sublime gospel edge and a feel good dance vibe that is sure to bring any crowd to life.
Uplifting, soothing, delightful and inspirational, this track has all of the elements that will move and captivate listeners worldwide.
"Healer" from Slapped Up Soul, available on 27 October 2014 exclusively from Traxsource.
Traxsource Link: http://www.traxsource.com/title/395407/healer-feat-dawn-tallman
By Sue McDonald (Twitter: @SueVMcDonald; Blog: http://casaprofunda.wordpress.com/)
© Sue McDonald 2014. Unauthorized use and/or duplication of this material without express and written permission from the author and/or owner is strictly prohibited. Excerpts and links may be used, provided that full and clear credit is given to Sue McDonald with appropriate and specific direction to the original content.