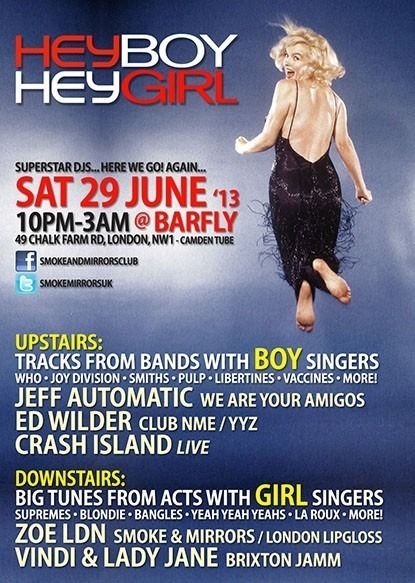 Hey Boy Hey Girl
On the "Hey Boy" floor…
Crash Island (live @ 11:45)
– Dark tropical indie rock formed in London, 2011… They've played a host of dates in Europe including Germany, Switzerland, France and… Wales! Their eagerly-anticipated debut EP was mixed by the legendary Gordon Raphael (producer or The Strokes' first three albums) in Seattle and South America!
Jeff Automatic (Transmission / DIY Radio)
– Last summer, Jeff played at Privilege in Ibiza, Transmission's warm-up parties in Benicassim and the dance stage at Reading Festival. As well as European clubs, he's recently been playing at the Roadtrip and elsewhere, plus hosting his show on DIY Radio.
Ed Wilder (Club NME / Casino Royale)
– As well as being a resident at Koko's Club NME, a support DJ for the Killers at their 2011 Scala warm-up shows and the only DJ we know to have played at the top of the BT Tower, Ed has been on fire when it comes to his remixes, which even include an official mix for Rachel Stevens!
On the "Hey Girl" floor…
Vindi & Lady Jane (Brixton Jamm)
– Expect an eclectic mix of female fronted dance floor fillers, poptastic party tunes, and some other hidden gems. As Brixton's cream of the crop female DJ duo attempt to whip you into a frenzy!
Zoe LDN (Smoke & Mirrors / The London Lipgloss)
– Regularly spinning an enthusiastic mix of pop punk meets rock and indie, zoe ldn is a well-known fashion blogger and journo by day and shoreditch/camden party regular by night.