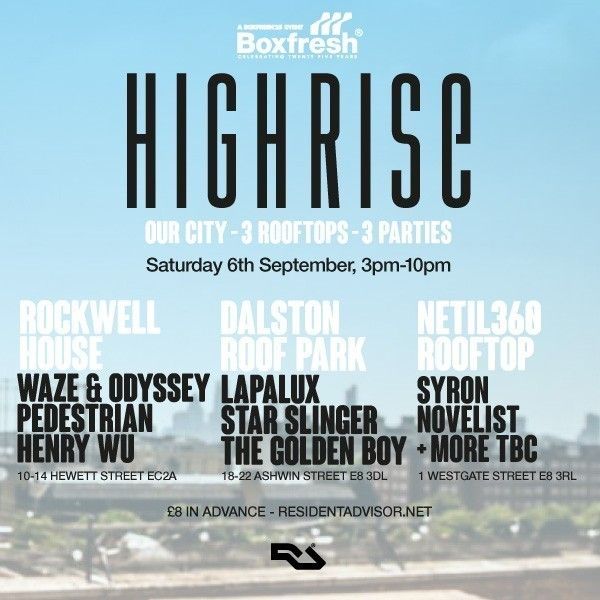 high rise : netil360
High Rise takes place on Saturday 6th September across three of the capital's most celebrated rooftop spaces, Rockwell House, Dalston Roof Park and Netil360, and exploring the realms of house, bass, hip hop, grime, soul and more. Exploring the unifying effect of music, and the bringing together of different ideals, minds and tastes, High Rise encompasses the diversity of the musical talent in urban culture. Boxfresh invite you to join them to mark their birthday with this truly innovative trio of events. Choose your rooftop; this is going to be one unparalleled birthday celebration.
Hackney hotspot Netil House's stunning, sprawling Netil360 rooftop is the perfect habitat for the more atmospheric, ambient and soulful sounds of High Rise. With an unplugged, chilled-out performance from Syron and an appearance by Novelist, this looks set to be something very special. Syron is a sassy, solid talent with a fresh take on electronic pop. She plays a rare acoustic set, attesting her talents as a singer-songwriter in the rawest and most honest form. Grime MC and producer Novelist has spent time working with Jamie XX, Mumdance and Logan Sama and hosted his own Rinse FM show. Novelist represents a generation of youth that have grown up with grime, a true 'product of grime'. Catch him up close and personal at Netil360.
Syron // Novelist // + More TBC