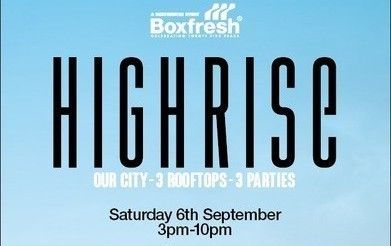 High Rise: September 6
This September, party in front of the East London skyline as London streetwear brand Boxfresh presents HIgh Rise, a series of roof parties featuring three distinctive lineups, three exceptional rooftop spaces, three individual concepts, and one musical vision.
HIgh Rise will take place on Saturday 6th September across three of the capital's most celebrated rooftop spaces: Rockwell House, Dalston Roof Park and Netil360. HIgh Rise provides three individual programmes to suit all tastes, exploring the realms of house, bass, hip hop, soul and is a key date in Boxfresh's season of 25 events, marking the brand's 25th anniversary.
Exploring the unifying effect of music, and the bringing together of different ideals, minds and tastes, High Rise encompasses the diversity of the musical talent in urban culture. Boxfresh invite you to join them to mark their birthday with this truly innovative trio of events. Choose your rooftop; this is going to be one unparalleled birthday celebration.
With views across the City and East London, Rockwell House's rooftop terrace will play host to a hot-house lineup. This Shoreditch day-into-night event will be soundtracked by house duo Waze & Odyssey, who bring uplifting, melodic beats to the party. Sound-experimentalist Pedestrian is on hand with an expansive, ranging DJ set that journeys through bass-led sounds. And upcoming 22a talent Henry Wu adds to proceedings, with more to be announced across the house spectrum. Revered London club crew Trouble Vision DJs aren't afraid to blur the lines of electronic music for awesome, genre-defying sets. And deep house dream team Charles Green and Nick Sabin bring bass-driven beats to get the crowd going with a back-to-back set.
Situated in the vibrant heart of Dalston, the High Rise event at urban oasis Dalston Roof Park offers a summer soundtrack that features selectors spanning house, hip hop and electro-pop. A truly distinctive sound that merges luxurious textures, glitchy soundscapes and sensual vocals, Lapalux's dreamy electronic outputs have become some of the most recognisable outputs in recent years. Vibe conductor Star Slinger's style incorporates trippy glitch-based beats laced with house sounds. Boasting releases on Kerri Chandler's MadTech imprint and over 1,000,000 YouTube hits on his Lauryn Hill remix, The Golden Boy is a name being propelled straight to the pinnacle of the UK house movement and aiming to keep you dancing. Electronic enthusiast Pip Williams joins on DJ duty, and having started in the basement of a south east London church, respected London promoters and record label Church bring resident selectors Apes & Seb Wildblood for house, techno and bass.
Hackney hotspot Netil House's stunning Netil360 rooftop is the perfect habitat for the more atmospheric, ambient sounds of High Rise. UK duo Alpines attend for an acoustic set. Since forming in 2010 Alpines have achieved widespread acclaim for their debut album, released through their own label Untrue Recordings in May this year. Jehst is renowned for his razor-sharp delivery, intellectual production skills and for the poignant content of his work. He joins the bill, performing a rare, intimate set accompanied by a guitarist. A fierce advocate for experimenting with sounds, instruments and genres, Mumdance is a producer whose far-reaching tastes and hunger for fresh and unique collaborations have brought him success in the fields of techno, grime, hardcore and beyond. Grime MC and producer Novelist represents a generation of youth that have grown up with grime, a true 'product of grime'. Mumdance and Novelist appear together following their collaboration on celebrated track 'Take Time' on Mumdance's EP of the same name earlier this year. Syron is a sassy, solid talent with a fresh take on electronic pop. She plays a rare acoustic set, attesting her talents as a singer-songwriter in the rawest and most honest form. Funk, soul and disco crate-diggers Brand New Wayo's DJ sets are a journey through times, places and landscapes, and Tuckshop DJs round off the lineup.
Boxfresh marks its 25th year standing at the forefront of London's streetwear industry with a series of 25 unique events throughout 2014, representing street culture and showcasing how the brand is moving forward and continuing to push boundaries through innovation, creativity and a fresh energy with the ambitious Boxfresh 25 series.
From workshops and in-store live music events to exhibitions, radio takeovers and club nights, Boxfresh 25 has already united some of the most defining names in street culture across the spectrums of fashion, music and art throughout the series. As well as honoring its heritage, 25 is also about shining a light on the stars of tomorrow, who will shape the brand in the future.
High Rise
Rockwell House
10-14 Hewett Street, London EC2A 3NN
http://www.residentadvisor.net/event.aspx?618943
Waze & Odyssey / Pedestrian / Henry Wu /Trouble Vision DJs / Charles Green b2b Nick Sabin
High Rise
Dalston Roof Park
The Print House, 18-22 Ashwin St, London E8 3DL
http://www.residentadvisor.net/event.aspx?618940
Lapalux / Star Slinger / The Golden Boy / Pip Williams / Apes & Seb Wildblood (Church)
High Rise
Netil360
Netil House, 1 Westgate Street, Hackney, London, E8 3RL
http://www.residentadvisor.net/event.aspx?618941
Alpines (acoustic) / Jehst / Mumdance & Novelist / Syron (acoustic) / Brand New Wayo / Tuckshop DJs