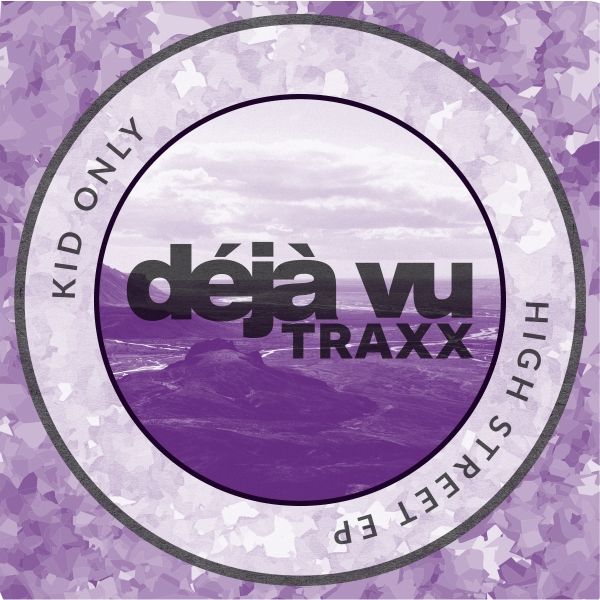 Kid Only - High Street EP
2017 has seen operations step up a gear considerably for the fledgling Déjà Vu Traxx imprint – born from the foundations laid by Hull's historic Déjà Vu events brand, the label has started making serious waves in the industry and their next release with Kid Only looks set to see this relentless progression continue.
With another two track EP on the menu, Déjà Vu Traxx has snapped up Kid Only to deliver a stunning one-two knockout of serious house music. Having previously dropped cuts on Criminal Hype, Pogo and Waxx Traxx, his High Street EP sees the exciting producer look to the old school for inspiration with a classic slice of raw underground house in 'High Street', whilst 'Rush' takes things straight to the dancefloor with a rolling bassline, weighty synths and a nod back to the dubstep heyday. Speaking about the EP, Déjà Vu Traxx's Lee Jeffrey said:
"I first heard Kid Only and his music when he released on Criminal Hype in summer 2015 – I immediately loved his style that brings together simple, raw cuts of house with nice chords. We've always strived to develop a relationship between the label and the artiste, so the EP was a natural progression following plenty of back-and-forth emails between us both. We instantly loved what Kid Only was doing and the two tracks on the High Street EP were our favourites from the demos he sent us – it was a no brainer to sign them to the label and the early feedback proves that."
Few manage to successfully reference multiple genres within a single EP, but Kid Only manages it with aplomb. There's enough kick drum to make even the most demanding raver take a step back, and when asked about the thoughts behind the EP, Kid Only had this to say:
"I started working on the High Street EP with the aim to bring together a really old school, raw, underground feel – music that sounded at home in a warehouse. Both tracks fuse a lot of samples from jungle and dubstep tracks with some heavy 909 drums for a heavyweight, analogue finish to the sound. The guys at Déjà Vu Traxx have been great to work with and really believe in the release – the early feedback has been amazing so I'm looking forward to getting people stomping to this one at the raves J."
With early support coming in from Shiba San, Mirkio Di Florio, Vanilla Ace, YADE, Mr Shadow and Red Weeler already coming in, you'll be hitting up the High Street EP on Feb 24th – designer production with an underground label – this is Déjà Vu Traxx.
Deja Vu Traxx:
https://www.facebook.com/dejavutraxx/
https://soundcloud.com/dejavutraxx
https://www.instagram.com/dejavutraxx/
https://www.youtube.com/channel/UC3e3IRw5IkoD4urXinAkFtw
https://www.label-worx.com/demo/deja-vu-traxx