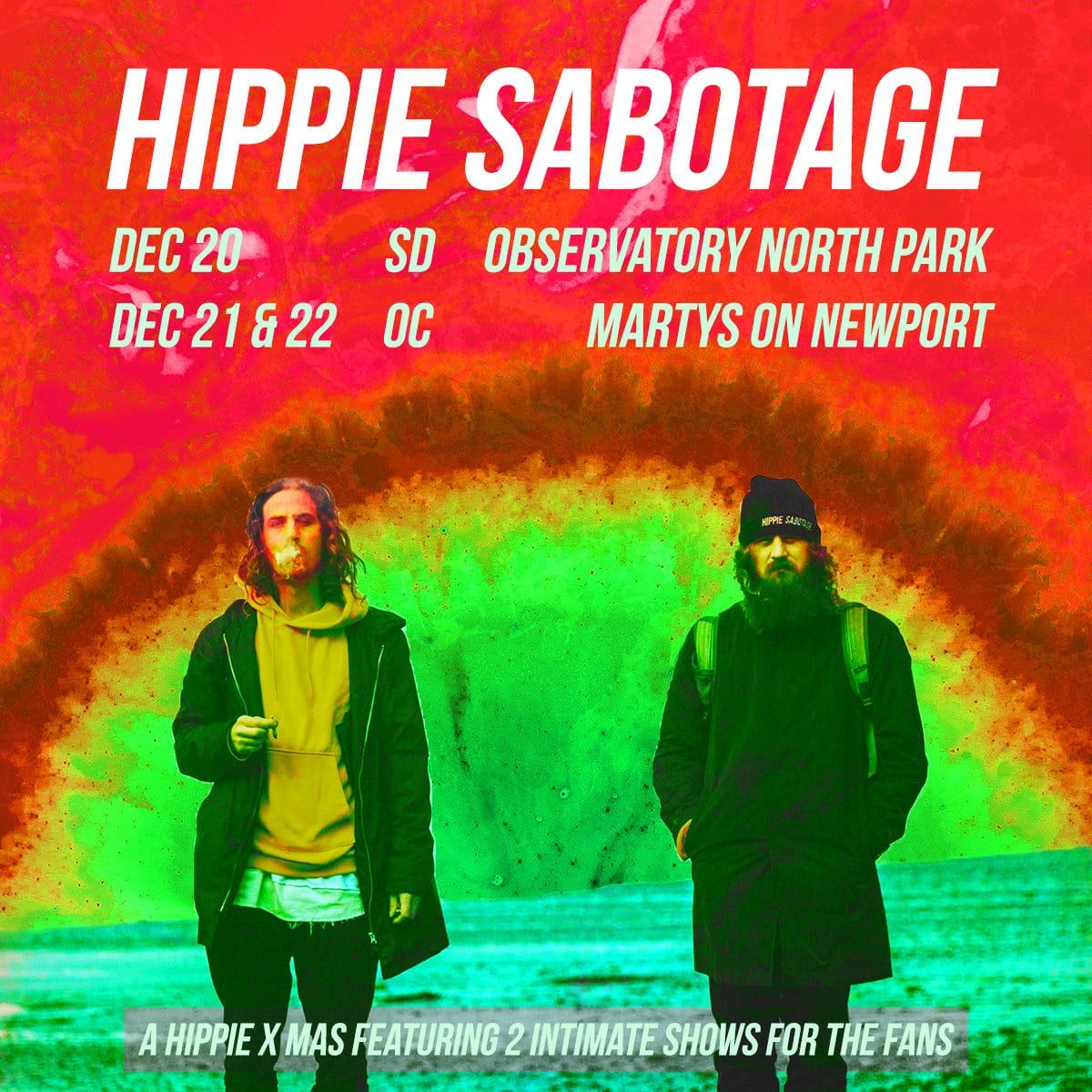 Hippie Sabotage Announce More Tour Dates in SoCal for December
This coming Christmas season, chillwave meets trap duo–Hippie Sabotage–will take over Southern California – playing a total of three shows in OC and San Diego. On December 20 they will play the 1100 capacity venue, Observatory North Park, and then immediately travel up the coast to the OC (Tustin, CA) for a double-header (December 21 and 22) at Marty's on Newport.
The brothers also recently announced details for an additional date in Santa Barbara along their 'Lost California' run in September/October. On October 4, Hippie Sabotage will make their way to the Earl Warren Showgrounds alongside Juice Wrld and Young Pinch. Tickets are available here.
While touring across the U.S. and Australia in the past few months, Hippie Sabotage have also stayed consistent with releasing new music this summer. In July, the Hippies released both "FADING INTO FOG" and the highly-acclaimed flip of Billie Eilish and Khalid's "Lovely". The LA-local musicians have also taken the time to dive back into their hip-hop roots, garnering credits on Denzel Curry's latest album, TA1300, via "MAD I GOT IT".
This summer, Hippie Sabotage undertook a massive festival run following their 'Path of Righteousness' Spring 2018 Tour – hitting major festivals in the U.S. like: Bonnaroo, SLOSS Fest, Lollapalooza Chicago, HARD Summer, and Electric Zoo: The Big Ten during Labor Day Weekend. For Halloween this year, the brothers will also make their way to New Orleans for Voodoo Music + Arts Festival. See the full tour dates below, and get ready for a major announcement to come for 2019.
Hippie Sabotage Upcoming Tour Dates:
*September 26 – Ace of Spades (Sacramento, CA)
*September 27 – Mateel Community Center (Redway, CA)
*September 28 – Senator Theatre (Chico, CA)
*September 29 – Somo Village Event Center (Rohnert Park, CA)
*October 4 – Earl Warren Showgrounds (Santa Barbara, CA)
*October 5 – The Catalyst (Santa Cruz, CA)
*October 6 – The Catalyst (Santa Cruz, CA)
*October 12 – The Republik (Honolulu, HI)
October 26 – Voodoo Music + Arts Experience (New Orleans, LA)
December 20 – Observatory North Park (San Diego, CA)
December 21 – Marty's on Newport (Tustin, CA)
December 22 – Marty's on Newport (Tustin, CA
A (*) denotes 'Lost California' tour stop