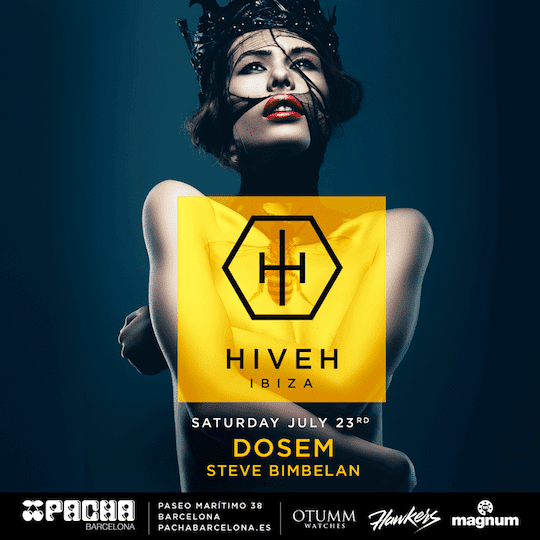 Hiveh Is Presented In Pacha Barcelona With Dosem And Steve Bimbelan
Bees do not stop to move, following the successful presentation of HIVEH in Ibiza, the hive moves to Barcelona for a great event to take place in the emblematic club Pacha Barcelona on Saturday, July 23, with Dosem and resident Dj Steve Bimbelan as headliners.
Hiveh is a project where DJs, producers, artists and designers introduce their art, the positive side of modern life and exalt the incredible art movements that have arisen within their frenzied hives.
Electronic music is one of the most important art movements that have emerged from the turmoil. Therefore the project HiveH is pure electronic sound based on Techno & Tech House with the participation of major international artists such as Mark Knight, DJ Sneak Betoko, Christian Smith, Chelina Manuhutu, Coyu, Dosem, Mendo and many others.
Marc Dosem is one of the biggest emerging figures that the Spanish electronic music stage has launched. Born in Girona (Catalonia), his artistic talents and unlimited potential, made his way quickly beyond the borders of his home land. Dosem, signed in 2008 an exclusive contract with the label SINO (Hong Kong), one of the iconic record labels in the international techno community, which previously revealed key figures of the electronic music scene, in the name of Joris Voorn Starting in SINO with the announced club hit 'Silent Drop' (2009) and with the re-launch of his already classic 'Beach Kisses' (Neue Larmklassiker 2008 and Green 2009) the young musician signs his first two worldwide hits. In 2011 Dosem releases "Parallel", his debut album and "Origin" EP on Christian Smith's label TRONIC. Both releases go straight to the Top lists with massive support from many different genre Djs and Magazine awards.
An unstoppable rising music career, which made his name appear on all the party and club line-ups around the world, where he gives totally hot live performances, a countdown bomb that will never explode unexpectedly but always right on time: Techno, House, Electro… everything that he fancies are just tools for him to build and create basic pieces in his crossover music, which make up his own and unmistakable warm melody, and taken to the stage with his irresistible sets to any clubber that want to dance away with the music and to experience a futuristic voyage full of light and energy.
HIVEH is supported by Hawkers Sunglasses, Otumm watches and Magnum Bookings