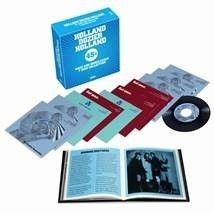 HOLLAND-DOZIER-HOLLAND – Rare 45s Vinyl Box
Following the recent success of 'Holland-Dozier-Holland: The Complete 45s Collection' – a 14 x CD compendium celebrating the 45th anniversary of soul labels 'Invictus', 'Hot Wax' and 'Music Merchant', the good folk at Harmless Records are pleased to announce; 'Holland-Dozier-Holland: Rare 45s Box Set', released 8th December.
Due to overwhelming popular demand to make some of the previously unreleased acetates, test-pressings and remixes available on a 7″ vinyl format, Harmless Records have delivered once more on this important part of soul history making this a much sought after set of vinyl.
2014 marks the 45th anniversary of Detroit based soul labels 'Invictus', 'Hot Wax' and 'Music Merchant' – the three record labels established by legendary songwriting team Edward Holland, Jr. Brian Holland and Lamont Dozier a.k.a Holland-Dozier-Holland, following their acrimonious split from Berry Gordy's Motown Empire in 1967.
During their tenure at Motown from 1962 to 1967, H-D-H were responsible for arranging, writing and producing many of the songs that gave the label its sound and their work fuelled the rise of Motown Records as a dominant musical powerhouse. After leaving the label in 1967 they established the 'Invictus', 'Hot Wax' and 'Music Merchant' labels which continued the trio's golden touch with international hits for the likes of Freda Payne, Chairmen of the Board , Honey Cone and Laura Lee among many others.
The 'Holland-Dozier-Holland: Rare 45s Box Set', features 10 x 7″ vinyl records in bespoke 'Invictus', 'Hot Wax' and 'Music Merchant' sleeves, and also comes with a 7″ x 7″ 20 page booklet courtesy of Robert Moss which contains recent interviews with Eddie Holland, Ralph Terrana, Frank Bryant of the Just Brothers, Dennis Coffey, Angelo Bond, Ed Wolfrum and Ron Dunbar plus many additional photographs and scans.
Featuring tracks from the likes of Chairmen of the Board, Barrino Brothers, Honey Cone and Eloise Laws, this is the first time ever that any of these records, versions or remixes have been released on vinyl and all with the good wishes of Holland-Dozier-Holland. The three Tom Moulton remixes of the vocal and instrumental versions of Chairmen Of The Board's 'Give Me Just A Little More Time'/'You've Got Me Dangling On A String' and Freda Payne's 'Unhooked Generation' will only be available on vinyl via this package
In 2003, the dynamic trio were honoured as BMI Icons at the 51st BMI Pop Awards. Longtime BMI songwriters, Brian Holland affiliated with the performing rights organization in 1960, followed by Lamont Dozier in 1961 and Eddie Holland in 1963. They have won many BMI Awards, including BMI Pop Awards. The trio were also inducted into the Songwriters Hall of Fame in 1988 and the Rock and Roll Hall of Fame in 1990 and by popular vote, inducted into the Soul Music Hall of Fame in 2012. Holland-Dozier-Holland will be receiving a star on the Hollywood Walk of Fame this summer 2014.
For collectors of Detroit and Motown rarities this will be a 'must-purchase' item and will sit beautifully alongside the recent Motown Rare 7″ Box Sets.