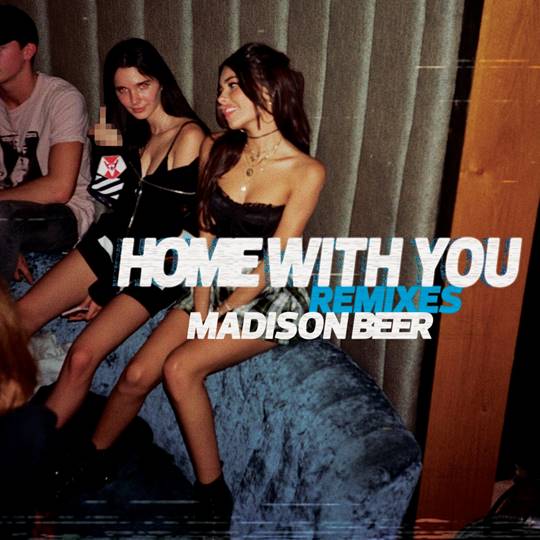 Madison Beer - Home With You
Hot on the heels of wrapping up her sold out, critically acclaimed As She Pleases worldwide headline tour and sharing the music video for Home With You, rising indie pop sensation Madison Beer releases the remix package for Home With You today.
Having remixed tracks for Taylor Swift, Paloma Faith, Dua Lipa and Bruno Mars (among others), UK based duo Alphalove bring their distinctive sound (which fuses Pop, Trap and House music) to Madison's hit single, Home With You. Also contributing to the remix package for Home With You, are Blu-Rey & Tone Terra who have previously remixed songs for Ed Sheeran, Avicii and Camila Cabello (to name but a few).
Home With You is the third track to be lifted from Madison Beer's debut EP As She Pleases, following Dead and Say It To My Face, has garnered over 60 million streams to date, and is currently the only song in the US Top 30 radio chart by an independent female artist. Released in February of this year, As She Pleases was co-written and co-produced by Madison alongside the likes of Fred Ball (Rihanna, Madonna, Little Mix). Having amassed over 290 million streams, it has outperformed debut EP releases from many of Madison's peers, and firmly cemented her status as an independent artist breaking in a major way.
19 year old Madison Beer, who has been tipped as an artist to watch in 2018 by the likes of The Guardian, NME, Billboard, Time magazine (to name a few), is a priority artist for First Access Entertainment (founded by Sarah Stennett), who share her independently driven trailblazing spirit.
Madison Beer's Home With You Remix Package is available now across all platforms
https://Madison.lnk.to/HomeWithYouRMX
Madison Beer Home With You (Alphalove Remix): https://youtu.be/vT2toHf2gig
Madison Beer Home With You (Blu Rey & Tone Terra Remix): https://youtu.be/F73NtQaIsEo