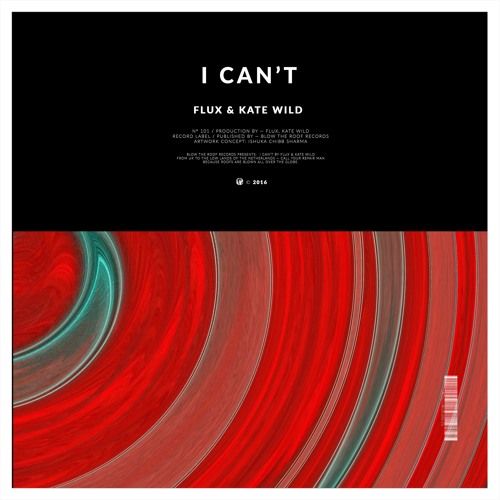 Flux & Kate Wild - I Can't
Blow The Roof Records are at it again with the latest in a long line of sterling releases, and once again it's another talented new-comer being given a platform by the impressive Northampton-based imprint. Little-known 19-year-old German House producer, Flux, has teamed up with UK singer/songwriter, Kate Wild, on the stunning debut track 'I Can't' and, by all accounts, it's set to be a smash.
Charged with emotion and production techniques which make the hairs on the back of the neck stand up, 'I Can't' has all the makings of an instant classic and makes it more than just another Funky House record. With bass-lines and skewed vocal effects which could almost belong to renowned UK House/Garage producer, xxxy, Flux & Kate Wild have created something very special indeed. With a melody as powerful as Kate's vocals, this is set to be a record you'll happily be unable to get out of your mind.
Blow The Roof Records' ability to seek out some of the world's most talented music-makers and elevate their presence almost overnight continues to astound. The symbiotic nature of the relationship between artist and label here is clear to see with every release causing more and more to sit up and take notice. Do not delay, grab this today!
Stream on Spotify
https://open.spotify.com/track/3NkymKpLd6CZaikSVEsriO
Available on Beatport
https://www.beatport.com/release/i-cant/1840696
Also on iTunes
https://itunes.apple.com/gb/album/i-cant-single/id1147876408
Flux Online
https://www.facebook.com/fluxmusicde
https://twitter.com/itsfluxmusic
https://soundcloud.com/flux-407722529
Kate Wild Online
http://www.katewildmusic.com
https://www.facebook.com/katewildmusic
https://soundcloud.com/katewildmusic
https://www.youtube.com/c/katewildsinger
Blow The Roof Records Online
https://www.facebook.com/blowtheroofrec
https://twitter.com/blowtheroofrec
https://soundcloud.com/blowtheroofrec
https://www.instagram.com/blowtheroofrec