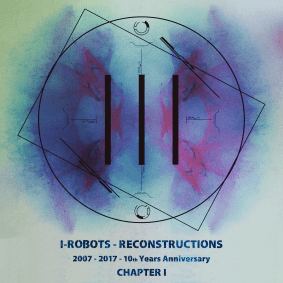 Various Artists - I-Robots – Reconstructions – 2007-2017: 10th Year Anniversary – Chapter I & II
Opilec Music boss I-Robots is proud to announce the release of a compilation that pulls together all his most essential reconstructions, edits, remixes and reworks from 2007 to 2017. Arriving in two parts, Chapter I is dedicated to the 70s and 80s old school sound, while Chapter II focusses on the 90s and new school sounds and artists. The release comes with special artwork by label collaborator Lodsb who has come up with another fantastic piece here.
I-Robots and his label are known for their vast reserves of knowledge and understanding when it comes to disco, house, techno, Italo, cosmic, synth wave, krautrock and plenty more. Through countless vital reissues and release projects he has told fascinating stories about the roots of this music. Along the way, he often steps up with his own modern reinterpretations of these sounds, and here they are collected together to really show off his eclectic style and make connections between these different sounds and scenes.
There are plenty of exclusives along the way including his versions of tracks by Ahzz, Carlotto, Jordan Fields, No More, Billy Bogus, Patrick Di Stefano, Savas Pascalidis, Sintesi and Yello amongst others as released on labels like Compost Black Label, Italian Records, Kurbel, Caus'N'Effect, MB Disco, Needle Boss Records and Universal. Most of the reconstructions, however, were exclusively licensed and produced for Opilec Music.
It is testament to I-Robots' breadth and depth that he brings together and retouches key artists like synth wizard and disco pioneer Giorgio Moroder, early house innovator S'Express and techno great Derrick May in his Rhythim Is Rhythim guise. Amongst those well known names are lesser known but just as important early electronic stars likeJohnson Righeira, founder of the influential 80s Italo disco duo Righeira plus Italian band The Stupid Set who mixed up avant-garde and electronic minimalist sounds.
Chapter 1 kicks off with the sci-fi and spacey synths of A. Avenue – 'Golden Queen' (I-Robots Reconstruction) then stays perfectly retro-futuristic through versions of cosmic epics like Ahzz – 'New York's Movin'' and the vocal laced delights and rugged synth arps of Gaznevada – 'I.C. Love Affair'. I-Robots also turns his attention to Kiel based post-punk no wave cult band No More's 'Suicide Commando' and prolific eighties Italian rock turned electronic trance outfit N.O.I.A. to great effect.
Elsewhere Swiss electronic pioneer Schaltkreis Wassermann and his industrial synth pop sounds also get reconstructed in style as do seven piece alternative San Franscico band The Units, while classic tracks like from the band that inspired Chicago house and Detroit techno aka Klein & M.B.O.'s 'Last Call' get sympathetic touch- ups that make the drums punch that bit harder while the synth riffs carry you away. S'Express's pioneering 'Funky Killer' becomes a spangled track laced with oodles of reverb and FX and amongst many highlights the I-Robots Reconstruction of innovative 80s Swiss electronic band Yello's 'You Gotta Say Yes To Another Excess' rounds out Chapter I with brilliantly squelchy bass and shooting synths.
Chapter II is a more dance floor focussed affair with loose house grooves such as the percussive and kaleidoscopic jazz stylings of his remix of Billy Bogus – 'Glamouflage'. There's also a reconstruction of contemporary outfit Fanatico aka Mathias Schaffhäuser (from Ware) and Jorge Socarras (from Dark Entries) and their version of Fleetwood Mac's 'Dreams' becomes and instant classic next to mind melting techno versions of tracks by Juan Atkins' Infiniti. For peak time vocal anthems there is no finer than the reconstruction of classic New Order track 'Blue Monday' by Pernett ft. Lido Pimienta, while space jams like International Deejay Gigolo Records artist Savas Pascalidis – 'Fly With The Wind' (I-Robots Edit) are varied and vital affairs. A fine take on Chicago Trax and Rush Hour act Virgo Four—who were definitive artists in the early house scene—ends things in a meditative house groove and completes a vivid trip through many different musical styles.
This is an essential collection that really proves what an essential artist I-Robots really is.
Press contact [email protected]
Tracklist:
Chapter I
1. A. Avenue – Golden Queen (I-Robots Reconstruction)
2. Ahzz – New York's Movin' (I-Robots Reconstruction Pt. I)
3. Captain Torkive – Flying Saucers To Krypton (I-Robots 1979 Space Reconstruction)
4. Carlotto – Come With Me (I-Robots Reconstruction)
5. Clay Pedrini – New Dream (I-Robots Reconstruction)
6. Gaznevada – I.C. Love Affair (I-Robots Reconstruction)
7. Giorgio Moroder vs I-Robots – Utopia – Me Giorgio (I-Robots 1977 Reconstruction)
8. Happen D.J. – Don't Waste Your Time (I-Robots Reconstruction)
9. Jan Demis – Preludio (I-Robots Reconstruction)
10. Johnson Righeira – Vamos A La Playa (1981 I-Robots Extended Reconstruction)
11. Jordan Fields – Chicago 1989 (I-Robots Edit)
12. Klein & M.B.O. – Last Call (I-Robots Reconstruction Take I)
13. N.O.I.A. – Stranger In A Strange Land (I-Robots Extended Reconstruction)
14. No More – Suicide Commando (I-Robots Reconstruction)
15. Rhythim Is Rhythim – Emanon (I-Robots Reconstruction Take II)
16. Schaltkreis Wassermann – GoGo-Danger (I-Robots Re-Edit)
17. S'Express – Funky Killer (I-Robots Reconstruction)
18. Sintesi – Tenax (I-Robots Reconstruction)
19. The One "O" One's – Radio Cosmo 101 (I-Robots Reconstruction)
20. The Stupid Set & Snowblitz D.J. – Ah Pook (I-Robots Edit)
21. The Units – Zombo (I-Robots Rework)
22. Yello – You Gotta Say Yes To Another Excess (I-Robots Reconstruction)
Chapter II
1. 9dw – Right On (Takemacycle Sloppy Dub – I-Robots Reconstruction)
2. Billy Bogus – Glamouflage (I-Robots Reconstruction)
3. Casey Anderson – Wishing Tree (I-Robots Reconstruction)
4. Christoph – Yellow Cab (I-Robots Reconstruction)
5. Danny Ocean – The Dark Passenger (Free Your Mind) (I-Robots Edit)
6. Demented Machine – The Mad Town (I-Robots Reconstruction)
7. Emilie Nana – Like You (I-Robots Reconstruction)
8. Fanatico – Dreams (I-Robots Reconstruction)
9. Hayatochiri – Silence Of Jaguar (I-Robots Reconstruction Take II)
10. Infiniti – Game One (I-Robots Apito Reconstruction Take I)
11. Makossa & Megablast – Shalo Baby ft. OG Spiritual Godess (I-Robots Reconstruction)
12. Mathias Schaffhäuser – Gelbgefühl (I-Robots Reconstruction)
13. Mel – Cut #1-2 (I-Robots Organ Reconstruction)
14. Motel Connection – H.E.R.O.I.N. (I-Robots Remix)
15. Nemesi – Ojo ft. N.O.I.A. (I-Robots Edit)
16. Patrick Di Stefano – Gloriosa (I-Robots Reconstruction)
17. Pernett ft. Lido Pimienta & Quantic – Blue Monday (I-Robots Reconstruction)
18. Ryoma Takemasa – Deepn' (The Backwoods Remix – I-Robots Reconstruction)
19. Savas Pascalidis – Fly With The Wind (I-Robots Edit)
20. Tokusaburo Inui – Act Of Grace (I-Robots Dramatic Reconstruction)
21. Trouble Water – That Night (I-Robots Reconstruction)
22. Und – Asimov Stories (I-Robots Club Edit)
23. Virgo Four – Dirty Talk (I-Robots Reconstruction)