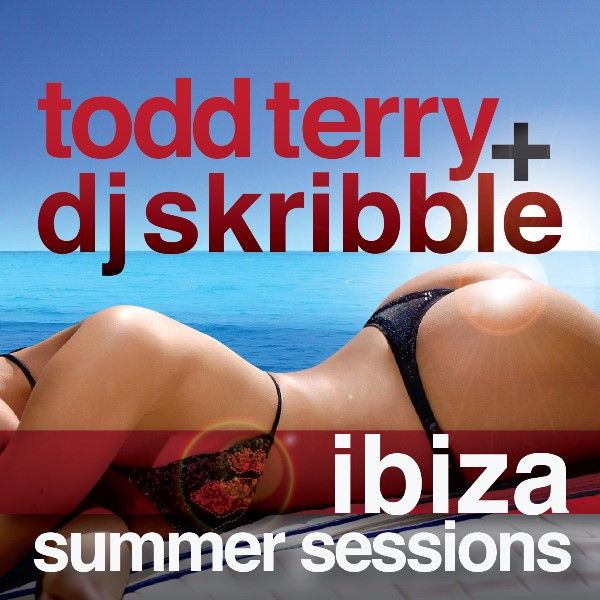 Todd Terry & DJ Skribble - Ibiza Summer Sessions
New York, NY– Todd Terry picks his top house tracks from the summer of 2015 and DJ Skribble mixes it all into a 2 hour set geared up for the dance floor. DJ Sneak, Roog, Alaia & Gallo, Ant LaRock, Richard Grey, Quentin van Honk, Sted-E & Hybrid Heights, Gomi, SGT Project, and Deeptrak deliver the tracks on this compilation that came straight from Ibiza.
Ibiza Summer Sessions begins with mixes of the 17 tracks by Todd Terry as track 1 followed by a 2 hour mix by DJ Skribble as track 2. Affani & Andy Slate's remix of DJ Sneak's 'Magique' starts off the compilation as track 3 with a very bass heavy rendition and is followed by an original by Todd Terry himself and Roland Clark by the name of 'Tee's Church'. A rework of Todd Terry's classic 'Bounce to The Beat' by rising stars Alaia & Gallo comes next as track 4 to up the summer vibe originally released on InHouse in May of 2015. DJ Skribble then turns it up with another original featuring Mr. Gomi entitled 'Low Frequencies' that definitely fits it's title. Then Roog & Dennis Quin's 'Love Me' that debuted earlier this month comes through with some very sexy grooves.
The 6th track following the 2 mixes is another original by Ant LaRock by the name of 'Gangsta Squad'. This track contains another huge driving bassline perfect to get the dancefloor pumping. The radio edit of the deep house track 'Harlem' by Gabriel & Castellion is next with a beautiful melodious sound and uplifting vocal originally released in June of 2015 on InHouse. Richard Grey's follow up track to his release of 'Who's The Gangsta' called 'Don't You Want Some More' originally released in July of 2015 is the next track in the compilation and once again has a very heavy bassline.
The compilation duly follows a pattern with heavier tracks followed by deeper and more melodic tracks. The video edit of Todd Terry & Stuart Ojelay's 'Leaving Me Again' originally released in May of 2015 has that perfect subtle melancholic feel and funky bassline for those end of summer vibes. Another original then follows by Quentin Van Honk named 'American Bass' which contains an absolute infectious groove and undertones. Then we turn to a more electro sound that was originally released on Robbie Rivera's Juicy Music by the name of 'Crash' which is a mashup of Todd Terry, Sted-E & Hybrid Heights.
Deeptrak's remix of Todd Terry's 'Jumpin' which was originally released in July of 2015 is next up with a very primitive sound before transfering into a track that was originally released by S.G.M. Project in August of 2014 and produced by DJ Skribble, Gomi, and Brandon Morales. Quentin Van Honk's 'Tell Me' follows bringing more deep and melodic vibes to this compilation. Then another bass-ridden track, Matthew Warren's 'Jack Diesel' delivers a big room house sentiment originally brought to Todd Terry's attention by the legendary Junior Sanchez and debuted on InHouse in August of this year.
Ant Larock's 'Urraday' shows us what old school deep house sounded like before Riki Inocente's 'Between the Beats' delivers house from London with his follow up to 'A Game' that was originally released in July of 2015. This marvelous compilation comes to a close bringing us uplifting and warm vibes as the summer months come to a close and autumn starts settling in getting us prepared for the winter.
Inhouse Records is the House Music label created and operated by Producer/DJ Todd Terry. Home to such artist as House of Gypsies, Roland Clark, Black Riot, Louie Vega, CLS, Kenny Dope, Gypsymen, Matteo DiMarr, DJ E-Clyps, Sound Design, Todd Terry All Stars, and many many more.
'Ibiza Summer Sessions' is out Oct. 16th on InHouse Records and available on Beatport and all major digital outlets.
Tracklist
1. Todd Terry – 'Ibiza Summer Sessions' DJ Mix – 1:13:57
2. DJ Skribble – 'Ibiza Summer Sessions' DJ Mix – 1:52:31
3. DJ Sneak – 'Magique' (Affani & Andy Slate Remix) – 7:15 (Original Release)
4. Todd Terry & Roland Clark – 'Tee's Church' – 5:53 (Single to be released on Sept. 25th, 2015)
5. Todd Terry vs. Alaia & Gallo – 'Bounce To The Beat' – 5:16 (Released May 31st, 2015)
6. DJ Skribble feat. Mr. Gomi – 'Low Frequencies' – 8:17 (Original Release)
7. Roog & Dennis Quin – 'Love U' – 4:54 (Released Sept. 5th, 2015)
8. Ant LaRock – 'Gangsta Squad' – 7:05 (Original Release)
9. Gabriel & Castellon feat. Carlos Cruz – 'Harlem' (Radio Edit) – 3:02 (Released June 22nd, 2015)
10. Richard Grey – 'Don't You Want Some More' – 5:42 (Released July 30th, 2015)
11. Todd Terry & Stuart Ojelay – 'Leaving Me Again' (Video Edit) – 3:03 (Released May 16th, 2015)
12. Quentin Van Honk – 'American Bass' – 6:48 (Original Release)
13. Todd Terry vs. Sted-E & Hybrid Heights – 'Crash' – 4:49 (Released June 8th, 2015 on Juicy Music)
14. Todd Terry – 'Jumpin' – 6:35 (Released July 18th, 2015)
15. SGM Project – 'Gangsta Musik' – 7:31 (Released Aug 24th, 2014)
16. Quentin Van Honk – 'Tell Me' – 6:08 (Original Release)
17. Matthew Warren – 'Jack Diesel' – 5:16 (Released Aug 15th, 2015)
18. Ant LaRock – 'Urraday' – 6:00 (Original Release)
19. Riki Inocente – 'Between The Beats' – 7:38 (Released July 19th, 2015)