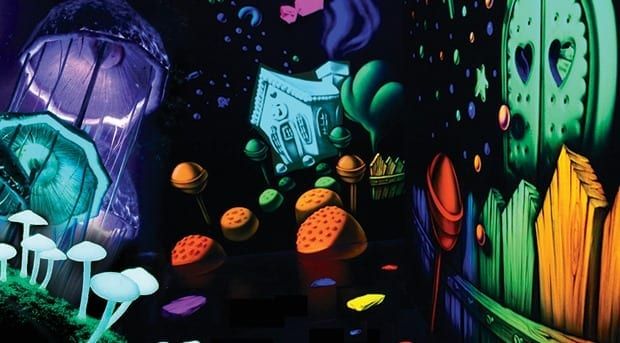 Immersive night 'The Psychedelic Funhouse' launches
The Psychedelic Funhouse, a brand new interactive event concept, will hit the UK from February 2018 with a 13-date national tour. Guests will embark on a four hour, kaleidoscopic adventure via altered realities, surreal experiences, and other worlds each with mind-bending entities. The event will feature psychedelic walkways, playgrounds of illusion and trippy projection rooms, culminating in a music-led club scenario to dance the weirdness away! It's going to be brash, bizarre and completely eccentric… Welcome to The Psychedelic Funhouse.
The Psychedelic Funhouse is a new and original immersive event concept that launches in the UK on Friday 16th February 2018 at the London Islington Metal Works. Through a series of bizarrely themed rooms, kaleidoscopic décorand psychedelic walkways, guests will enter into an altered reality where nothing seems quite as it should. On each date on the 13-leg tour, which visits Manchester, Birmingham, Liverpool, Sheffield, Southampton and Cardiff; quirky characters and performers will interact with guests as, over four hours, they make their way through The Psychedelic Funhouse, before finally stepping into the club zone to dance themselves back to reality with the help of house, trance and drum & bass beats. With lots of added extras such as psychedelic body paint dips, confetti and trippy UV face painting, The Psychedelic Funhouse is set to be one of the most surreal nights out, ever… Tickets are now on sale from £14.99 + bf and are available from www.fatsoma.com/psychedelic-funhouse
The Psychedelic Funhouse founder, Nathan Reed commented:
"We wanted to come up with a brand new event concept that bridged the gap between a total immersive event and a club night. The main attraction of The Psychedelic Funhouse are the trippy worlds that people will make their way through over four hours, before ending up in a club-style environment. On the journey they'll be met with many weird and wonderful surprises along the way!"
The Psychedelic Funhouse is set to be a hit with those looking for an interactive and immersive night out. Minds will be altered when guests enter into the many wonky worlds inside the venue, including the UV Gnome Man's Land, the trippy projection room or when they climb aboard the swirling playground roundabout.
People all over the UK can get to experience The Psychedelic Funhouse at a variety of locations including London – Islington Metal Works (February 16 & 17), Birmingham – Rainbow Venues (March 3), Liverpool – Invisible Wind Factory (March 16 & 17), Southampton – Engine Rooms (March 31), Manchester – Antwerp Mansion (April 14),Sheffield – The Plug (May 26), and Cardiff – Tramshed (June 14 & 15). Psychedelic Funhouse can also be found as part of the Spring Break Amsterdam Festival from April 8th – 10th.
Tickets for selected shows are now on sale from £14.99 at www.fatsoma.com/psychedelic-funhouse with each session lasting for four hours. For those yet to go on sale, register for further info at http://mega-events.co.uk/psychedelicfunhouse/.
It's going to be brash, bizarre and completely eccentric… Have you got what it takes to make it through The Psychedelic Funhouse?
The Psychedelic Funhouse 2018 Tour Dates
February 16/17 – London Islington Metal Works
March 3 – Birmingham Rainbow Venues
March 16/17 – Liverpool Invisible Wind Factory
March 31 – Southampton Engine Rooms
April 8/9/10 – Amsterdam, Spring Break Festival
April 14 – Manchester Antwerp Mansion
May 26 – Sheffield The Plug
June 14/15 – Cardiff Tramshed
Event Info
Once inside expect:
DJs + live performers
Psychedelic walkways
Kaleidoscopic themed décor
Confetti & trippy UV face painting
Gnome Man's Land
Psychedelic body paint dips
Genres Include: house, trance, drum & bass
18+ only.
www.facebook.com/The-Psychedelic-Funhouse
Tickets
Priced from £14.99 + bf and available from www.fatsoma.com/psychedelic-funhouse
Pre-register for tickets at http://mega-events.co.uk/psychedelicfunhouse