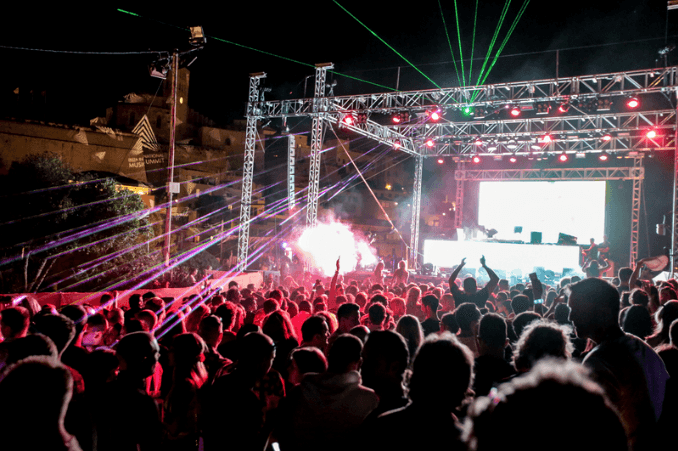 IMS Ibiza Announce 2015 Dalt Vila Line-Ups
Taking place during the now world-renowned International Music Summit in Ibiza, two parties curated by music industry tastemakers of the present and future are set to take over Ibiza's stunning Dalt Vila. A World Heritage Site, which sits proudly above the island's old town with commanding views out to the Mediterranean Sea and along the Playa den Bossa coastline.

On Thursday 21st May, a stellar cast of dance music originators will descend on the historic venue, including iconic BBC Radio 1 DJ Pete Tong, Crosstown Rebels lynchpin Damian Lazarus & The Ancient Moons – who will perform for only the second time after their amazing debut show at this year's Day Zero festival – and acclaimed Pacha resident Solomun. Cadenza label head Luciano will also perform, with headline duties being bestowed to none other than Cocoon boss Sven Väth.

Classic meets modern the following evening as the Dalt Vila hosts a night of brand new electronic music courtesy of UK tastemaker label Black Butter Records, fresh from the success of signing one of the biggest label deals in recent history with Sony Music. The bill is topped by two bonafide chart toppers; MK and Rudimental. Already a seasoned veteran before 2013's number 1 remix of Storm Queen's 'Look Right Through', Marc Kinchen brings with him a wealth of experience, as well as a number of top ten singles spanning across 3 decades and providing the perfect warm up for the evening's live headline act. Although having only released one album since their explosion onto the scene in 2012, Rudimental have well and truly paid their dues on the live circuit, touring non-stop for over two years since. Bringing with them a plethora of hit records – including number 1 singles 'Waiting All Night' and 'Feel The Love' – and a reputation as one of the most exciting, feel-good live acts on the dance music scene, Rudimental ensure that a night in the company of dance music's new school is definitely not one to be missed.

They will be supported by Spanish duo Thalab, showcasing their brand of indie-electronica that's just as inspired by Foals as it is Nicolas Jaar. Black Butter mainstay Kidnap Kid picks up the pace of the billing next, bringing the level of production that made last year's singles 'Stronger' and 'Like You Used To' massive hits. Formerly anonymous enigma ZHU will also be taking the stage at the Vila for a live performance.

With more info still to be revealed, IMS' Dalt Vila showcase looks set to be an extremely memorable few days.
Check Out the Dalt Vila 2014 Aftermovie Here:

Save these dates for IMS 2015

Tuesday, May 19th
Night-time: IMS Welcome and Legends Dinner (tickets on sale soon)

Wednesday, May 20th
Daytime: IMS Day 1 commences at Hard Rock Hotel
(Panels, discussions, workshops from inspiring industry leaders in electronic music and technology)
Wednesday, May 20th
Night-time: 'Back to Live' at Hard Rock Hotel Ibiza

Thursday, May 21st
Daytime: IMS Day 2 continues at Hard Rock Hotel

Thursday, May 21st
Night-time: IMS Dalt Vila Event 1

Friday, May 22nd
Daytime: IMS Day 3 continues and closes at Hard Rock Hotel

Friday, May 22nd
Night-time: IMS Dalt Vila Event 2

Saturday, May 23th
IMS Ibiza 2015 Closing Party

Ticket Pricing

Dalt Vila: €45 per day or €80 for both events

IMS Early Bird: SOLD OUT

Normal Badge
360€
Feb 2 – March 31

Late Badge
400€
April 1 – May 2